Things to Fix Before the DNC: Corridors of Crap
Each month leading up to next September's Democratic National Convention, writer Jeremy Markovich profiles one aspect of Charlotte that needs fixing up. This month: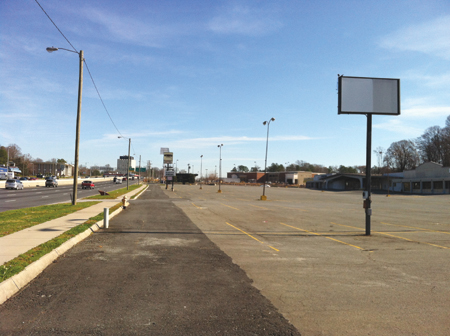 In an age when every neighborhood has to have a vanilla name (Evermay! WhiteGate!), it's refreshing to know that the term Corridor of Crap is alive and well. Former mayor Pat McCrory coined it in 2004, referring to the fast-food joints and auto-parts stores strewn along South Boulevard. In 2007, he famously called the area around Eastland Mall a Corridor of Crap. To make your own, mix decaying Woodstock-era commercial buildings with haphazard zoning and now-overturned ordinances that let developers slide on consistent sidewalks, parks, or trees. Voilà! Out come chunks of Pineville-Matthews Road, North Tryon Street, and Albemarle Road.
Will It Be Fixed?
"If I knew the answer to that, I wouldn't be working here," laughs Mary Newsom of UNCC's Urban Institute. A mix of smart rezoning and crafty design would help, but the challenges of getting people to work together are often too tough to overcome. And then there's Independence Boulevard, which Newsom calls "the Afghanistan of Roads." Hey, a new term!
Related: