Things to Fix Before the DNC: The North Carolina Democratic Party
Each month leading up to September's Democratic National Convention, Jeremy Markovich profiles one aspect of Charlotte that needs fixing up.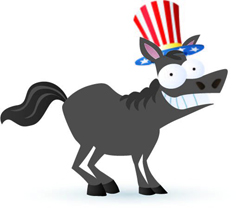 David Parker might as well be a character in an Albert Camus novel. In April, the chairman of the North Carolina Democratic Party was called out for his non-response after a subordinate stood accused of sexual harassment. Parker attempted to use the Seinfeld defense ("He's a bit of a close talker"). Next, Parker said he wouldn't run for another term as chair. Then in May, he handed in his resignation, only to have the party vote to reject it. Oh what the hell, Parker decided, I'll stay. There's more: There was the schadenfreude of the John Edwards trial. Unions are upset that the DNC chose North Carolina. Governor Bev Perdue is giving up after one term, and she ripped voters for passing the marriage amendment ("We look like Mississippi," she said). All of this culminated in The Daily Show's Jon Stewart saying out loud what most of us were already thinking: "Congratulations, North Carolina. You have become the Democrats' South Carolina."
Can It Be Fixed? Maybe. Time, money, and press releases can treat the symptoms. Of course, Democrats might also want to keep Joe Biden out of the state. You know, just to be safe.
Related: