Third annual Brew Stash Bash this Saturday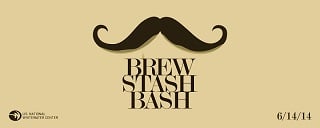 One of the summer's top events returns for the third straight year, as the U.S. National Whitewater Center is once again putting on the annual Brew Stash Bash this Saturday (June 14), beginning at 11:30 a.m. or 1 p.m., depending on your level of activity (more on that in a second).
The Brew Stash Bash features more than 20 breweries, with a heavy dose of local flavor. The Charlotte breweries scheduled to participate include Birdsong, Lenny Boy, NoDa, Olde Mecklenburg, Triple C and Unknown. Bell's, Lagunitas, Natty Greene's, Stone and Terrapin (if you remember, last year's BSB is where Terrapin debuted RecreationAle) are just a few of the other local and national breweries that will be pouring. (A full list can be found here.)
You can purchase sample tickets at the event for the Brew Stash Bash. Cost is $5 for four sample tickets, with each beer sample coming in a 4 oz. tasting glass. This year's craft beer tasting will run from 1 p.m. to 6 p.m., and there will be live music throughout the day from The Whisky Gentry, John Stickley Trio and The Lower 48. The headliner this year is Robert Earl Keen, who will perform at 8 p.m.
For those looking to be a bit more adventurous or rewarding, once again the Brew Dash 6K will open the Brew Stash Bash. The Brew Dash is a 3.7-mile trek through the USNWC's trail system, and the race begins at 11:30 a.m. Pre-registration is going on through June 11, and is $30 (or you can pay $35 and get $10 in beer tickets-a much better deal if you're planning on sampling craft beer after the race). Race day registration is $37 or $42 with the $10 in beer tickets, but that is contingent on available spots.
As someone who's been in years past, I can say this festival offers a little something for everyone. For one, you have the beautiful Whitewater Center as the backdrop. The brewery tents are placed in the middle, so you can enjoy a beer or two while watching people navigate the rapids. And like many events, there is no cost other than the tickets that you buy along with the $5 parking fee. Finally, the music all day serves as a great accompaniment, especially in the evening as the sun goes down (and getting a legend like Robert Earl Keen as the headliner? Well done, Whitewater Center folks).
My one bit of advice for those going: As is the case for many big events as the Whitewater Center, this will draw a big audience, so plan accordingly. The parking lot, although large, filled up rather quickly in the afternoon last year.
For more information on the Brew Stash Bash and the Brew Dash 6K, visit the USNWC's official event page.