Third Birthday for The Boulevard
The South End shop celebrates with a laid-back party and merchandise discounts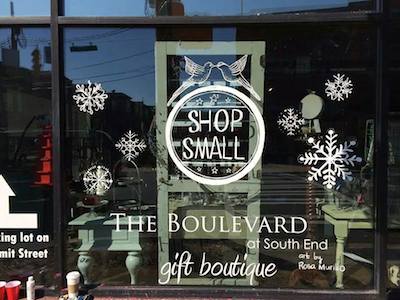 For its third birthday, The Boulevard at South End is offering gifts to others. Tonight (November 19) from 5 p.m. to 8 p.m., the shop will hold its birthday party, which includes wine, snacks, and 15 percent off merchandise.
"We're celebrating that we made it another year," says co-owner Jennifer Branham. "We don't take that for granted. … We're a small, independent business, and we wouldn't be here without everybody."
Branham and her two business partners, Angie Regan and Carmen Ellis, work with more than 40 local partners to stock the store at the corner of Tryon Street and Summit Avenue. From clothing, jewelry, and handbags to home decor items, furniture, and gifts, the store carries an eclectic collection of products. The selection gives the store a rustic, creative, homey feeling. In addition to high-quality craftsmanship, the one quality everything in the store shares is affordability.
"I always joke with our customers," Branham says. "My line to them is always, 'If I wouldn't personally pay for it, you won't see it in the store.'"
The third year of business has been an exciting one for The Boulevard. This past spring, one of the owners got a call from someone with Capital One's "I Am Small Business Proud" campaign, an effort to highlight successful small businesses. A campaign representative found The Boulevard by searching "small business Charlotte" on Google. Capital One shared The Boulevard's story, along with others from across the country, in its collection of "I Am Small Business Proud" videos. Click here to watch.
The campaign earned The Boulevard national attention, but locals still discover the shop every week.
"They drive past us every day commuting to work down Tryon, and they finally have an extra 10 minutes," Branham says. "When you get someone who discovers you, that's really satisfying."
Stop by The Boulevard this evening to meet the three women behind this small-business success story and the artists behind the shop's creations.