This Is Home
One North Tryon corridor community started as a rail depot in the age of cotton and is about to boom again because of the expanded light rail line. But that's not what keeps the Wells family here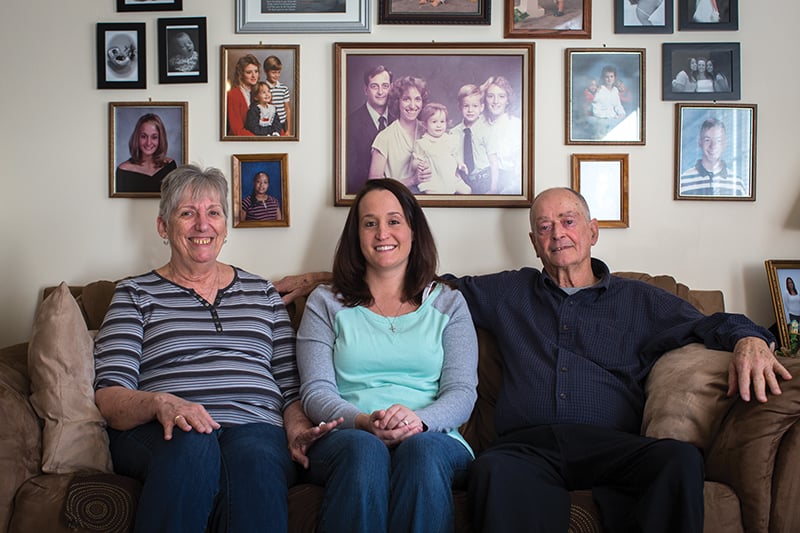 KEN AND Margot Wells bought the only house they've ever owned three decades ago, when they had three young children and wanted more space than their rental house in Derita provided. Margot was looking for a simple, ranch-style home, nothing fancy or with stairs. "I figured when I got old," she says with a laugh, "I could at least crawl from room to room."
They found it at the loop end of Branch Hill Circle in the Newell community, an old whistle-stop village within Charlotte's city limits, surrounded by fields, woods, and horse farms. The house had three bedrooms and a nearly half-acre lot where the kids could play and Ken, a machinist and part-time stock car driver, could set up a garage. The Wellses paid $52,500 for it on March 27, 1985.
They still live there. They have no intention of leaving, even as the fliers from real estate agents land in their mailbox a couple of times a month. They raised three children in that little ranch house. Their older daughter lives off W.T. Harris Boulevard, five miles away. Their younger daughter lives next door with her husband. Their middle child, their son, died almost nine years ago, and hanging on to the house helps them hang on to him.
"The only way I'd move is in a pine box out the front door," says Margot, a 67-year-old with short, silver-gray hair and a toothy smile. "We put the house on the market for awhile, and it didn't sell. And then when Robbie passed, we decided, 'This is where our children grew up,' and we wanted to stay here. We had weighed other options, but we decided, 'Unh-uh. This is home.'"
She says this, but she knows that everything is poised to change around her and Ken. Newell is one of the few communities left largely untouched by Charlotte's growth—a pocket of semi-country wedged between uptown to the southwest, booming University City to the north, and fast-growing suburbs along the now-finished Interstate 485 beltway to the southeast. The center of "town" used to be an old general store and post office across Old Concord Road from the Norfolk Southern railroad tracks. Hodges Farm, a former dairy farm that's now an equestrian center, occupies 180 acres nearby on Rocky River Road. The post office on Old Concord still uses "Newell, N.C.," as a postmark.
The light rail may sweep all that away. The city's LYNX Blue Line Extension, scheduled to open next year, will connect uptown and University City through the same mode of transit that has turned the abandoned warehouses of South End into some of the most valuable property in Charlotte. One type of rail traffic made Newell a community; another is ready to absorb it fully into the nation's second-fastest-growing big city. Construction crews are busy building overpasses and preparing light-rail tracks along North Tryon Street, just a mile west. Other workers are constructing new roadbeds and bridges along Old Concord as part of a separate project to improve the railroad line between Charlotte and Raleigh.
Real estate developers and agents know growth is on the way, and the housing market is responding. Newell sits in the middle of the 28213 zip code, where in 2014 the median home sale price rose at a higher rate, 53 percent, than in any other zip code in Mecklenburg County, according to the national real estate data firm RealtyTrac. The median price rose another 10 percent in 2015.
The zip code extends from Sugar Creek Road, three miles northeast of uptown, beyond I-485, and edges into Cabarrus County. Old Concord Road winds through its midsection, revealing an eccentric mix of apartment and townhome complexes, clusters of ranch houses, and farmland with the occasional grain silo. Home prices in communities such as Newell are following a general recovery of the housing market after the recession-driven nadir of 2011 and 2012. But 28213 in particular is ripe for home sales and new development.
"Plain and simple, you can afford more in that area. That's really what I'm seeing. It makes sense, because that's where the available land is," says Maren Brisson-Kuester, a real estate broker and president of the Charlotte Regional Realtor Association and Carolina Multiple Listing Services.
"Access to center city and University City are key. I just think it's a great location, access-wise, to jobs. Even if you're going north to Mooresville to work at Lowe's, you have really good access."
The Wellses' youngest, Amanda Pasquarello, 33, works in data collection and research at Carolinas Medical Center's main campus near uptown. She appreciates the manageable commute, usually half an hour or so, to and from work. But part of her also wants to look out her window for the next 30 years and see the hillside that, as a girl, she rolled down in her dad's racing tires. "Then I'm like, 'Oh, great, in five years I could probably sell my house for double what I paid for it,'" she says. "You know, and move somewhere else, probably out in the country."
There's no such conflict for her parents. Any thought they might entertain of putting the house up for sale dissipates when they see the door covered with racing stickers at the end of the hall.
***
DRIVING THE neighborhood with Margot and Amanda, they describe Newell with a series of "used-to-bes." That's the building where the old general store used to be, and the original train depot that's been hauled from where it used to be, and the empty series of beige-brick buildings and trailers where Newell Elementary School used to be, before they opened the new one last year. Even before the big changes come, the Wellses see their place in terms of how it was.
Newell exists because of cotton and the railroad. The first train ran the completed, 223-mile length of the North Carolina Railroad from Goldsboro through Raleigh, Greensboro, and Salisbury to Charlotte in 1856. It allowed Mecklenburg County cotton growers to ship throughout the state. In 1883, brothers John and W.B. Newell bought a cotton press and set up next to the tracks in the farm-rich northeastern part of the county. A post office, church, and private school sprang up around the new enterprise. John Newell, who came to be known as "Squire Newell," emerged as one of the county's most prominent figures, serving for 18 years on the county Board of Commissioners.
The community stayed rural until W.T. Harris Boulevard opened in the 1980s. The new road brought a fresh wave of single-family homes—most of them modest, ranch-style houses, like the Wellses', that complemented the established L- and T-shaped farmhouses—and apartments for students at nearby UNC Charlotte. Trees were leveled along the rail line. Slowly, the city started to claim its territory. But most residents could still imagine they lived in a more agrarian setting than they did. "I thought we were out of the city limits. We weren't," Margot says. "It was almost like you were in the country, 'cause you didn't hear the roar of the traffic. The only noise you heard was from the train going by."
The light-rail line represents the biggest change for Newell since the first rail line opened 160 years ago. The city has been trying for decades to open the North Tryon corridor to development that would make land more valuable, in sales price and in revenue from property taxes. If the Blue Line Extension transfigures the corridor as the first Blue Line has with South Boulevard, Newell might not be recognizable in 10 years.
Along with the growth of UNC Charlotte and urban sprawl, "the Blue Line Extension has been the igniter," says Mark Burdette, a commercial real estate broker with CRE Charlotte/KW Commercial. In February, Burdette was seeking buyers for a 95-year-old, two-story farmhouse and its two acres on Old Concord Road; he hoped he could interest a convenience store chain or another retailer.
"North Tryon has somewhat languished for quite some time. But once the Blue Line construction began, interest just absolutely exploded," Burdette says. "We would hope that the groundswell of development could bleed over to Old Concord."
***
THIS IS NOT the kind of development that would have sat easily with Robbie Wells. Like his father, he was a country boy who just happened to live in the city.
Ken Wells, now 72, spent his career working as a machinist and in the parts departments of auto dealerships such as Parks Chevrolet on North Tryon, from which he retired last year. His passion was racing, though. He raced on short tracks up in Concord when he could, and when Robbie came along, he passed the passion on to him—just as he tried to rein in the whole family. Margot has worked the past 12 years as the office manager for Heintz Performance, a Concord NASCAR parts distributor. "Dad threw a wrench in my hand when I could stand upright," Amanda says. "I was free help."
Robbie began racing go-karts as a boy, working on them in the garage as Ken tinkered with cars. At 16, Robbie earned his NASCAR license and began racing on area short tracks: Concord Motorsports Park (now Concord Speedway), Hickory Motor Speedway. On the corridor walls in the Wellses' home hang dozens of Robbie's certifications and awards, plus an official penalty notice from NASCAR, dated September 7, 1999, for "actions detrimental to auto racing," specifically "an altercation in the pit area." Robbie was fined $500, suspended for seven weeks, and placed on probation until the end of the year. He was 19. Mom and Dad framed and hung the notice as if it were a diploma.
At the end of the hall is Robbie's old room, the door decorated with the logo stickers of every auto racing brand you can imagine: Simpson, Ford, Schoenfeld, Prestone, Goody's, Moroso, Dynatech. The Wellses don't plan to remove them.
***
THE ACCIDENT happened on the afternoon of July 14, 2007, a Saturday. Robbie and his older sister Dena's husband, Kenny, were riding their motorcycles with friends in the heart of the city, near the I-77-Brookshire Freeway interchange.
Amanda tells me this as we're out for a drive in Margot's Toyota RAV4 on a Sunday afternoon in February. Amanda's behind the wheel, and they're giving me a tour of Newell and the surrounding farmland, open fields that stretch into distant stands of trees, no city in sight. We're driving up Rocky River Road into Cabarrus County, at the southeastern edge of the 28213 zip code, when she sees them. "Oh, boy," Amanda mutters to Margot, who's in the backseat. "Motorcycles." Four of them. They roar past. Amanda turns the RAV4 around and heads back toward home.
Amanda says Robbie passed his brother-in-law at the interchange that Saturday afternoon, turned back to wave at him, and "got in the loose stuff," gravel on the road. He lost control of the bike and flipped. After being transported to the hospital where Amanda works now, he lived for another 10 hours.
Robbie Wells was 27. He left a wife he'd recently separated from, and their 14-month-old son.
"When we told people, they thought we were joking: 'Not Robbie,'" Amanda says. "He had raced cars his whole life. He'd been in tons of wrecks—car accidents where his head hit the concrete. I mean, all kinds of stuff. We just never thought it would happen to him. He wasn't speeding. There was nothing crazy going on. He was just out for a Sunday ride—well, a Saturday ride."
At the time, Amanda was traveling almost every week for her job in the motorsports industry. She had been dating John Pasquarello for all of two weeks. Something about her brother's accident made her think she needed to "put some roots down," as she puts it. In 2008, she found and bought a great little starter home in foreclosure that happened to be right next to the house where she grew up.
She and John got engaged the same year, gutted the house, rebuilt it, and moved. They married in 2009, and the house is now home to them and their two children. It's a little place, smaller even than her folks', just less than 1,000 square feet. They may add on soon, or they may hold out and see what kind of price they can get for it. "I just think there's a lot of potential here," she says. "Now, with all the stuff that's going on around here, it's scary, but …" She pauses. "I just don't want this neighborhood to become like all the other ones, all the cookie-cutter neighborhoods in Charlotte."
Amanda keeps driving toward home. "There's a lot of good memories here," Margot remarks from the backseat. "Happy memories."
We're back on Old Concord Road now, the main artery that S-curves through the heart of Newell. We crest a rise in the road, where the state is building a new bridge over the railroad tracks. The trees here once obscured the view of anything beyond the immediate surroundings. Now, with the barrier gone, we can see the tall buildings rising into the sky from uptown, where they've always been and closer than ever.
Greg Lacour is a contributing editor for this magazine. Read his political coverage and other commentary in "The Buzz" section of this website.