'This Is How We're Going to Make Your Child Better': A Q&A With Dr. Erin Kiehna Richardson
Pediatric neurosurgery is technically and emotionally complex—and traditionally dominated by men. As Novant's first female pediatric neurosurgeon, she has had to learn the intricacies of a demanding field and battle sexism along the way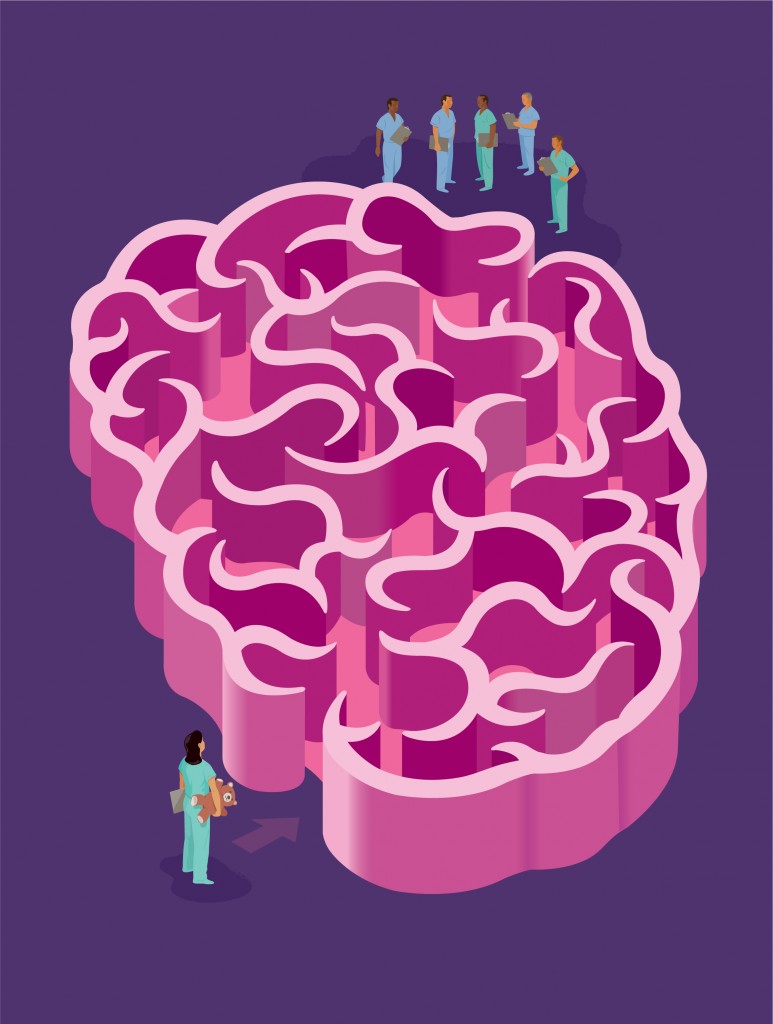 Dr. Erin Kiehna Richardson, the chair of neurosurgery at Novant Health Presbyterian Medical Center, is a rarity in the neurosurgical field and unique in the Novant system. She's the Novant group's only female neurosurgeon and, at Novant's Hemby Children's Hospital, the only pediatric neurosurgeon—a physician who diagnoses, treats, and manages nervous system issues in children. Those can include brain and spinal deformities, epilepsy, brain tumors, and severe head injuries.
Even in the male-dominated world of general surgery, neurosurgery stands out in its gender imbalance: In 2015, less than 8% of neurosurgeons in the U.S. were women. The disparity shows signs of lessening—the number of female neurosurgery residents rose from 10% to 17% from 2005 to 2015—but Kiehna remains a member of a distinct minority. (She got married last year and took her husband's surname but wanted to use her maiden name for this story.) Her residency at the University of Virginia, where she landed after her graduation from Yale School of Medicine in 2006, drove that point home. She was UVA's first-ever female neurosurgery resident and the only woman in the program.
Kiehna, 40, has lived and worked all over the world but, having grown up in West Columbia, South Carolina, and Huntsville, Alabama, considers herself a Southerner. She was drawn to neurosurgery as an undergraduate at Vanderbilt, when she enrolled in the oncology education program at St. Jude Children's Research Hospital in Memphis and spent summers at the world-renowned institution, observing surgeons as they worked. She says she knew then what she wanted to do with her life.
Kiehna moved to Charlotte in 2017 to be closer to family, and Novant named her chair of neurosurgery in 2018. She says she relishes the opportunity to use the field's fast-evolving technology to perform surgeries as minimally invasive as possible. Thanks to investments by Novant and Atrium Health, Kiehna says, "Kids in Charlotte are getting surgeries that they'd otherwise have to go to larger cities to get."
We spoke to Kiehna in March about how she's handled the ingrained sexism in her field, the effects of COVID on her work, and the future of neurosurgery. Responses have been edited for length and clarity.
Charlotte magazine: What do you say to young patients and their families when you have to deliver the tough news?
Erin Kiehna Richardson: When I meet families for the first time, they're probably having the worst day of their lives. I'm pretty much their worst nightmare. No parent wants to hear the word "neurosurgeon." So I always say, "You're good parents. You knew something was wrong. You took them to the ER or their pediatrician, and they got the right test and found out why they were having headaches."
Then my goal is to offer hope. "From here on out, here's our plan. This is how we're going to make your child better." You have to be a realist, first of all, but you also have to be an optimist. We cure 80% of pediatric brain tumors. I truly believe that we're going to cure these kids.
Being a pediatric neurosurgeon is very humbling. Kids are innocent of what happens to them. I never have an answer when parents ask me why. "Why did this happen?" Gosh, there were a few cells gone rogue. A few bad players. Our goal is to help guide a family through this.
CM: Has COVID changed your approach to the job?
EKR: The whole world was unprepared for the COVID pandemic. I think it was incredible how quickly people in the medical fields adapted. We still need to take care of our patients. We have to be safe for them. If the doctors all get sick, the nurses all get sick, we can't care for them.
I'm used to picking up every baby that comes into my office and sitting them on my lap because no baby wants to be put down on an exam table. I'm used to meeting the parents, the younger siblings, and sometimes even the grandparents. It's been tough not to have the whole family.
In COVID, we normally only allow one parent in for appointments, though we do try to bring both in whenever possible. (Ed.: The hospital now allows both.) I can't imagine what it would be like to get the news that your child needs surgery and be there alone and then have to tell the other one. The other parent is going to be asking you questions and you're like, "I don't remember!" I think after you tell a parent that their child needs brain surgery, they shut down.
CM: But the good news is that neurology improves and advances all the time, doesn't it?
EKR: For me, that's the exciting part of my field. The way I took care of a tumor five years ago is not the way I do it now, and it will probably not be the way that I do it in five more years. We stay on the cusp of technological changes so we can have better surgeries and better outcomes.
We have a close-knit group of pediatric neurosurgeons that have gotten to know each other over the decades. We're on national and international committees together. I'd say competition between institutes isn't a focus. Improving every child's outcome is the focus. If there's something new out there, you talk to your colleagues, and you get the word out. When people dramatize our field in TV shows, that's one thing they get right: how much we need each other and depend on and lean on each other.
CM: Surgery, especially neurosurgery, is a notoriously male-dominated discipline. What's it been like for you, and how often have you encountered sexism?
EKR: I think women often have to work harder to prove that they're just as tough as men, that they can handle that environment. I was fortunate to train with people who believed in me, and that's what made all the difference. They didn't see me as anything other than somebody who wanted to be the very best neurosurgeon possible.
But when I interviewed for my residency, a certain attending physician asked me what I could bring to neurosurgery that a male couldn't. I looked at him and I said, "Social graces, for starters." I mean, what do I have to offer that a male can't? It should be about, "What more can I bring to the table?" That's the important thing to focus on. Another time, I was told my place was upstairs on the seventh floor on the pediatrics ward.
In general, I think women were deterred from becoming surgeons for so long. When I was in med school, I was told, "This is really tough. You'll never be able to have a family with that." Or "You need to think about what you're putting first." We've now had the benefit of so many women showing us that you aren't giving anything up to become a mom. You can actually be an even better physician and a better surgeon because you have that level of compassion.
CM: What qualities can women bring to medicine, and how might that change the field?
EKR: There are so many incredible women in all sorts of specialties in medicine now that I hope that the viewpoint is changing. And I hope that each of us can pave the way for the next generation of women. I have a friend who's a physician, and her daughter asked her recently if boys could be doctors, too.
I would hope that we're getting to the point where we'll never have to ask the question, "Can women do this?" I think we've proven that we're beyond tough enough. But yes, it's different being a female in a male-dominated field. I think you look at what else you bring to the table as a woman. The kindness. The compassion. The introspection. Trying to be a listener.
It's really important that we provide our female residents with mentorship at every step of their careers. You have friendships with male colleagues, of course, but you lean on women differently. Our national organization has a Women in Neurosurgery group. Even if you don't have a woman to be a mentor at your institution, we'll pair you up with somebody. I think that that's what's going to make all the difference going forward.
CM: What advice would you give to young women who want to become doctors?
EKR: Go into medical school with an open mind. In medical school, you learn all the intricacies of every body system. Then you get to go on rotations within every medical specialty. There will be one that you realize you're jumping out of bed for when your alarm goes off in the morning. That's the one you should do.
CM: What's your pre-surgery preparation like, and what's on your mind during the procedures?
EKR: I'll confess, some nights I don't sleep well before cases. I'll wake up and be like, "Oh, I've got an idea for Plan B or Plan C." I definitely overprepare. The morning of the surgery, I've gone back over the MRI or the CT and all the advanced imaging several times.
In my mind, I've visualized exactly how I think it's going to go. From where my cut is in the skin, to what I'm going to see what I'm looking at the brain's surface. I'm thinking about, Where do I foresee there might be forks in the road?
If the tumor is hard and rubbery, I might have to switch plans. If it's soft and sectionable, I've got this other option. You also have to be able to see past what you're doing to what's on the other side. There are delicate cranial nerves, the brain stem, the spinal cord, so we have to know what's in and around the area at all times. That comes from a good understanding of the 3D anatomy integrated with our technology. For difficult cases, if I have a colleague who's done one recently, I'll have called them up beforehand and said, "What pearls of wisdom do you have?"
Patients have asked me, "Do you believe in God?" and I say, "The operating room would be a lonely place if you thought you were in there by yourself." I don't think it matters what faith you are; we're all praying for the same thing. I start and end each day with prayer. I pray that things go well and that I'm guided to make the right decisions, that I'm cool and calm if things get challenging.
It's such a privilege to take care of patients, and with great privilege comes great responsibility. You get so in the zone when you're focused down a microscope that you forget everything. It's usually about an hour after surgery before I even realize I'm hungry or thirsty. Everything you do is so precise that you forget the world around you. You're really just focused on the great challenge in front of you.
CM: How do you wind down afterwards?
EKR: I used to come home to an empty apartment. I killed off all my plants, and I didn't have a pet. But now that I'm married, it's really nice to be able to share that with someone. When I leave early in the morning, Tyler always rolls over and says, "I'm proud of you." It's really amazing to be married and to have someone to reflect on the day's events with. He's not a doctor, but I love being able to talk through it with someone and know I'm not alone as I'm doing this.
We watch shows together just like everyone else. We just finished Schitt's Creek. That show was so warm and loving. It accepted every difference between people. It was so nice to be able to come home and watch something like that.
CM: Speaking of your husband, like so many other couples, you had to change your wedding plans last year. How'd you manage that?
EKR: Tyler proposed at the end of 2019, and we always knew we wanted a short engagement. We wanted to get married in Gasparilla Island in Florida, where his parents live, but because of COVID there were so many different iterations of the wedding. There was the big, beautiful tent outdoors, all the way down to, "You can have four tables of eight." And you're like, "OK, eenie meenie miney moe."
It ended up being just our close family, but I'm actually grateful. We always were doing it to start our lives together, and there wasn't a reason for the pandemic to change that. We weren't doing it for the party. We were sad we didn't get to share it with everyone, but I talked to everybody who came. I actually ate dinner at my wedding. I got to spend quality time with everyone.
Lauren Levine Corriher is a writer in Charlotte whose work has appeared in Southern Living, Parents, Condé Nast Traveler, Elemental, American Way, Axios Charlotte, and more. Follow her on Twitter and Instagram, where she's @LatestByLauren.