This Isn't the First Time the NBA's Put Charlotte on Notice
The league has objected to North Carolina's laws before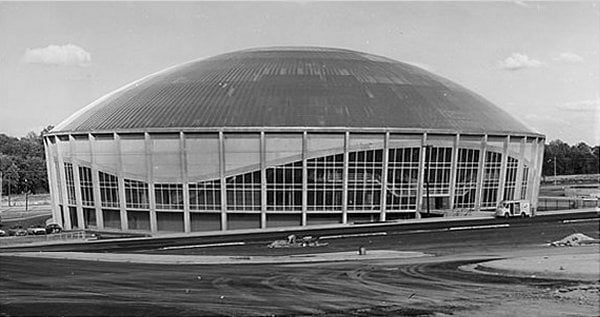 The NBA was fed up with discrimination. So it threatened to move a pro basketball game from the largest city in North Carolina. And the league insisted on nondiscrimination protections before it would come back.
What is it they say about history?
It was 1958—three decades before Charlotte would have a franchise of its own—and the Boston Celtics and Minnesota Lakers had come to town to play an exhibition game at the Charlotte Coliseum. But, according to a United Press International story, Jim Crow laws here meant the black players were prohibited from eating with their white teammates at a Charlotte restaurant, and they were forced to stay in a separate hotel.
Lakers forward Elgin Baylor and Celtics center Bill Russell complained to their coaches and to the league. The whole affair prompted Celtics center Russell to say "No more Dixie," according to one headline.  "I don't care if we ever go back," Celtics owner Walter Brown said at the time. "I know one thing—I'll never do anything to embarrass my players."
Later, the league owners adopted a policy to require nondiscrimination protections from host cities before signing contracts to play games there. (Hat tip here to Lou Moore, a history professor at Grand Valley State University for digging up the archived newspaper stories.)
All of this, of course, sounds strikingly similar to the NBA's decision to pull the 2017 All Star game from Charlotte as a reaction to HB2, which the league has called discriminatory to the LGBT community. Even with the hope of returning the game to Charlotte in 2019, the league's decision is an enormous blow to the city, which was anticipating more than $100 million in economic upside thanks to the All Star game and related festivities.
Now, 58 years after the NBA first put North Carolina on notice, it's once again insisting on nondiscrimination protections before returning a ballgame to the Tar Heel state.
What is it they say about history?