This Week in Charlotte Inanity: Hunger Games, Ricky Bobby, Au Revoir Diaw, and, Yes, Coyotes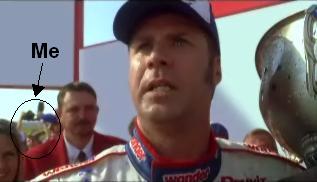 Most Fridays, I turn the blog over to Jeremy Markovich (@deftlyinane) for a little thing that we like to call This Week in Charlotte Inanity. For a few weeks, we called it something else. But no one got the pun. (Perhaps it was a bad pun.) So in an effort to make things less confusing, we are calling it what we called it when we first started doing it. See? Much less confusing. Enjoy. —R.T.
The Hunger Games is in theaters today. Start breathing into a brown paper bag, preferably the one that contains your lunch.
The movie, which is based on the book by Suzanne Collins, was shot in and around Charlotte and Shelby. A friend of mine, who is basically the Hunger Games beat reporter for NewsChannel 36, saw the movie the other night. She says landmarks in both cities are fairly easy to pick out. She knows where Woody Harrelson was hanging out during the shoot (Amelie's). She's heard of people bumping into Lenny Kravitz.
(A note to people who want Charlotte to be world class: You have to learn to say "meh" when you bump into celebrities on the street.)
But more importantly, there are extras in this movie. Lots of extras. Many of them are from Charlotte. Some kids even came from Alabama to be background filler. Awesome, right?
Meh. I've been an extra before. I spent two 13-hour days at the then-Lowe's Motor Speedway filming scenes for Talladega Nights. I saw Will Ferrell from afar. I talked for about five minutes to that guy who's Kenneth the page on 30 Rock. I got to wear a firesuit. I was working the midnight shift at the time. I got about a half hour of sleep each day before having to go back to work at my real job.
What does being an extra entail? You get to have conversations with people without actually making a sound. You get to clap without actually mashing your hands together. You get to meet the 2nd assistant director. You get to make $8 an hour.
They shot more than a dozen scenes while I was there. I made notes of where I was and what I was wearing so I could find myself on screen. I waited anxiously for months for the movie to come out. I went to go see it a day after it was released. I watched every frame. I was nowhere to be found.
Later, when Talladega Nights came out on DVD, I slowed down the scene where Ricky Bobby meets his wife. It's the scene where she flashes him after he wins a race, and there's a closeup on his face, and he deadpans "Please be eighteen." At that exact part, if you look to the left, in the background, out of focus, there's a guy holding a camera above his head with both hands. That's me.
I told my parents. That's great, they said. I guess. I'm standing behind the guy who's standing behind the guy who's famous, and I'm taking a picture with a fake Canon.
"You're famous!" they said.
"I know!" I replied.
I hope those of you extras in The Hunger Games had a better experience. The hours are long the repetition is numbing and the pay is terrible. But just remember, fame is fleeting. Just like your screen time.
…
A Charlotte based company is opening a Hooters in Brazil. That seems superfluous.
…
This, bloggers, is a bad idea.
…
Shock Snitchin'
…
Marshville's own Randy Travis, who apparently has taken a job as editor of the Daily Bugle, co-hosted the fourth hour of the Today Show on Wednesday. According to the Today Show's website, "Randy also emceed trivia at the NBC Experience Store, and it might have been the biggest bloodbath in Fourth Hour history." What with all the Fourth Hour bloodbaths to choose from.
…
This Creative Loafing headline is not necessarily representative of the story that follows it: Gin! North Carolina again finds the G spot
…
This picture is going to look so awesome on that coyote's Facebook page.
…
…
When your date includes rappelling down the front of the Mint Museum, it's safe to assume that you didn't meet your significant other on match.com.
…
Here's Boris Diaw announcing, in French, that he's been waived by the Bobcats. You could translate it, or, in true Diaw fashion, you could decide not to.
…
TOO MUCH AWESOME: Rutger Hauer, Bull from Night Court, Ace Frehley, Rowdy Roddy Piper, Darth Vader and Linda Blair. All in Charlotte. All this weekend. Gives you a good excuse to pull that VHS copy of The Hitcher off the shelf.
…
I didn't make this YouTube video, which, wait a sec, let me put you on hold, DELETE.
…
US Airways, which has its largest hub here in Charlotte, only cancelled 0.3% of all its scheduled flights in February. That's good for the airline, right? Right?
…
A company from Charlotte partners with a NASCAR driver to promote its energy drink. Which begs the question: Why does AJ Allmendinger need an energy drink? HE'S DRIVING A RACE CAR.
…
…
"Obsessed with each other, these two men transformed their personal competition into one of the most ridiculous and elaborate penis-measuring contests in the history of American business – even engaging in the garish Freudian spectacle of vying to see who would have the tallest skyscraper in Charlotte." Oh.