This Week: In Which I Try My Hand at Search Engine Optimization. Also, Michael Jordan, Michael Jordan, Gay Marriage, Michael Jordan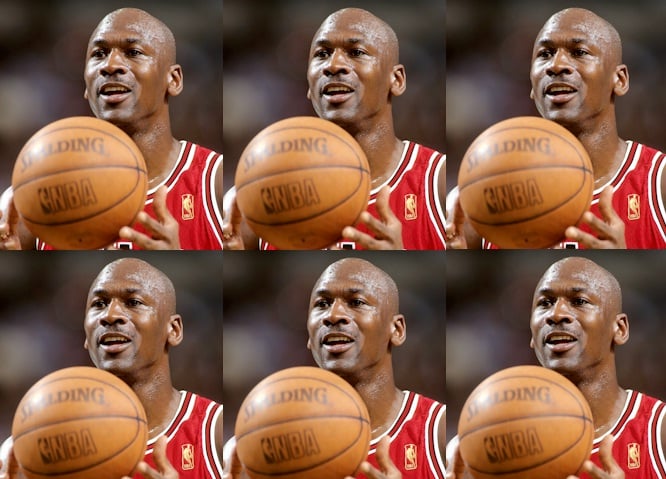 Michael Jordan. As believable as Trapper John, M.D.
NOTE: The description for this Presbyterian Orthopaedic Hospital commercial, which stars Michael Jordan, mentions Michael Jordan several times, obviously is a ploy to bump it up on the list when people interested in Michael Jordan decide to use a search engine to find more information about Michael Jordan. Perhaps they're trying to find Michael Jordan videos. Or maybe Michael Jordan in Space Jam. Or Michael Jordan ads, especially the ad that features Michael Jordan and Mars Blackmon, or perhaps the Michael Jordan and Larry Bird commercial in which they challenge each other to trick shots to win a Big Mac, and in which somebody says "Nothing but net," and that somebody is Michael Jordan. However, as tempting as it is to try to HuffPo your way on to the first page of YouTube or Google by simply mentioning Michael Jordan several times, specifically the Michael Jordan who used to play for the Chicago Bulls, Washington Wizards and Birmingham Barons, I'm not going to use Michael Jordan as an excuse to try and elevate my Michael Jordan story above other, more relevant Michael Jordan content. Michael Jordan is a competitor, but a fair one, and if there's anyone who believes in achieving greatness more than Michael Jordan, it's me, a great Michael Jordan-esque Michael Jordan fan.
Michael Jordan.
—
Your realtor testimonial of the week comes from a dude in an apartment who's a big fan of a Remax agent. Who sells a house every two days? Leigh Brown does, yo.
BONUS: The aformentioned Leigh Brown sings in the car.
—
Somebody is spending $1 billion to build a replica of Rock Hill in the New Mexico desert. Bonus: It doesn't come with any of those pesky people.
—
Canceled: This weekend's performance of "The Life Story of Rick James" at Ovens Auditorium. Refunds are a hell of a drag.
—
Summary of the march on Bank of America in 140 characters or less: "500 protestors and 5 arrests. I guess they were the 1%." —Stuart Watson
—
That time Panthers' QB Jimmy Clausen got a bad haircut from SuperCuts the night before picture day.
—
John Edwards and Sean Penn are friends. Gnarly.
—
This headline makes me think two dopes hanging around Albemarle gave a political endorsement.
—
Who won NC's Libertarian presidential primary? Nobody. "No Preference" got 57% of the vote.
—
The SuperCuts of political advertising: How do you subconsciously prove to voters that you're Congresswoman Sue Myrick's hand-chosen successor? In Jim Pendergraph's case, you use the same blue yearbook-photo background for your ads. And the same late 80's font. And the same head and shoulders camera shot. And the same video effect to put yourself in a tiny box at the end of the ad.
—
Sure, he's filed six lawsuits to keep minor league baseball out of uptown Charlotte, but did you know Jerry Reese also dabbles in web design? TRUTH.
—
Franklin Bein' Franklin: Charlotte's own Franklin Graham says President Obama, with his stance on gay marriage, is "shaking his fist" at God. The message is clear: Barack Obama has now become the fist-shaking old man who runs the creepy amusement park in Scooby Doo.
—
This week's inane logic puzzle: This week, North Carolina voters passed a constitutional amendment to define marriage solely as a union between a man and a woman. The amendment was put on the ballot by the Republican-led North Carolina legislature. Those Republicans came into power by pledging to focus solely on jobs. So, gay marriage ban = more jobs.
But wait. This video shows a gay couple from Charlotte who went to Washington, DC to get married a few weeks before North Carolina passed the amendment. They had to go there because there was nobody here who could legally marry them. So, gay marriage officiants can't ply their craft in North Carolina. Gay marriage ban = fewer jobs.
So, just to recap, conservatives who believe in smaller government expanded the state constitution by giving voters the choice to pass a job-killing, job-creating amendment which clearly stated something that was already in the law, and that amendment will definitely be around forever because God intended it to be, or for 20 years, when one of the guys who helped pass it predicts that it will be overturned because today's young people will be more supportive of same-sex marriage.
My head hurts. I'm going to a sweepstakes parlor. Those are completely legal, right?