This week/weekend's Charlotte craft beer events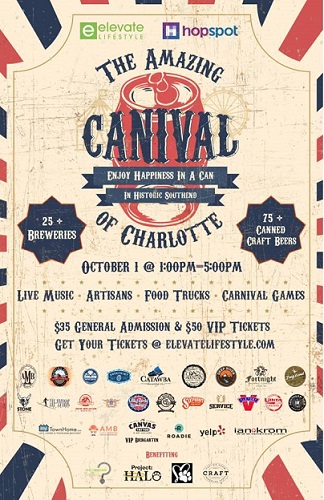 A couple of craft beer events are getting started earlier in the week, because there's never a bad time to enjoy a great local beer. So check out what's on tap over the next several days in the Queen City:
–Unknown Brewing recently finished up brewing 100 batches of beer, and is ready to reward its customers for their hard work. That's right, they brew, you win. What's the prize? $1 pints, all day at Unknown's taproom on Wednesday. Everything on tap, whether it's year-round favorites such as Pre-Game Session Ale to the recently released Brown Ryed Girl, an India Brown Ale, is just 100 pennies each. Unknown's taproom will be open Wednesday from 4 p.m. to 10 p.m.
–It's time for another installment of everyone's favorite monthly gathering: #InstaBeerUpCLT. For Thursday's event, everyone is invited to Lenny Boy Brewing's new facility at 3000 S. Tryon Street. Try one of Lenny Boy's wild ales or organic beers, and of course there is also kombucha if you'd rather keep it healthier.
As always, there is no charge to attend, and there will be prizes raffled off during the event, including a free SkillPop social media class with guru and #InstaBeerUpCLT co-founder Corri Smith, one month of laundry service from 2ULaundry and a free growler and fill from Lenny Boy. #InstaBeerUpCLT runs from 6 p.m. to 10 p.m. Thursday.
–Sycamore Brewing is the site for Food Truck Friday – SouthEnd, and this week is turning the event into a festival celebrating one of the most delicious food items: bacon. Friday's BaconFest will feature more than 10 food trucks, with each creating a special dish with bacon.
To whet your appetite, here's a few: Tin Kitchen's bacon-bison slider with house-made barbecue sauce, aged English cheddar and crispy onion straws; Southern Cake Queen's Bacolate, a chocolate cake with bacon pieces baked within and topped with maple buttercream and bourbon candied bacon; OooWee BBQ's hickory smoked bacon macaroni and cheese; and a bacon jalapeno popper grilled cheese from Papi Queso. Click here for the complete list of items, and Sycamore will also have its beer truck parked outside with a new beer brewed with waffles and maple syrup (along with everything on tap inside, including craft beer, wine and cider.
–Everyone's heard of a carnival before, but how about a canival? That's the idea behind Charlotte's latest craft beer festival that will involve only canned beers. The Amazing Canival will take place in the parking lot between Unknown Brewing and Craft Tasting Room and Growler Shop (both establishments are sponsors) from 1 p.m. to 5 p.m. Saturday and feature more than 75 different craft beers.
Participating breweries include Birdsong, NoDa, Unknown, Westbrook and Stone, among others. You can see the full list here, which is also the link to purchase tickets. The cost is $35 for general admission tickets or $50 for VIP tickets, which includes entrance into the Biergarten area that will have catered food, seating, TVs, private restroom and exclusive beers. You can also download the Hopspot app and enter the promo code "Hopspot" to receive $10 off your ticket. Proceeds from the festival will help benefit Project HALO.