This weekend in Charlotte craft beer (July 26-29)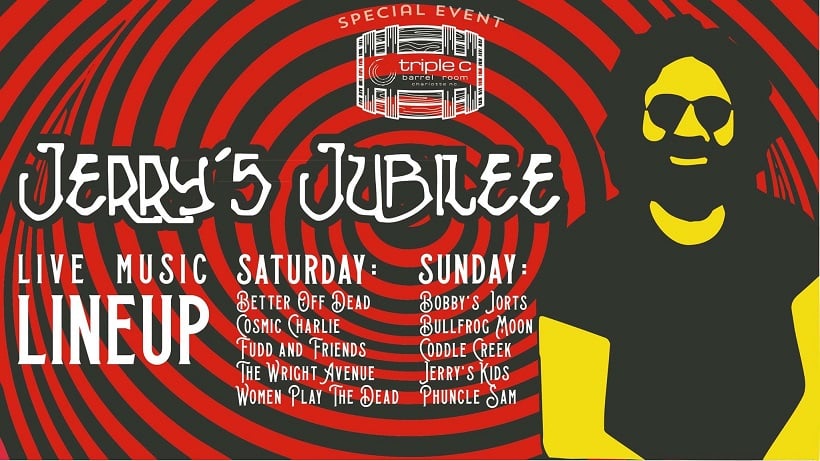 An always-popular monthly event, new beer releases, two-day party honoring a musical legend and ticket information on upcoming festivals – just another packed weekend for Charlotte craft beer. Here's the rundown:
–Lenny Boy Brewing is the site for this month's #instabeerupCLT. This event is the epitome of no frills, simply show up, throw a name tag on, drink beer and make friends. The festivities begin at 6 p.m., and Yafo Kitchen will also have free samples of its shakshuka for the first 100 people.
–Triple C Brewing is throwing a two-day "jubilee" this weekend in honor of the late great musical legend Jerry Garcia. The event will take place at the brewery's Barrel Room, with 10 bands performing and paying tribute to the Grateful Dead lead singer over both days. Tickets are $10 (which is good for both days – you'll get an event wristband) and can be purchased here. As part of the festivities, Triple C is also bringing back its Citra Acid Test, a sour session IPA and New Wrap Order food truck will be onsite as well.
–There are three beer releases in Charlotte and the surrounding area this weekend. On Friday, The DreamChaser's Brewery in Waxhaw is releasing a new variant of Wail of the Baen Sidhe. The original is a bourbon barrel-aged imperial stout with chocolate and vanilla beans, and this version also includes organic toasted coconut. Bottles will be $22.50 with no limit on how many you can purchase, as the brewery opens at 2 p.m. Friday. That same day over in Concord, High Branch Brewing is set for three can releases: Is It Hoppy?, a double IPA ($18 a 4-pack, limit one case per person); Little Man Tate, a Gose with apricot, mango and pomegranate ($17 a 4-pack, limit of three 4-packs per person); and Summer Dayz, an American wheat beer ($14 a 4-pack, limit of three 4-packs per person).
Unknown is also bringing back its summer seasonal, Bright Ass Tank Top, on Saturday. This is a Gose aged in Nicaraguan rum barrels and then blended with key lime juice and sea salt. Bright Ass Tank Top will be available on draft and in 4-pack cans to go at Unknown's taproom when it opens Saturday at noon.
–Finally, tickets for a couple of popular craft beer festivals just went on sale recently. First up is Legion's Third Annual Friends and Beerfest: IPA Edition. In my opinion, this is one of the most underrated craft beer events in Charlotte, especially if you're a hophead. On August 4, Legion will shut down its parking lot from 4 p.m. to 8 p.m. and host local and regional breweries, which will be bringing their best IPAs for unlimited samples. I'll have more on this festival next week including participating breweries. Tickets are $40, and can be purchased here.
Charlotte Oktoberfest is also back for its 19th year. The city's longest-running craft beer festival took a year off in 2016 but returned last year at Symphony Park in SouthPark. The 2018 event is moving again, this time to Bojangles Coliseum (which hosted the Queen City Brewers Festival a few years ago). Charlotte Oktoberfest 2018 will take place Sept. 29. Click here or call 1-800-745-3000 for tickets, which are $62 for VIP and $42 for general admission (you can also save money on fees by going to the Bojangles Coliseum ticket office). More to come on this festival as well as the date grows closer.