This weekend in Charlotte Craft Beer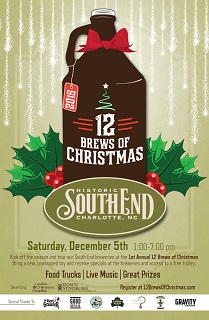 To say there's a plethora of local craft beer events over the next several days would be an understatement. I've listed 15 here alone to highlight, so let's get right to it.
Thursday, December 3
–Olde Mecklenburg is releasing its Yule Bock in a very festive way. This seasonal beer is brewed with European barley malts and hops. True to OMB's standards, Yule Bock is a German "Weihnachtsbock," or Christmas Bock. It's a smooth beer that can be enjoyed outside in the cool months. And you'll have a chance to do just that also on Thursday, as Olde Mecklenburg will be lighting its trees in the Brahaus and Biergarten at 5 p.m.
–It's the final #instabeerupCLT of the year, and this one will be held at NoDa Brewing's new facility beginning at 6 p.m. If you haven't been to one of these events, it's a great way to get out, meet people and network – all while enjoying great local beer. There are rumors of breaking out your best ugly sweater as well at NoDa, and if you don't have one, the brewery's got you covered.
–Vintner Wine Market is hosting a Founders tap takeover, with 15 different Founders beer on tap. The takeover is highlighted by Founders' esteemed KBS, which will be tapped at 6 p.m. (and not last long thereafter most likely).
Friday, December 4
–The Weihnachtsmarkt, or Christmas Market, at Olde Mecklenburg has become so popular that this year it will take place over three weekends, instead of just one. It all starts Friday at 4 p.m. This is a chance to enjoy local craft beer and food while doing your Christmas shopping – all from local vendors. More than 30 vendor booths will be present selling gifts and baked goods.
Along with Olde Mecklenburg's fantastic beer (which includes an unfiltered keg of Yule Bock on Saturday), you can also try homemade Gluhwein, which is a German spiced wine served hot. OMB will also have a special menu for Weihnachtsmarkt, which includes Dunkel donuts, goulash stew and lamb lollipops.
Olde Mecklenburg's Weihnachtsmarkt will be the next three Fridays and Saturdays – December 4 and 5, 11 and 12 and 18-19. The Friday hours are from 4 p.m. to 9 p.m. and Saturday hours are from 2 p.m. to 9 p.m.
–Free Range has been a supporter of the local arts from the day the brewery has opened its doors, and has played host to a number of intriguing events. The latest is storySLAM, which is from 7:30 p.m. to 10:30 p.m. This idea behind storySLAM is open mic storytelling. You sign up at the door, and are then chosen by lottery. Stories will be five minutes or so and center on a holiday theme. (Also, you get to enjoy some great beer while listening)
Saturday, December 5
— Good Bottle is continuing its streak of "Good Morning" breakfasts during the next several weeks, and this one will feature fresh cinnamon buns and toast from Bethlehem Bread Company. The taplist is still being finalized (follow Good Bottle on Twitter for the latest) but owner Chris Hunt provided me with three to get started: Triple C's Up All Night, Left Hand's Bittersweet Imperial Coffee Milk Stout and Grimm Purple Prose, a sour with black currants and raspberries. Saturday's event begins at 9 a.m.
—Triple C released its famed Up All Night a couple weeks ago, and is now set to take it up a notch with bourbon barrel-aged Up All Night. This year's BBA Up All Night was aged in Heaven Hill barrels and will be available at the taproom beginning at noon for $14 a bottle with a limit of six per person. To celebrate the release, Triple C is also opening early (10:30 a.m.) and will have a bottle share. Bring your favorite bottle and enjoy what others bring while enjoying free coffee and donuts.
–I wrote about Birdsong Brewing's four-year anniversary party on Saturday earlier this week, and it's worth mentioning again. There's going to be some additional surprises throughout the day, so plan accordingly. The festivities start at noon.
–Lenny Boy Brewing is releasing two new beers on Saturday: Holy Moly and Ground Up. Holy Moly is a gluten-free wild ale that checks in at 4.4 percent ABV. It's brewed with sweet potatoes, molasses and spices. Ground Up is Lenny Boy's coffee stout featuring coffee beans from Counter Culture, coming in at 5.3 percent ABV. Lenny Boy opens Saturday at noon.
–Salud Beer Shop is partnering with Repo Records for its first-ever pop-up record store. From noon to 8 p.m. you'll have a chance to sift through classic vinyl, which is definitely making a comeback. As part of the event, there will be a meet and greet with Steep Canyon Rangers, who will be performing later that evening around the corner at Neighborhood Theatre.
–Did you miss out on the heavily sought-after Cold Mountain this year? Carolina Beer Temple has the answer for you, as they held their release until Saturday beginning at noon. That's when you'll be able to purchase 22-ounce and the swingtop 1-liter bottles. Carolina Beer Temple will also be tapping a keg of Cold Mountain at 5 p.m.
–Historic South End is sponsoring the first annual "12 Brews of Christmas" beer crawl. This is a toy drive and fundraiser benefiting Levine Children's Hospital and the Down Syndrome Association of Greater Charlotte. Six South End craft beer establishments are participating: Good Bottle, Lenny Boy, Sycamore, The Beer Growler, Unknown and Wooden Robot.
There will be a trolley that you can ride that begins at Lenny Boy at 1 p.m. and will make a continuous loop between the six locations every 30 minutes until 7 p.m. Bring a new, unwrapped toy to any one of the locations and you'll get a bracelet that allows you access to the trolley, along with beer specials from the participating establishments. You can find more information at the event's Web site.
–Cheers Charlotte Radio is having its second annual holiday celebration at Brawley's Beverage beginning at 5 p.m. This year's theme is all about celebrating the repeal of prohibition, as Saturday marks the 82nd anniversary of that glorious day. Come out and learn a little about how far craft beer has come along with what challenges are ahead, and you can be sure Brawley's will have a solid taplist for this event.
Sunday, December 6
–It's once again time for the annual Wake-'n'Bake Off at Salud Beer Shop. The inaugural event last year was a hit, as local chefs faced off with their best "munchies" using Terrapin's famous Wake 'N Bake coffee oatmeal stout. For $25, you'll get one beer ticket for WnB, a logoed mug and the chance to try all of the entries and then vote at the end. Tickets can be purchased here, and the event runs from noon to 4 p.m. (so you'll have time to get home for the Panthers game, or you could just watch it at Salud).
Monday, December 7
–The litany of Charlotte beer events ends with one of the most anticipated beers this season: NoDa's Hoppy Holidays. This seasonal release was superbly received by the local craft community last year, as cans were flying off the shelves. Hoppy Holidays is a winter IPA brewed with Amarillo, Centennial, Chinook, Citra, Simcoe and Warrior hops, with fresh spruce tips added for that holiday touch. Hands down, this was one of my favorite beers last year and I'm glad NoDa is bringing it back.
You'll be able to get 4-packs of Hoppy Holidays at the taproom on Monday beginning December 7, and look for it to hit local bottle shops and restaurants a week later on December 14.