This Weekend in Charlotte Craft: Yule Bock/Weihnachtsmarkt at Olde Mecklenburg, Event Horizon release at Duckworth's, Birdsong's second anniversary and more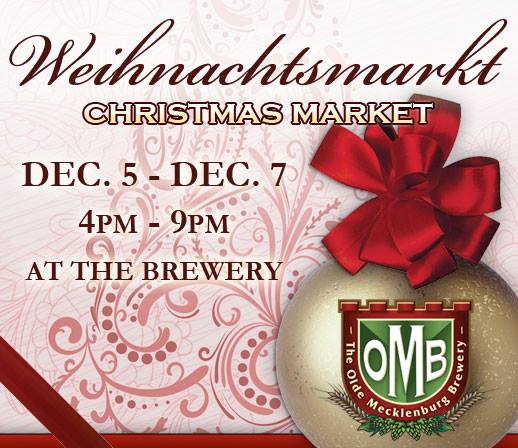 Lots going on in the Charlotte craft beer scene this weekend, and that's never a bad thing. Also, don't forget that Queen City Brewers Festival tickets went on sale today. I don't expect to write that sentence in a couple of days, so if you're on the fence, now's the time to buy.
Now, on to this weekend's activities …
Thursday
• As part of Olde Mecklenburg's kickoff of its annual "Weihnachtsmarkt," the brewery is officially releasing its Yule Bock today. Described as a "malty, full-bodied, smooth winter lager," it's a great beer to have by the firepit outside. Pints will be available at OMB, and they will also be selling bottles to take home.
And what is Weihnachtsmarkt, you ask? Well, it's Olde Meck's Christmas market, and it runs until Saturday, each day from 4 p.m. to 9 p.m. It's a German tradition to transform a city's town square into a marketplace where people can buy baked goods and Christmas gifts, among other things. All the time, of course, while also enjoying delicious beer. This will be the fourth annual Weihnachtsmarkt at OMB, and will include numerous vendors from across the city, including good friend Daniel Hartis of Charlotte Beer, who'll be selling his book "Charlotte Beer: A History of Brewing in the Queen City."
• Carolina Beer Temple is also having a tap takeover today featuring NoDa Brewing beers. The store will feature NoDa flights and specials on draft, while 4-packs of Jam Session and Hop, Drop 'n Roll will be 10 percent off. The takeover will go from 6 p.m. to 8 p.m.
Friday
• If you didn't make it to the first day of Weihnachtsmarkt or get a bottle/pint of Yule Bock, there's another reason to head to Olde Mecklenburg. At 5:30 p.m., OMB will release its Bourbon Barrel-Aged Mecktoberfest. This was originally released in Raleigh a month or so ago as part of a rare beer tasting and, given my affection for bourbon barrel-aged beers, I've been steadily waiting for the brewery release.
Saturday
• One of my favorite events is back again, as Duckworth's hosts the Event Horizon release party, starting at 11 a.m. If you've never had this Olde Hickory beer, it's one of the most anticipated releases of the year. Event Horizon is an imperial stout brewed with honey and aged in oak bourbon barrels. Bottles will be on sale beginning at noon. They are $15 a bottle, with a limit of four per person initially. First come, first serve.
But the bottle release is just one part of Saturday's festivities. There will also be a bottle share, as everyone is invited to bring in a bottle of your favorite beer or a rare beer. These shares have been outstanding, with some of the top beers in the country being passed around. And I haven't even gotten to the breakfast yet. Duckworth's will be serving pancakes with your choice of Event Horizon syrup or fresh berry compote with hefeweizen reduction, along with eggs and both applewood and jalapeño bacon. (Pro tip: Go with the Event Horizon pancakes and jalapeño bacon.)
You'll also be able to get Olde Hickory flights that day, featuring the 2012 and '13 Event Horizon and 2012 and '13 Lindley Park (a stout brewed with honey and with raspberries added). Flights will be $10 each.
This year, Duckworth's will have the EH release party at both the Park Road and Huntersville locations. I'll be at the Park Road party, come on by and say hello.
• This Saturday is also the third annual SantaCon, hosted by the Charlotte Beer Club. Dress up like Kris Kringle himself or your favorite holiday outfit. A party bus will take you around on a bar/brewery crawl, beginning at Whisky River from 1 p.m. to 1:45 p.m. for registration. From there, SantaCon participants will head to Unknown Brewing, VBGB (which will feature beer from Four Friends Brewing), Heist Brewery, Birdsong Brewing and then ending back up at Whisky River around 8 p.m. Tickets, which can be purchased here, are $35 ($15 if you don't ride the bus) and include an afterparty at Whisky River.
• Finally, the ACC Championship is at Bank of America Stadium Saturday at 8 p.m. (Go Noles!) If you're planning on going, Unknown Brewing (which is just blocks away from the stadium) will be open at noon for a tailgate party, with music from Hunter's Travesty and Broken Napoleons beginning at 2:30 p.m. And if you take the light rail in, you can have a pregame route of Good Bottle, Triple C and Olde Meck before getting into uptown.
Sunday
I wrote about it earlier in the week, so don't forget Birdsong Brewing's two-year anniversary party from 12 p.m. to 9 p.m., with a bottle release of Puppies on Penguins.