This Weekend in Charlotte: Funk Fest, Opera Carolina, & Festival of India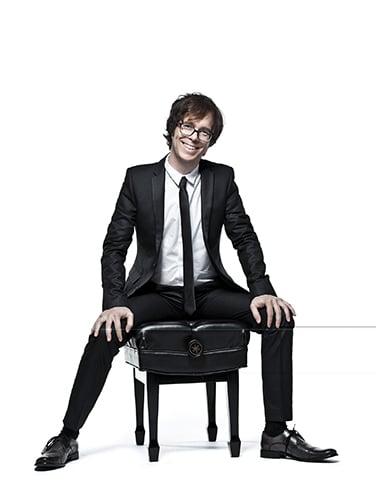 Some of us started early with pumpkin beers and fall lattes, but it's finally time for everyone else to embrace them. And with that, let's take a collective look at the arts and culture happenings in the Queen City this season. In the September issue, we have a comprehensive list, but let's take a look at one of the most anticipated outings, courtesy of Ben Folds and the Charlotte Symphony.
Rock enthusiasts know the music of Folds. Since the 1990s, the Chapel Hill native has thrilled audiences with his kinetic brand of piano-driven tunes. His return to North Carolina on September 27 will be marked by fanfare, with the Charlotte Symphony backing him at Belk Theater as part of the symphony's Pops series.
"We're trying to remain relevant with what audiences want," says Bud Simmons, director of operations and Pops programs for the symphony. "Ben Folds is a popular artist with kind of a classical edge. He actually has written a concerto that the symphony will perform with him."
The Pops series was created to combine orchestra music with radio favorites. Symphony season-ticket-holders will be there, but organizers say the Pops shows attract a wider audience. They're targeting casual symphony-goers, or even attendees who are seeing their first orchestra performance. Folds, a North Carolina Music Hall of Fame inductee, has that kind of pull, with a history of collaborating with artists across genres and even a stint as a judge on the reality TV show The Sing-Off.
"The series has become something of an entry point," Simmons says. "And hopefully, it will lead to audiences wanting to see more of the symphony and buy tickets to our other programs."
Read more here. And as for this weekend, check out the roster below. One note: Guitar legend Johnny Winter was slated to play Neighborhood Theatre on Friday, but the musician passed away in July.
FRIDAY
FUNK FEST
The Metrolina Expo Fairgrounds come alive with the sounds of Outkast, LL Cool J, The Roots, Salt-N-Pepa, Ice Cube, and more. The first two split headlining duties between Friday and Saturday, respectively.
CIBO MATTO (FEATURING NELS CLINE)
Cibo Matto comes to the Visulite Theatre, and the indie pop duo is joined by Wilco guitarist Nels Cline. Cline is married to Yuka Honda, one of the band's multi-instrumentalists. Cibo Matto's newest LP, Hotel Valentine, was released this year.
KENNY WAYNE SHEPHERD BAND
September has no shortage of guitar legends coming to the Queen City. His first record was released when he was 18, and his homestate Louisiana continues to be spotlighted in his work.
RIVER CITY
This Louisville-set play follows Mary, a girl who discovers a mysterious photo of her father in childhood and the journey that follows. The story is a National New Play Network Rolling World Premiere.
FOOTLOOSE
The classic '80s film saw an update in 2011, reviving the tale of a town where dancing and rock music are not allowed. See Theatre Charlotte's take with this run.
CHARLOTTE FOLK SOCIETY
Robin and Linda Williams join the society for this gathering. Country, folk, and old-time music come together for the event at the Great Aunt Stella Center. The venue is located on the edge of Uptown.
SATURDAY
ART. POETRY. MUSIC
The Confucius Institute and Opera Carolina are back with this gala event. The opera group is directed by Maestro James Meena.
HOPE IS AN OPEN DOOR
ArtWorks 945 gives a voice to Charlotte artists who struggle with homelessness. This is their annual event, showcasing works created within the past year. Urban Ministry Center hosts the exhibition.
BUILD IT MAKE IT TAKE IT
Kids create their own wind tubes with kits provided by Discovery Place. Kits run $30, with admission as part of the cost.
HOUSE OF ICHABOD
With a heavy dose of religious themes, this story takes viewers inside a gentlemen's club and sees faith play a role in redeeming the lives of its characters.
SCALES & TAILS
Frogs, snakes, turtles, lizards–they're the stuff of kids' dreams. The Charlotte Nature Museum makes it all a reality with the Scales and Tales event. Native and non-native species are featured.
SUNDAY
20TH FESTIVAL OF INDIA
Through arts, dance, speakers, food, and handmade goods, explore the Indian culture at the Belk Theater. The festival runs Saturday and Sunday, packing the Belk Theater.