This weekend's Charlotte craft beer events (Dec. 15-17)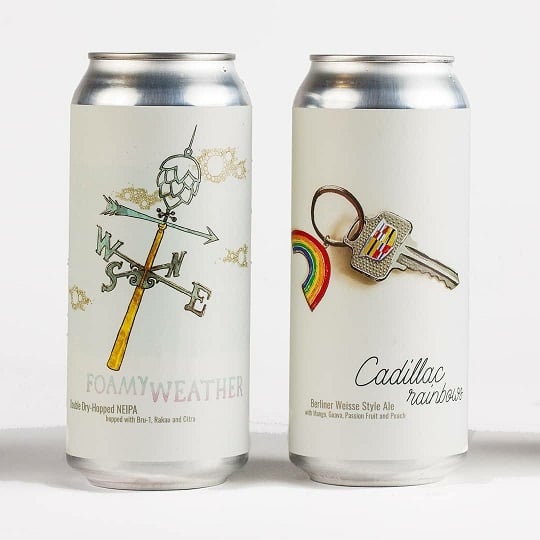 An inaugural can from one brewery, a returning favorite bottle from another, a cross-celebration between a brewery and a distillery and more. Just another huge weekend in the Charlotte craft beer scene. Here's the rundown:
FRIDAY
–This Friday marks the final weekend of Olde Mecklenburg Brewery's Weihnachtsmarkt. This German traditional Christmas market features more than 45 local vendors selling items perfect for holiday presents. Of course, OMB has a full taplist including popular winter seasonals Dunkel and Yule Bock, and the brewery is also serving Gluhwein, a hot red wine. Weihnachtsmarkt takes place Friday from 4 p.m. to 9 p.m. and Saturday from 2 p.m. to 9 p.m.
SATURDAY
–Divine Barrel is set to roll out its first can offerings. There will be two cans available from one of Charlotte's newest breweries. Foamy Weather is a double dry-hopped NE-style IPA featuring Bru-1, Citra and Rakau hops, coming in at 6 percent ABV. Cans of Foamy Weather will be $16.99 plus tax. Divine Barrel's other can is Cadillac Rainbows, a Berliner Weisse fruited with more than 500 pounds of guava, mangoes, passionfruit and peaches, for a tropical and drinkable beer at just 4.6 percent ABV. Cans of Cadillac Rainbows will also be $16.99 plus tax. Sales will begin at 10 a.m., with Ego Food Co. onsite with a breakfast menu and Villain Coffee Company serving drip coffee.
–Legion has a full lineup of beer releases and activities for its third anniversary celebration, "Three Years of Friends and Beer." It all starts Saturday morning with a special birthday brunch menu and 10 a.m. tapping of Spud Muffin, a porter brewed with cinnamon, scotch bonnet peppers, sweet potatoes and vanilla (related: wow). At 2 p.m., Legion is tapping another one of their top beers, bourbon barrel-aged Komrade Shokolad.
Into the afternoon, Coddle Creek will begin performing at 4:30 p.m. as Legion taps Sickle and Stave, a mixed fermentation sour. At 6 p.m., there will be a balloon drop with prizes, followed by music at 8 p.m. by The Grassabillies. The final beer tapped will be Devonian, a barleywine brewed with raspberries aged in bourbon barrels.
–NoDa Brewing's whale of a beer is back for another release dive. Monstro, the brewery's Russian imperial stout, has gone from bottles to cans and now back to bottles. There will be a limited amount of 22-ounce Monstro bottles for sale Saturday beginning at 11 a.m., so you are advised to get there early if you want one.
–Sycamore has two cans lined up for its newest release. Double Fudge Brownie Imperial Stout is how it sounds, brewed with a copious amount of Belgian chocolate chips. As part of the release, JessKakes will also be onsite serving up special Sycamore Stout brownies and cakepops infused with the beer. The second can being released is Pakalolo, an IPA loaded with hops. Both beers will be available on tap and in 4-packs to go beginning at noon on Saturday.
SUNDAY
–Because of the winter weather, Brawley's moved the ticket sales for its highly-popular craft beer festival, Black & Blue, from last Sunday to this coming Sunday. I wrote about this last month; you can read that piece here. Brawley's will begin handing out numbers at 10 a.m. on Sunday, up to 250. Ticket sales are scheduled to begin at 4 p.m., but could be sold earlier if all numbers have already been handed out. Tickets are $65 with a limit of two per person.
–Nothing beats a hearty bowl of chili to counteract the cold, and Unknown Brewing has just the event for this weekend. The brewery's fifth annual chili cookoff is Sunday from 2 p.m. to 6 p.m. For $10, you'll get unlimited samples from more than 20 teams vying for the top spot (you'll get a chance to vote on who you think is your favorite). Unknown will have a full taplist for this event (beer not included in the ticket price), and there will be live music as well. You can purchase tickets here.
–Over at Legion Brewing's SouthPark location, as part of the three-year anniversary celebration the brewery has teamed up with Great Wagon Road Distilling Company to release "Dark Side," a small batch premium whiskey. The malt bill from Legion's "Path to the Dark Side" stout was here in a wash that was distilled and fermented at GWR then aged in oak barrels for six months. You can order the whiskey Sunday when Legion opens at 11 a.m.
Also Sunday at Legion SP is a breakfast with Santa, which includes Legion's brunch menu including coffee and beermosas as well as Spud Porter mentioned above. Pictures with Santa Claus are free for the parents (donations are accepted), and the brewery will have cookie decorating and hot cocoa during this event, which runs from 10 a.m. to 2 p.m.
–Resident Culture has partnered with The Cellar at Duckworth's for a six-course beer dinner that looks fantastic. Chef Fred Quinones curated the menu with help from Resident Culture staff along with using many fresh products from Wild Hope Farms in Chester, S.C. Each course is paired with a different Resident Culture beer. This event is Sunday at 1 p.m. Tickets are $75, and you can purchase them as well as see a full beer and food pairing menu here.