This Weekend's Zucchini Bread
Grate, mix, and bake for a seasonal treat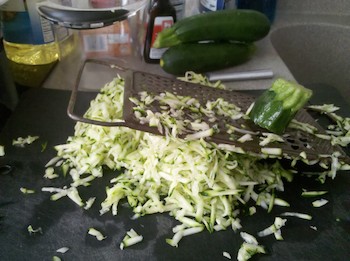 As summer arrived this weekend, so did a few guests. I took advantage of the bounty of zucchini at local farmers markets, and made some zucchini bread and muffins for the weekend. My guests enjoyed them, and I have an extra loaf to snack on this week.
If your garden is producing zucchini, this is a great way to use up a few of them. Or if you're garden-less this summer, stop by one of our local markets to pick up a few. Several markets are open during the week, which is handy for midweek meals or weekend preparation. Kings Drive Farmers Market is open on Tuesdays during the season from 6 a.m. to 6 p.m. Matthews Community Farmers Market is also open on Tuesday evenings from 6 p.m. to 8 p.m. now until August 5. And the Charlotte Regional Farmers Market is open every day expect Monday through September.
I used my mom's recipe for zucchini bread. I tried some mini muffins in addition to the traditional loaves. They turned out pretty well, but make sure to reduce the baking time for the smaller size.
Zucchini Bread
3 cups all-purpose flour
1 teaspoon salt
1 teaspoon baking soda
1/4 teaspoon baking powder
3 teaspoons cinnamon (or a little less, depending on your preference)
3 cups zucchini, grated
3 eggs, beaten
2 cups sugar
1 cup vegetable oil
3 teaspoons vanilla
1 cup pecans, chopped
Preheat oven to 350 degrees. Grease and flour 2 large loaf pans, 8 small loaf pans, or 2-3 muffin tins. Grate zucchini and chop nuts. Sift together dry ingredients. In a separate bowl, beat eggs. Add sugar, oil, and vanilla, and mix well. Gradually add dry ingredients to wet mixture and mix until just combined. Stir in zucchini and nuts. Bake for about 1 hour for large loaves, or 30 minutes to 45 minutes for small loaves and muffins. Remove from pans and cool on wire racks.