Threats of Violence on 3 Local Campuses Bring Varied Responses
And raise questions on preparedness, risk, and response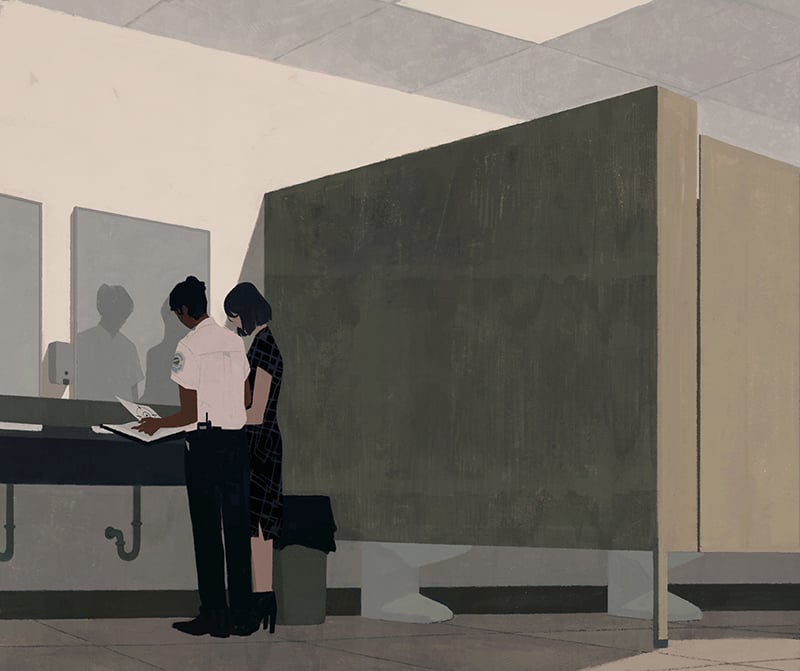 AT THE END OF JANUARY, a student on Central Piedmont Community College's Central Campus, just outside uptown, found a book that had been abandoned and propped up near the sinks in a women's restroom on the upper floor of a classroom building.
The student opened the back cover and discovered a threatening message: "On Friday February 2, 2018 there will be a mass shooting @ CPCC Central. Be there or be square."
Throughout the book, which belonged to the college's library, someone had repeatedly written "kill them all."
Concerned, the student left the book with a professor, who in turn notified campus security officials. Those officials consulted with CMPD, and law enforcement beefed up its overt and invisible presence on all CPCC campuses throughout Mecklenburg County for the next four days. But students, staff, and faculty were never notified of the threat through CPCC's "Critical Alert" warning system. The threat, and the investigation into it, has not been previously reported.
"We always take any type of message or behavior like this seriously," says Jeff Lowrance, the college's spokesman. "Security and CMPD just did not feel that it was an imminent threat."
The situation, along with threats of violence made by a Charlotte-Mecklenburg Schools middle schooler on February 28 and a UNC Charlotte student in March—and set against the backdrop of the Parkland, Florida, school massacre on Valentine's Day—illustrate the challenges school personnel face in evaluating threats on campuses.
A CPCC employee, who heard about the mass shooting threat from a colleague and discussed it on the condition of anonymity, believes the college should have warned the public about the risk. "It's scary," the employee says. "I felt betrayed by my institution."
***
THE CITY'S OTHER KNOWN school shooting threats this spring were different in a substantial way: They each had an identifiable suspect. "In cases of these anonymous threats, they're almost always efforts to be disruptive that aren't genuine," says Dewey Cornell, a professor of education and a clinical psychologist at the University of Virginia, who is a national expert on school violence. "I would be very reluctant to close down a school system or evacuate an entire campus, to take really drastic action, because you run the risk that you're reinforcing the behavior to make more threats."
Charlotte-Mecklenburg Schools Police and CMPD worked with the FBI on the February investigation, which started because of threats of violence made on Snapchat directed at Southwest Middle School in the Steele Creek neighborhood. Police charged a 14-year-old female student with making a false report of mass violence on educational property, a felony. The district used its email and telephone systems to send a message about the incident to parents.
A month later, UNC Charlotte used its warning system to alert faculty and staff of a threat of gun violence on the campus. The university's police department acted on a tip from another law enforcement agency about a student who was fascinated with school shootings. Matthew Saavedra, 20, was first voluntarily committed to a hospital for mental health treatment and later arrested for making a false report of mass violence on educational property. A search warrant affidavit, written by a UNC Charlotte police officer, referenced an "explicit detailed plan…about killing and harming our students and staff." In Saavedra's off-campus apartment, officers found information about UNC Charlotte's active shooter response plan, but no weapons. The university alerted students and employees of Saavedra's arrest, and that he has been banned from campus.
By contrast, CPCC, after determining in cooperation with police that the anonymous threat was peculiar but not imminent, increased police activity—but campus administration did not notify the public about the message scrawled in the library book. "Generally, we move toward the side of over-communication," Lowrance says. "But this particular (threat), it did not ring true in a number of ways."
It's common for schools and colleges to use threat assessment teams comprised of employees, school resource officers, and other experts to evaluate risks and respond to them appropriately. "Anyone can make a threat, but relatively few individuals pose a threat," Cornell says. "All threats need to be taken seriously, but they're not all equally serious. The response to threats should not be uniform or consistent."
The dissimilar responses—in terms of security, but also public relations—to these three local threats are evidence of that reality.
The underlying challenge is that all of these decisions hinge on human judgment. Teachers and professors must decide when to alert police; investigators make the call on when to pursue a tip; administrators face questions about notifying the community or canceling classes. "Threat assessment teams have a challenge, in that they don't want to overreact to threats that are not serious," Cornell says, "and they don't want to underreact to the rare threats that are deadly serious."
***
AFTER THE PARKLAND SHOOTING, Congress appropriated $50 million through the Stop School Violence Act, part of which is intended to fund training and resources for threat assessment teams on school campuses across the country. (The bill made no mention of gun control.) North Carolina's legislature has similarly avoided discussion of gun safety measures—although several state lawmakers did call for arming public school teachers.
"This rush to fortify our schools and put armed personnel at the door, I think, is very shortsighted and not a good use of resources," Cornell says. "Prevention has to start before the gunman is in your parking lot."
That includes better preparing the first line of interventionists—teachers, professors, school nurses—to evaluate the possible risks of student violence. Threat assessment teams are typically multidisciplinary, involving people from different backgrounds and with varied professional knowledge who, as Cornell puts it, "try to focus on behavior and known facts, rather than intuition and emotions."
Although there's a great deal of behavioral research for cops and educators to rely on, the threats at CPCC, Southwest Middle, and UNC Charlotte illustrate that there is no checklist, no set procedure, for how schools and colleges should evaluate the credibility of violent language, and how they should share such threats with the public. That leaves decisions open to interpretation—and scrutiny, after the fact.
"Every judgment we make is a human judgment," Cornell says. "Whether you're a surgeon, a police officer, or a cab driver, you're making fallible human judgments all the time."