Three Different Ways to Shop
Think outside the big box with local markets, farms, and artists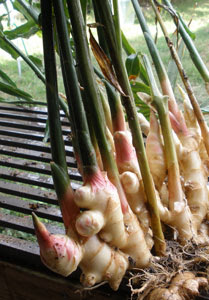 If you didn't knock out all of your shopping this past weekend with Black Friday and Small Business Saturday, consider one of these options for a different, thoughtful gift. You'll not only show the recipient that you care, but also support a small business or artist in the Charlotte community.
1. Windcrest Farm offers a specialized form of Community Supported Agriculture (or CSA) with its CSA—Ginger Edition. CSAs have become a popular way for those living in urban areas (or those who simply don't have the time to or interest in growing their own gardens) to support local farmers. Participants purchase a farm share, which helps with the costs of seeds, supplies, equipment, and labor, and the farmer then provides the shareholder with fresh fruit, vegetables, eggs, meat, herbs, or whatever farm-fresh products he or she produces. Windcrest Farm will grow its fifth crop of baby ginger in 2015. This time of year, farm owner Mary Roberts purchases her organic seed for next year's crop. Each year, the baby ginger—a younger, milder form of the mature root found in grocery stores—sells out quickly. People can purchase a one-pound share anytime between now and December 24th for $14. Shareholders will then receive one and a half pounds of ginger (a $21 value) next fall. The ginger keeps for up to a year in the freezer. If someone wants to purchase a ginger share as a gift, Roberts can notify the recipient and provide all of the details. To learn more about baby ginger and purchase a share (or two), click here.
2. For your entertaining needs this season, Deep Sea Seafood Market on Monroe Road offers holiday ordering. Bushels of oysters, whole lobsters, or crab legs make impressive centerpieces for a big meal. Or if you need a ready-to-go platter for an office party or luncheon, the Market offers several options, such as shrimp cocktail, seafood lasagna, crab-stuffed mushrooms, and blueberry batter cake. Providing a dish of lasagna or a blueberry dessert might be the ideal gift for a busy family this time of year. If you're looking for fresh fish or seafood for a meal this week or weekend, the Market celebrates its second anniversary this Tuesday through Thursday (December 2nd through 4th) with a 30 percent discount. The Market also has recipes, spices, and sauces to round out your preparations.
3. If you're looking for a piece of jewelry or pottery, a photograph or handmade print, the Arts & Science Council has a handy online artist directory at CharlotteCultureGuide.com. You can search the listing for artists based on a specific medium. When the results come up, each artist listing has a brief bio of the artist and description of his or her work. It also provides links to the artist's email address and/or website. Many artists offer online ordering on their websites. To start searching for the artist who matches your gift-giving needs, click here.