Three Diners Dish Up Vegetarian Comfort Food
Three local faves offer meat-free twists on traditional comfort foods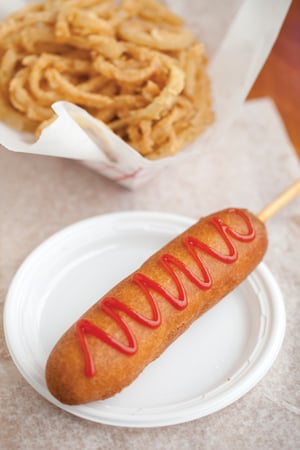 Lupie's Cafe: Vegetarian Chili
From the outside, this unassuming roadside café in the Elizabeth neighborhood looks like one of those places where you'll get either a great meal or the evil eye, and you won't know which until you walk in. It's the former. You'll find a simple menu stacked with the usual meaty suspects: burgers, barbecue, and BLTs. But one of Lupie's most-talked-about dishes is the vegetarian chili ($5.95). The hearty blend of soy crumbles, beans, tomatoes, and spices is served with shredded cheese and raw onions, just like the real deal.
2718 Monroe Rd., 704-374-1232
Pinky's Westside Grill: The One and Only Corn Dog
"Weiner Wonderland" is perhaps the last menu heading under which a vegetarian might think to look to find a decent meal unless, of course, that vegetarian has been to Pinky's. The funky, family-friendly restaurant offers vegetarian options of all of its hotdogs and even claims the city's "one and only" vegetarian corndog ($4.25). In a twist on traditional state fair food, organic soydogs are dipped in corndog batter and deep-fried until golden brown. Have one with a side of onion rings, and it'll be like just you're in line for the Zipper but without that familiar queasy feeling.
1600 W. Morehead St., 704-332-0402
The Diamond: Meatless Meatloaf
Few foods are as unapologetically un-vegetarian as the humble loaf of meat. But with a little creativity and some secret ingredients, this Plaza Midwood mainstay is cranking out meatless meatloaf ($8.95) that rivals even your mother's. A secret mix of vegetables and textured vegetable protein ("TVP" to the vegetarian-savvy crowd) morphs into an uncanny imitation of the original. Served alongside soymilk mashed potatoes smothered in vegan gravy, this loaf would fool your most carnivorous friends.
1901 Commonwealth Ave., 704-375-8959