Three Spirits: Brewing a New Life
Tabu Terrell quit his job as an ER doctor to open Three Spirits Brewing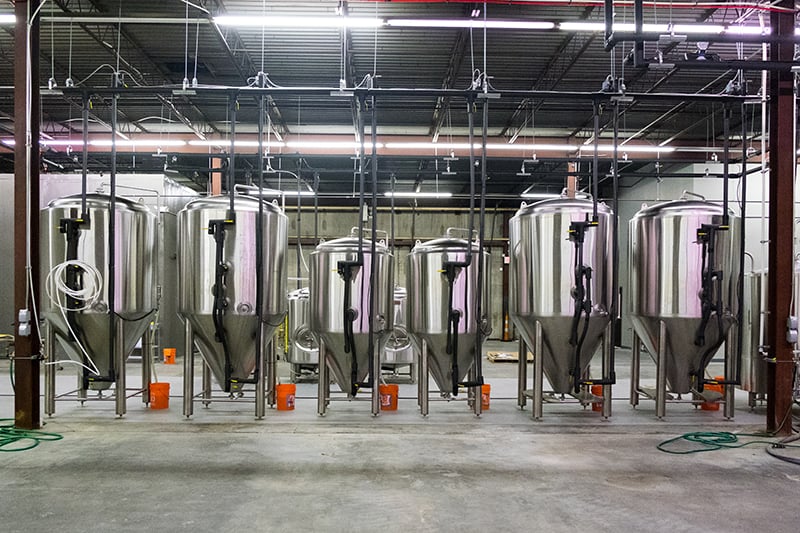 THE MOMENT that pointed Tabu Terrell toward a new livelihood came during a craft beer conference in San Francisco.
"Do I really want to work myself like that and not get to enjoy the rest of my kids' lives or just die early?" Terrell remembers thinking.In March 2011, after falling severely ill some 2,700 miles from his Charlotte home, Terrell found himself in a state of septic shock, hooked up to three IVs, and watching his blood pressure dip alarmingly low. His years of lucrative but stress-filled work as an emergency physician had made him familiar with a hospital setting, but now—resting on the other end of the stethoscope and physically spent from the long, wildly unstable hours of his profession—Terrell knew his retirement plan couldn't wait.
Five years later, Mwatabu Maekundu Terrell—Tabu, for short—is one of the newest brewers in Charlotte's burgeoning craft beer scene. Last November, Terrell opened Three Spirits Brewery in an industrial section of Old Pineville Road in South End.
After watching his colleagues burn out from the intensity of life in the emergency room, he decided to trade his scrubs for suds. The 43-year-old native of Champaign, Illinois, had been thinking about this day since he brewed his first batch of beer in early 1999. Friends and family raved about his creations, and his hospital stay in March 2011 prompted him to speed up his plan to switch careers.
"That was probably the moment that I said, 'Something's got to change,'" he says. "We kind of just moved the plan up, but it was always a plan. It was just going to be after retirement, something to keep the Alzheimer's away. Instead of doing crossword puzzles, I figure we can just brew."
The inspiration behind the business name comes from Terrell's childhood love of Charles Dickens' A Christmas Carol, specifically referencing the three spirits that visit Ebenezer Scrooge. The brewery includes several touches of Dickensian whimsy, most notably an entrance inspired by England centuries ago that offsets the building's otherwise utilitarian metal façade.
Terrell's philosophy is to embrace what he calls "comfort beer," staying loyal to traditional styles—brown ales, porters, and IPAs with no frills—rather than the sudsy equivalent of a half-caff, skinny, one-pump, extra-hot, no-whip macchiato.
"A lot of people are doing that great in the city," Terrell says. "We wanted to be a little bit different."
On a busy first Saturday of the new year, Terrell was making his rounds while live music played over the taproom conversations. It's a different sort of stress he experiences now as Three Spirits' CEO, founder, owner, head brewer, accountant…
"You keep naming them, I'm doing them," he says, playfully interrupting himself with a laugh.
Three Spirits is taking cues from other area breweries, starting small with reduced hours and a foundation of core beers. The company has two full-time employees: taproom manager Debbie Graske and assistant brewer and sales manager Matthew Thomas, Terrell's brother-in-law. About 10 part-time employees round out Three Spirits' helpful bar staff, 12 if you count the regular visits from Terrell's children: Gwendolyn, who turns nine this month, and Jameson, who turned seven on Super Bowl Sunday.
But unlike some of his Charlotte brewing colleagues who quickly outgrew their space and moved, Terrell has room for Three Spirits to expand—both on the production side and in its taproom accommodations.
For now, the goals for the first year are relatively modest: increased distribution, a targeted output of 750 to 1,000 barrels, and the ability to branch into special bottle releases. The first limited edition, scheduled to coincide with Charlotte Craft Beer Week this month, is a Belgian Saison called King Rassafassa. The beer is named after a make-believe character Terrell's late father created while playing with his grandchildren.
Beyond the beer, Terrell's goals are to create a neighborhood gathering place with a laid-back, speakeasy vibe, hoping to connect with a growing audience in an ever-growing market.
"We want to try to get to know people," he says. "We want to make this as much of a Cheers bar as we can."
Zack Albert is a writer, typewriter collector, and North Carolina native who has spent the past four years in Charlotte. Reach him at zackalbert@gmail.com or on Twitter: @zack_albert.
THREE SPIRITS BREWING
5046 Old Pineville Rd.
980-207-4881
---
This article appears in the March 2016 issue of Charlotte Magazine
Did you like what you read here? Subscribe to Charlotte Magazine »
---