Throw a Memorial Day Bash
Recipes, style tips, and shopping suggestions for your weekend festivities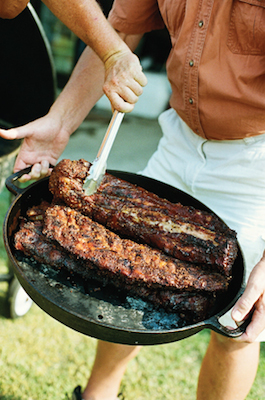 Memorial Day weekend is one of the first big opportunities of the summer season for backyard grillers and entertainers to throw a party. Below are some suggestions to help make your event a success.
Create a backyard party paradise.
Did you take advantage of the offseason by putting in an outdoor kitchen? Or maybe you have a brand new grill or patio furniture to break in? Now's the time to do it. If you're looking for a few extra accents or staple items, check out our "Get the Look" piece on outdoor living. Make the night a simple yet elegant affair with a sophisticated table setting. Don't forget landscape lighting for the backyard. Even though daylight lasts longer this time of year, you don't want to cut the party short because of inadequate lighting. And if all the big things—the grill, the table, the lights, the furniture—are covered, delight in the details, like these kitchen towels from local label Lucylucybangbang.
Stock your bar.
Whipping up a few cocktails will be much simpler if your home bar is stocked with the essentials. Check out our list of the coolest openers, ice buckets, carafes, coasters, and shakers, and where to find them in town. Plan to have a signature cocktail or two for the party. Try a simple sangria. Or mix it up with a watermelon martini, cucumber fizz, or peach sour.
Shop the local markets.
When you're preparing for a party, it takes some shopping. On Selwyn Avenue, you can find meat, wine, and cheeses at Reid's Fine Foods, fresh fish at Clean Catch, and a beautiful dessert at Edible Art. If you're looking for fresh produce, check out our list of farmers markets.
Finally, prepare the food!
If you're looking for a traditional, North Carolina picnic, we have a full menu here with Dan "The Pig Man" Huntley's smoked Carolina pork ribs, grilled corn with blue cheese, red-skin potato salad, and cole slaw. Or if you're craving pizza, check out our guide to grilled pies. And for the seafood fans, cool, creamy shrimp rolls are easy to eat outdoors and can be made ahead. Strawberry season is about at its peak this time of year, so take advantage of it with these creative recipes for strawberry chicken salad and strawberry-and-black-bean salsa. And for those cooks and guests who demand that a Memorial Day cookout must have burgers, these homemade sauces—including a Gorgonzola spread, jalapeño cilantro spread, and poblano pepper mayo—will add a kick to the classic.