Tightening the Stroke Belt with Dr. Jodi Dodds
Neurology Presbyterian Neurology Center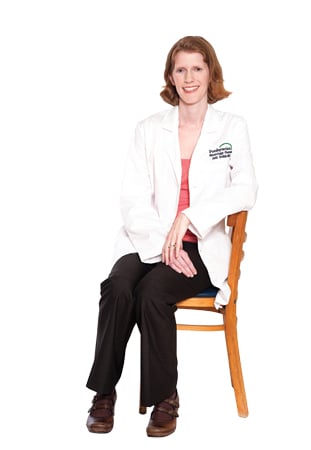 Dr. Jodi Dodds was headed for a career delivering babies when she became enthralled by the mystery and potential of the brain. Now she's a vascular neurologist, devoting 70 percent of her practice to helping stroke victims regain their full lives.
In 2010, Dodds moved from Seattle to Charlotte with her husband and two young children, in part to be closer to family in her native South Carolina. She loves when she can sit and talk with stroke victims and their families, even if it means scheduling extra time between appointments. "When a patient has had a stroke and arrives for her neurological evaluation, she wants answers and the opportunity to ask questions without being rushed out the door," says Dodds. "Stroke is a life-altering event, and these patients are entitled to adequate time with their neurologist." She rarely misses an opportunity to preach a little, too. This is the Stroke Belt, she notes, because of smoking, poor diet, and lack of exercise. Quit, she says over and over—smoking wreaks havoc on the blood supply to the brain.
Stroke victims present some of the most moving cases imaginable: the seventeen-year-old who couldn't speak or move his right side and is back to nearly 100 percent after medicine and rehabilitation. The forty-eight-year-old woman with whom Dodds took turns writing the letters of words until she could learn to speak again—the patient would write a letter and then she'd write one, until they formed the right word. And the fifty-four year old who couldn't move any part of his body except his eyes—he had to blink to answer questions.
In a career that is taking root, Dodds is determined to work with each one to fix what she calls "the plumbing of the brain." —K. G.