Time Capsule: Hall's Clock Shop in Plaza Midwood
Small store holds out for four decades in a rapidly changing neighborhood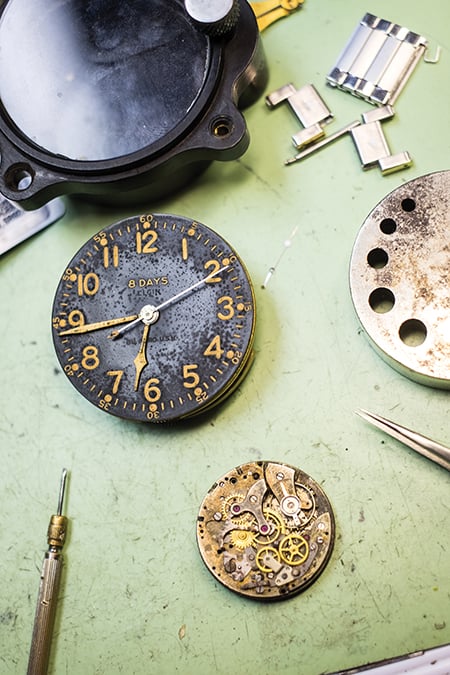 THE CLOCKMAKER doesn't have time.
As Ken Demert, the 70-year-old owner of Hall's Clock Shop on Central Avenue, helps a customer with her 19th-century grandfather clock on a Saturday morning, he tells me to try speaking with him again another day.
The problem is that I'm on a deadline, and the next time Hall's is open is five days from now.
On Thursday, when the shop Ken runs with his son, Matt, is open from 10 a.m. until 2 p.m., I call back. I ask how this clock shop has time for anything with its bizarrely short hours: 10 a.m. until 2 p.m. Thursday and Friday; 10 a.m. until noon on Saturday.
"If you want to get me, you've got to get me on Thursday, Friday, or Saturday," Ken says. "There's enough work that comes on these three days to keep me busy on those four other days."
Indeed there must be, as Hall's Clock Shop survives amid the rapidly changing, bulldozed landscape in Plaza Midwood.
"The area is the only thing that's changed, but as far as the business, it's always been the same," Matt says.
That business ranges from restoring 250-year-old grandfather clocks that just don't tick right to taking links out of watchbands purchased yesterday. The Demerts also sell antique watches and clocks in their 270-square-foot store.
In 1975, when Ken bought the shop and moved it from College Street in uptown to its current location on Central Avenue, John's Country Kitchen (which closed last year) was still two years away from being open. Central Hardware was around the corner. Plaza Men's Store was the hot ticket for any man in town, and Hanh's German bakery was the Nova's before Nova's existed.
None of those places is still in business.
Except Hall's.
"Is it different than it was 40 years ago? Absolutely," Ken says. "But it's a busy business. It changes some. But it's always busy."
When Ken bought the shop, named after its previous owner, he kept the name—although he and Matt still aren't sure which it is: "Hall's Clock Shop" or "Hall Clock Shop." The sign outside says "Hall's," but the website and business cards say "Hall."
When you're one of the only shops in town doing what you do, does an extra "s" really matter?
An estimated 60 percent of Americans aged 16 to 34 use a cell phone as their main timepiece instead of a watch, according to a 2011 poll by the online market research firm YouGov. Yet the Demerts believe their clock shop is safe from the fate that has befallen so many of their neighbors. Ken owns the building, and he recently split the shop in half and began renting out the other half to a boutique called CLTCH.
"The kids that see a rapper on TV with a big diamond watch, they have to be just like him," Matt says. "Then you've got your executive businessman with a $20,000 watch, and you can almost compare it to a vehicle. You've got vehicle service because it's gotta be done, and it's got its own niche of people."
So on a cloudy Saturday in February, after Ken tells me there's no time for a story, I tell him I actually need his help. My watch is loose, and I need five or so links removed.
Oh, that? Matt says. That won't take any time at all.
---
This article appears in the May 2016 issue of Charlotte Magazine
Did you like what you read here? Subscribe to Charlotte Magazine »
---