Time to Plant Multiplier Onions
Once you start them, you'll have them for good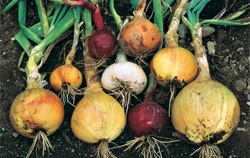 Multiplier onions aren't sold commercially. These perennial onions are an old-timey variety and an in-the-know kind of crop. Either you know someone who's grown them for years, you maintain your own supply, or you head down to Renfrow Hardware in Matthews.
"We've been doing it for years," says Manager Mark Ehrhardt of the multiplier onion sets available at Renfrow. The store—in business for more than 100 years—stocks more than 300 varieties of seeds and a greenhouse full of plants. Many of the seeds and plants, including the multiplier onions, come from Renfrow Farm on Charles Street, about three blocks from the store.
Employees grow, harvest, and cure the seed onions to sell. Renfrow has about 10 to 15 pounds left for the season, and the onions cost $8 a pound. One onion seed will yield anywhere from three to seven onions. The onions have a hotter taste than many of the mild varieties more common today.
"They've got a little bite to them," Ehrhardt says, "but they're very good."
Once you purchase your seed onions, plant them about twice the depth of their current height. The onions prefer a sunny spot. They grow best in the ground, but they also tolerate containers for those with limited space.
Ehrhardt recommends planting the onions within the next three to four weeks and the sooner the better. The onions should stay in the ground throughout the fall and winter and be ready to harvest in the spring. Any small onions can be saved and cured for seed.
"If you start them for yourself," Ehrhardt says, "you'll have them forever."