Tips on Holiday Decorating from a Charlotte Pro
Designer Hadley Quisenberry of West Trade Interiors shares her tips for sprucing up your home for the holidays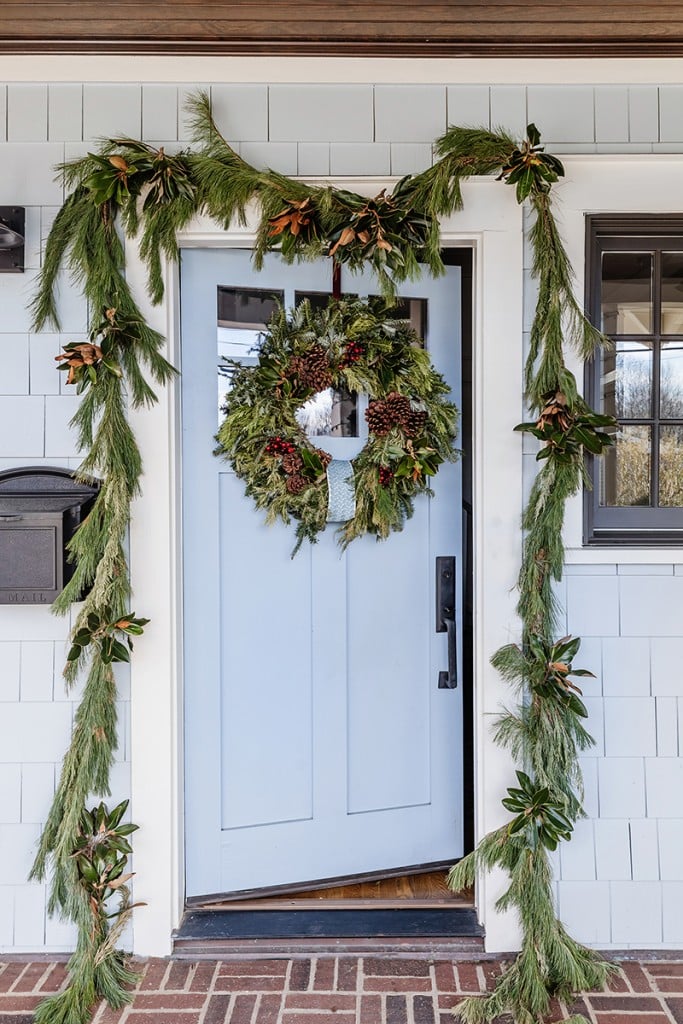 As she was growing up in south Charlotte, Hadley Quisenberry's parents took her every year to the Kings Drive Farmers Market to pick out a Christmas tree. She's continued the tradition with her own children, 8-year-old Britt and 6-year-old Georgia. "(My mom) always used fresh greenery that she got at Kings Drive and created arrangements all over the house," she says. "But everything centers around the tree. Despite having awesome taste, she was always OK with a mix of kids' ornaments and big vintage colored bulbs."
As owner and principal designer of West Trade Interiors, Quisenberry works alongside her mother, Lisa Britt, a longtime interior designer whom she calls "an impeccable homemaker and entertainer." Just like her mom, Quisenberry loves to break out her holiday decor at the start of the season, but she never takes the setup too seriously. "I want it to feel sophisticated but be something the kids can connect to," she says. "It's a mix of specialty decor and homemade things they recognize. It's not very elaborate, so it's easy to display and it doesn't feel busy."
We caught up with Quisenberry for a tour of her home as she decorates it for the holidays. See how she incorporates greenery, nutcracker collections, homemade ornaments, and those giant colored bulbs—all in an afternoon.
More holiday decorating tips from Hadley Quisenberry
COLLECTIONS:
Anything from Christmas villages to antique ornaments or nutcrackers are fun to collect and display.
Personal collections will bring a sense of nostalgia to family gatherings, as well as a special warmth to your decor.
Choose one main accent color and repeat it in varying shades (from deep to pale) throughout the space OR choose a palette of two to three colors.
COLORS:
It's very Southern to use nontraditional colors, which has the added benefit of freeing you up to pick something that complements your interiors. We often use navy and sky blue, and recently, we've had fun playing with pinks and reds together.
Get the most bang for your buck by reserving the decorative trim for your tree and front entry.
Use the satin and velvet ribbons in complementary colors to hang wreaths and adorn presents so everything flows cohesively.
Mix solids with patterns; we typically go geometric. This creates a custom, curated look and keeps things interesting without looking overly busy.
You can pick a coordinating custom fabric or buy ready-made pillows in your color theme to swap in for the season and give your spaces a new look.
GREENERY AND BOTANICALS:
Carry fresh greenery throughout your home with layers of eucalyptus and boxwood. Here in the South, magnolia cuttings and assorted garlands are also popular options.
Use a large front door wreath, then add smaller wreaths indoors, like the kitchen and dining room windows.
For pops of natural color, you can add sprigs of red holly berries or blue cedar.
KIDS' DECOR:
Layer in their handmade creations and collections along with classic, sophisticated elements.
Repetition is important with children's decor. Keep like with like for a more impactful and cohesive effect.
Build a display around their collections. They'll feel proud to have their holiday items featured in the home.
If you have more than one collection to display, put them in different rooms. You'll give each one a special spot without overloading any one room with the kids' decor.