'Tis Cookie Season
Girl Scout cookies (and new flavors) on the horizon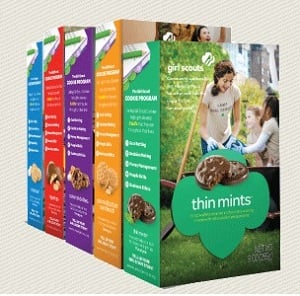 Time is running out for holiday shopping. However, Girl Scout cookie pre-orders are available and began on Saturday, December 13 with cookies due to arrive by January 20. Each girl scout cookie sale teaches five girls essential business skills like goal setting, decision making, money management, people skills, and business ethics. So, how about a stocking stuffer in the form of an I.O.U. for cookies?
Additionally, you can buy cookies online. The Girl Scouts Hornets' Nest Council, which serves eight counties in North and South Carolina, will be participating in the pilot program that allows Girl Scouts to sell cookies from a protected, personal website to friends and family nationwide. The new web platform will add modern elements like website customization and e-commerce to the list of learned skills.
If you needed even MORE of a reason to get your cookies, you should know that the Girl Scouts will be releasing two new flavors this year. First, the Rah Rah Raisins – a crumbly concoction bringing together plump raisins and Greek yogurt-flavored chunks. These offer a delicious alternative to the usual oatmeal raisin cookies and are available for $4 per box. Secondly, the Toffee-Tastic cookie will be available. This gluten-free cookie offers a buttery and crumbly shortbread (these honestly tasted homemade) studded with toffee. The Toffee-Tastics are available for $5 via booth or via digital sales only.
Don't forget about the usual suspects, either. The Girl Scouts are still offering Thin Mints (although after eating a whole sleeve you won't feel thin at all), Tagalongs, Samoas, Do-Si-Dos, Trefoils, and Savannah Smiles. Find more info here. Most cookies will be available for sale outside major grocers in the coming weeks.