To Plant Or Not To Plant
Nourish makes the argument for veggie-based meals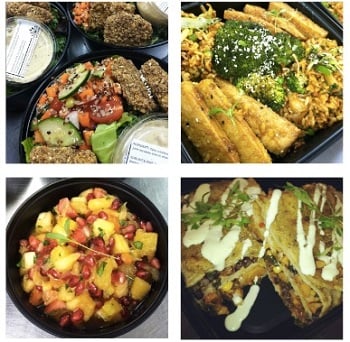 Are you ready to jump into bikini season but aren't sure how? Do you want to try the whole plant-based/vegetarian/sustainable/local food lifestyle without spending every second prepping, cooking, and thinking about your meal?
Nourish, Charlotte's only locally-sourced, organic, vegan prepared healthy food delivery service, is helping health conscious folks across North Carolina discover plant-based nutrition. A plant-based diet is centered on whole, unrefined, or minimally refined plants. It's a lifestyle based on fruits, vegetables, tubers, whole grains, and legumes; and it excludes or minimizes meat (including chicken and fish), dairy products, and eggs, as well as highly refined foods like bleached flour, refined sugar, and oils.
Super foods like quinoa, barley, beans, green veggies and fruit take center stage in Nourish menus, turning up in mouth-watering dishes such as:
Mexi-risotto stuffed peppers with bean, pepper and corn "chow chow" and cashew Cotija
Cinnamon bun breakfast oats

Banana creme pie baked oats with cacao frosting

Shepherds' pie with candied carrots

Buffalo roasted chickpeas and cauliflower with blue cheeze dressing
Nourish, which changes its menus weekly, features clean, fresh, local whole foods and works for those with allergies or dietary restrictions as well as those who feel overwhelmed by cooking (or who simply don't have the time). The food delivery service was founded in 2012 by Julia Simon, a personal chef and passionate vegetarian/vegan.
"Everything Nourish makes is vegan, gluten free, processed sugar free, fresh, locally sourced, at least 80 percent organic, delicious and designed with your satisfaction and nutrition in mind," Simon says. "This isn't your momma's rice 'n lentils. We're making plant-based, chef-created, super flavorful, vibrant food that just happens to be incredibly good for you, too."
So, start getting ready for bikini season and see what Nourish is all about. If you're not quite ready to jump into a week's worth of vegetarian meals, try picking up a few Nourish options sold at Ecolicious (which will, sadly, be closing on March 31) and soon to be sold in Plaza Midwood at an as-yet-unannounced location!