To the Brauhaus!
OMB is on track with food, beer, and Mecktoberfest approaching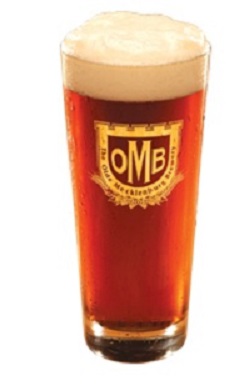 Although the first trip may have left me hungry, the second certainly did not.
OMB has trimmed down the menu (not yet updated on the website), upped the staff, and seems to be on track with their huge new space. A recent trip allowed me a chance to try a few German staples. First up – the soft German pretzel – a staple item offering a salty bite tamed with a beer and cheese sauce on the side for dipping. Perfect with any of OMB's beers.
For dinner, we chose the Teller – an offering of two German sausages, a brotchen (pretzel roll), mustard, and two side items. We opted for the bratkartoffeln, a combination of thinly sliced potatoes, pan fried with bacon, onion, herbs and caraway; and the rotkohl, a combination of red cabbage with onion and apple. In terms of sausages, we chose the Kielbasa, which was garlicky and juicy, and the Stiglmeier Gyulai, which was super smokey and slightly spicy.
Although very rich and very filling, this heavy German meal was delicious and felt authentic — just prepare yourself to want to roll out of the brewery.
Also worth mentioning, Olde Mecklenburg Brewery's 6th annual Mecktoberfest will be a two-day festival this year: Oct. 3–4.
The German fest will run from 11am-11pm Friday and Saturday and offer Mecktoberfest German-style food, culture, and of course beer. The $10 entry fee includes your first ½ liter mug of beer as well as all the music and fun you can stand at the festival. Perennial crowd favorite Holzhackern Tyrolean Band will be back again this year, bringing the sounds of Bavaria to the festival.
Also on tap will be OMB's national award winning fall seasonal Mecktoberfest brew, a classic Maerzen-style amber lager. This original "Oktoberfestbier" is rich and malty up front, transitioning to a smooth, satisfying finish courtesy of noble Bavarian hops and a flavor profile produced by an outstanding yeast strain from the oldest brewery in the world.