Tom Hanchett Becomes Library's First 'Historian-In-Residence'
Community historian will aim to connect public, library's Carolina Room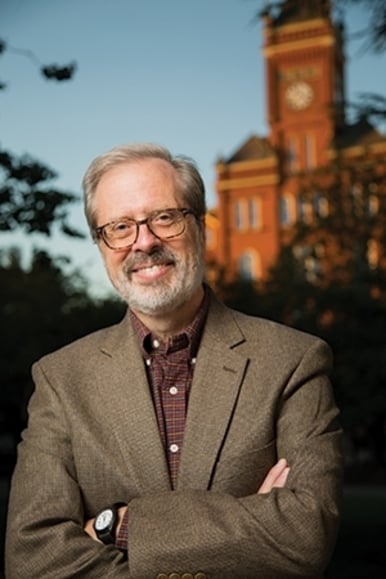 Tom Hanchett, Charlotte's most prominent local historian, began a formal relationship Monday with what he calls "one of the strongest history resource centers in the United States"—the Robinson-Spangler Carolina Room at the Charlotte-Mecklenburg Library's main branch uptown.
The library system announced that Hanchett, 63, has begun a 12-month run as the library's first-ever Historian-In-Residence. He will "serve as a community connector to enhance the visibility, contributions and reputation of the Robinson-Spangler Carolina Room through programs, events, vlogs and other information detailing the history of Charlotte," the system said in a news release. Hanchett will host his first presentation in his new role, "Food From Home," at 6 p.m. July 11 at the Mint Hill branch, 6840 Matthews-Mint Hill Road.
The Carolina Room, on the third floor of the main branch, is a repository of historical information on Charlotte, Mecklenburg County, and North Carolina, and holds genealogical archives from all 50 states, in addition to historical government documents, archival photographs, historic maps, and old school yearbooks. It was inaugurated in 1956 as a separate wing of the library and moved into its current space when the main library branch opened at 310 North Tryon Street in 1989.
The Carolina Room has remained largely unnoticed by the public, though, and Hanchett said he was hired in part because his visibility and community connections can help raise the institution's profile.
"It's an amazing resource … and I'm grateful to have seen a lot of the stuff I've run across over the years end up in that space," Hanchett told me Monday. "It's a great opportunity to show that Charlotte does have this historical resource. As much as Charlotte is perceived as, quote-unquote, 'not having any history,' if you go to the Carolina Room, you can't say that anymore."
Hanchett is a native of upstate New York who moved to Charlotte in 1981 and served for 16 years as staff historian at the Levine Museum of the New South before he stepped down in early 2016. Since then, he's organized history tours for the city's Community Building Initiative, delivered numerous public talks, and continued explorations of Charlotte's neighborhoods and diversifying immigrant communities. His book Sorting Out the New South City: Race, Class, and Urban Development in Charlotte, 1875-1975, published by The University of North Carolina Press in 1998, remains the most comprehensive single volume on Charlotte's history and development. This magazine named him a Charlottean of the Year in 2015.
Hanchett said his duties will consist mainly of the tours, public presentations, and research he's been doing since he left the Levine Museum. The time he spends at the library will be mercifully limited, he added: "I'm grateful to know that being a historian-in-residence does not mean I need to sleep there."