Tomato Cobbler
Carpe Diem's delicious and savory tomato cobbler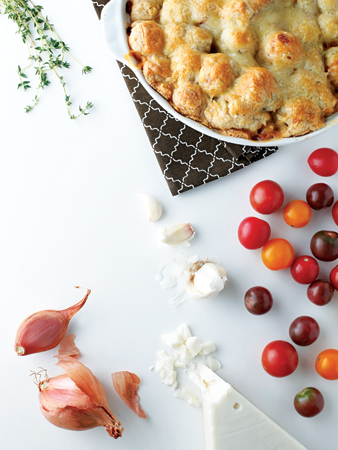 Perfectly ripened cherry tomatoes in yellow, red, and orange play a starring role in this sweet turned savory dish from Carpe Diem. "We do sell a lot of cobbler," says Tricia Maddrey, the restaurant's co-owner. She came up with the idea for the cobbler—a twist on one of her favorite dishes—and loves the result. "I've always enjoyed something that I call a tomato soufflé," she says. "We made it and said, 'This is awesome!' We've had it on our menu for at least a year. It's one of our standard vegetarian dishes."
Tomato Cobbler
Makes one 10-inch cobbler
Crust
1 cup plus 2 tablespoons
all-purpose flour
1 teaspoon sugar
1 stick cold unsalted butter,
cut into small pieces
½ cup grated Gouda cheese
1 tablespoon fresh thyme
2 tablespoons ice water
Filling
2 tablespoons olive oil
1 small onion, diced
2 large shallots, diced
2 garlic cloves, minced
2 ½ pounds cherry tomatoes
(yellow, red, and orange
if possible)
6 tablespoons all-purpose flour
2 teaspoons sugar
2 teaspoons coarse salt
1 teaspoon freshly ground
black pepper
1 large egg, beaten for egg wash
½ cup grated aged Gouda cheese
For the crust: In the bowl of a food processor, combine flour, sugar, and salt. Add the butter and pulse the mixture until it resembles coarse crumbs, about 10 seconds. Add the Gouda and thyme and pulse until just combined. With the machine running, add the ice water through the feed tube in a slow and steady stream, a little bit at a time until the dough just comes together.
Place the dough on a clean work surface. Wrap in plastic wrap, shaping it into a flattened disk. Chill for at least 1 hour.
Place an oven rack in the middle position. Preheat the oven to 375° F. Line a baking sheet with parchment paper or a nonstick silicone baking mat; set aside.
For the filling: Heat the olive oil in medium skillet over medium heat. Add the onion, shallots, and garlic, and sauté until tender, 5 to 6 minutes. Remove from the heat and set aside to cool.
In a large bowl, toss the tomatoes with the flour, sugar, and pepper until well coated. Add the onion mixture and toss until well combined. Pour the tomato mixture into a 10-inch pie plate; set aside.
On a lightly floured work surface, roll out the chilled dough to a 12-inch round. Place it on top of the tomato mixture and tuck any overhanging dough underneath. Brush the top with the egg wash and sprinkle with the Gouda cheese. Use a knife or scissor to cut a vent in the crust. Set the pie plate on the prepared baking sheet and bake, rotating the sheet about 2/3 of the way through the baking time, until the crust is golden brown and the juices are bubbling, 45 to 55 minutes. Let cool completely before serving.
Tip: Brushing on an egg wash helps the crust get nicely browned.
Tip: When placing the dough on top of the filling, leave space between the crust and the sides of the pie plate to allow steam to escape during the baking process.
Tip: "Gouda is a good complement to the tomato," says Maddrey, adding that other semi-hard cheeses such as white cheddar would work equally well.
Tip: "We have [made the cobbler] with heirloom tomatoes, all different kinds of small tomatoes," says Maddrey. Feel free to substitute small tomatoes from your garden if you'd like—but avoid the big ones. "The larger ones have a lot more water in them," she says.
Tip: A little bit of sugar brings out the sweetness of the tomatoes.