Tomato Recipes
Four dishes that make the most of those ripe summer gems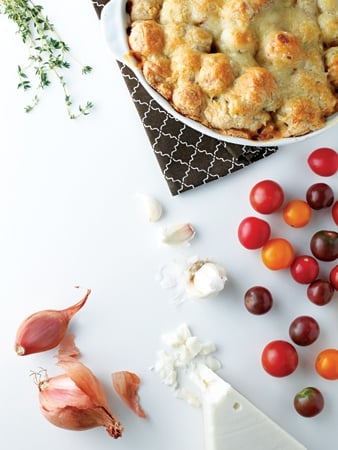 The tomato is one of summer's most popular products. We wait anxiously for those green globes hanging from our backyard vines to ripen or for farmers market vendors to spread a mixture of heirloom varieties on their tables.
Tomato time has finally arrived.
We found four of our favorite tomato recipes from Charlotte Home + Garden. Pick one or two and put them to use this week.
This tomato cobbler recipe from Carpe Diem uses two and a half pounds of cherry tomatoes. Look for a mixture of varieties in different colors, such as red, purple, and yellow. Don't miss Co-owner Tricia Maddrey's tips at the end of the recipe for turning out the best cobbler.
photo by taylor mathis
Julia Simon, owner of the vegan meal delivery service Nourish, calls this panzanella "a fun mess." It specifies two cups of Sungold cherry tomatoes, but you can experiment with different varieties. To make this salad fit Nourish's vegan standards, Simon uses cubes of polenta instead of bread.
photo by logan cyrus
Sweet corn is also at its peak now, and this recipe for roasted corn creamy salsa incorporates corn, tomatoes, and avocado. If you don't have a grill, don't worry. The recipe also has instructions for oven roasting.
photo by chris edwards
Take your lunch break up a notch, with this caprese sandwich. The blog post has step-by-step instructions for building this sandwich filled with sliced tomatoes, mozzarella, basil, and a drizzle of olive oil.