Tommy's Big Year
Charlotte Observer columnist Tommy Tomlinson, a Pulitzer finalist this year, is fast on his way to becoming the city's conscience, despite some personal setbacks. Yes, he's talented, but it helps that he's found love.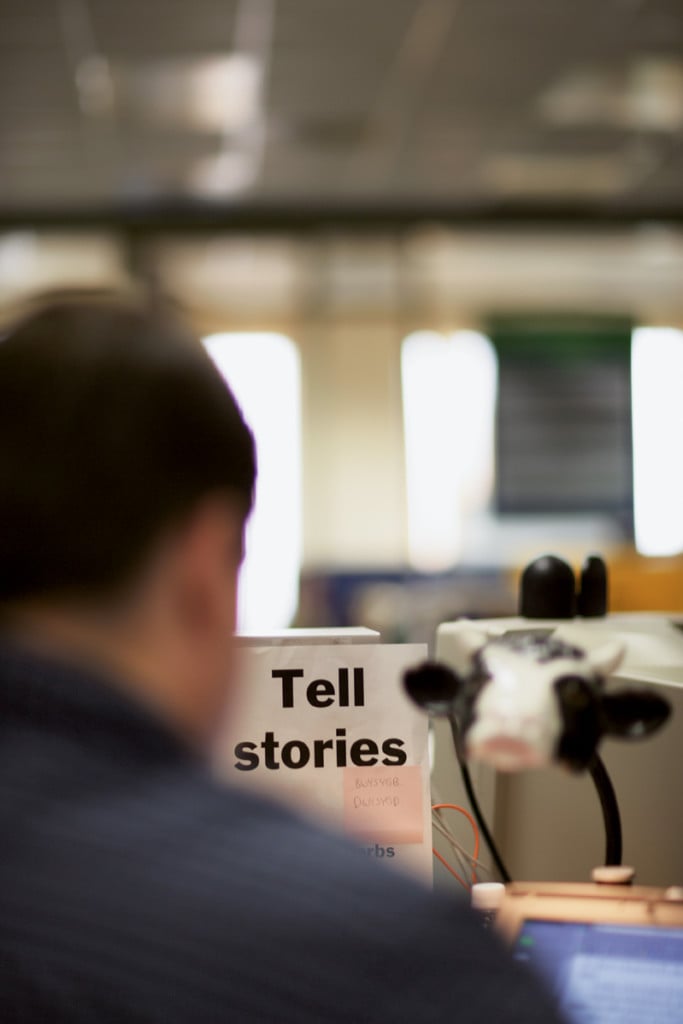 This story was originally published in the August 2005 issue of Charlotte magazine.
Tommy Tomlinson is behind the wheel of his dark green Camry, headed to Hopewell High for a noontime talk about what it's like to be a columnist for The Charlotte Observer.
It is a Tuesday, when normally he would decline a speaking invitation in order to concentrate on Wednesday's column. But journalism student Garrett Windle has been persistent. Maybe, Tomlinson thinks, the class will spark an idea for tomorrow. When he read the paper this morning, nothing jumped out, begging to be written.
The students are cordial, but low in energy. They've had an early lunch and some are fighting sleepiness. Tomlinson gives an animated talk about his career, passes out business cards, offers to be a mentor. He asks what's on their minds.
The class comes alive to talk about a favorite teacher who's leaving. Tomlinson makes mental notes. The departing teacher might be a column for another day, but not tomorrow. Time is too short for that much reporting.
As he drives back to downtown Charlotte, it's after 1 p.m. In a couple of hours an editor will wander by his desk to see what he has. "I don't get quite as nervous as I used to. There's always going to be five or six days a year when I feel as though all the air's gone out of my lungs and I can't seem to have a thought in my head. The only thing that helps is to get something on the laptop screen."
Around 3:30, he settles on a favorite topic, the school system. What sticks in his craw today is a pattern of secret meetings about public problems. He points a chastising finger at the school board, the superintendent, and a group of business leaders. It's his duty, he says, to get the conversation going. "Part of the job is feeling obligated," he says. "There's so much freedom and so much expectation of being the voice of whatever issue. And trying to sum it up and trying to make meaning out of it. So that's still scary to me. Every time."
Tomlinson has been the Observer's main local front columnist since 1997. The job demands that his personality and opinions anchor the page three times a week, lending passion and a face to a section that the newspaper hopes is otherwise opinion-free. His work has garnered many awards, but this year has been special. Named the country's top local columnist by a New York-based news magazine, he also became one of three finalists for a Pulitzer Prize in commentary. His reaction: "I'm still a little worried it's just an elaborate dream."
Treasured in the newsroom for his wisdom, wit, and cheerful presence, Tomlinson is as warm and friendly off the page as on it. But he's not a limelight-seeker, and he ducks from television and radio appearances. Becoming the subject of a magazine story makes him a bit nervous. He knows all the things that can go wrong when you place yourself at a reporter's mercy.
And he knows how he might write this kind of story. You can't sum up a man's life after just a few hours with him. But if you spend enough time with him, eventually there's a revealing moment. That's what you write about. That's how Tommy Tomlinson would do it.
Yet, he's having a good year—a lucky year—so he shrugs off his apprehensions. Sure you can talk to him, follow him around. The notoriety that comes with being a columnist was just never something he thought about.
He's given more thought to the deep-seated uncertainty that follows him around. "I'm constantly afraid that they're going to come over to my desk one day and say, 'This just didn't work out. We've been looking over your stuff. It's not very good. Why don't you just pack up and leave.'"
He smiles when he says it. Sort of.
Waving from the porch of his Plaza-Midwood home, Tommy Tomlinson is an imposing figure. At six foot one and wide, he does not so much enter a doorway as engulf it. He says he's in better shape now than when he married. That day it took two people to help him up after he knelt for the minister's blessing.
"I'm a work in progress," he confesses. These days his wedding ring is loose on his finger and he can climb to a seat at a Panthers game without getting winded. But willpower, he admits, is still a problem. "It's the hump I've never gotten all the way over."
Tomlinson, forty-one, was born in St. Simons Island, Georgia to parents who'd grown up picking cotton as sharecroppers. "My mom had to quit school, I believe, on the first day of fourth grade, and my dad quit in sixth." Yet he recalls that every afternoon when the Brunswick News arrived on the doorstep, "it was devoured."
His father made his living from his gifts for carpentry and mechanics. Though his name was L.M., for Leonard Milton, everyone called him Tommy. So when Tomlinson came along, the name that went on his birth certificate was Tommy, not Thomas. His father, a smoker, died in 1990 of emphysema.
Tomlinson's mother, Virginia, worked as a waitress for twenty years. "My job was to count the tips," Tomlinson remembers. "She'd come home with an apron full of change."
When he was twelve, he took piano lessons but claims he has no talent. "If I could be a musician, I'd ditch being a writer in two seconds." As it is, he's a passionate, eclectic consumer—Merlefest every year, the U2 concert, five favorite radio stations.
Obsessed with basketball as a kid, Tomlinson also can't recall a time he wasn't writing—a journal, or some little thing. At Brunswick High School he wrote for the student newspaper and lettered in debate. He made straight As at the University of Georgia his first quarter. But by the time he was a senior journalism major, he was caught up in the student newspaper and spent less time on schoolwork. He made a D in one of his journalism classes, which meant the class wouldn't count. By graduation day he'd already landed a job at the Augusta (Georgia) Chronicle, but he was short of credits. The diploma was withheld, a fact he glossed over on the resumes he would send out next time he went job-hunting.
After three years at the Chronicle, Tomlinson was hired for the Observer's one-reporter office in Lancaster, South Carolina. He made no bones about his ambitions.
"He said right from the get-go he wanted to be a metro columnist," recalls Jim Walser, senior editor in charge of recruitment at the Observer. "That is rare."
Tomlinson applied repeatedly for jobs in the main office. "They always said, 'You're on the short list, you're on the short list.' Somebody else always got the job." So he quit and moved to Atlanta, where he had a lead on a job with Ted Turner's Cartoon Network. Looking back, he says, "Maybe I should have had more patience" with the Observer.
The Cartoon Network didn't work out, but he became a freelance writer and "cobbled together a living." Six months after he left, Tomlinson grew homesick for the Observer and the camaraderie of a newsroom. He asked to come back. In 1993 he began a four-year stint as the Observer's popular music writer—a job he describes as "a blast."
Now he was sure he wanted a newspaper career. But as soon as he returned, he faced an illness that threatened to end it.
In the spring of 1993, Tomlinson came down with what he thought was laryngitis. It lasted for weeks. A specialist found a polyp on his voice box and told him it was likely benign. He had outpatient surgery and went to visit his mother, with orders not to talk. When he came back a week later, Dr. Donald Kamerer told him he had cancer.
He was twenty-nine. He'd never smoked. He was in the 5 percent of throat cancer cases for which the cause is unknown. Secondhand smoke from his parents is a possibility, but only a guess.
"I went out to the car and just cried for awhile," he remembers. He had two choices. Surgery held the best chance of removing all the cancer but would leave him with the hoarseness he had—or no voice at all. Radiation could restore his voice but leave a greater chance of recurrence.
Tomlinson chose surgery. Kamerer removed about 40 percent of his voice box. For two weeks Tomlinson had a tracheotomy hole in his throat, a notepad by his hospital bed, and no idea if he'd ever speak again. One day, with the doctor, his mother, and a couple of nurses gathered in his room, the tubes were pulled out. The surgeon told him to hold his hand over the trach hole and try to say something.
"The whole time, ever since the moment I had been diagnosed, I thought, 'Can you be a reporter and not be able to talk?' If it's not possible, what could I do with my life? I was thinking all that and I was thinking, 'Please, God, let me be able to talk, even if it's not at the level of being able to be a reporter. Let me be able to have a conversation with somebody.' "
He put his hand over the hole and said, "Hey."
"It sounded really bad and everything, but it was a voice." With therapy and time his voice improved, but he is permanently hoarse. It doesn't hurt him to talk, but a noisy restaurant can drown him out. It's hard for him to interview people in a crowd. "Every other time a stranger calls they'll say, 'Oh, I'm sorry. I didn't know you had a cold' or something like that. I almost never say I had surgery. I just say this is my voice."
The year after his surgery, he received a surprising phone call from his alma mater. The Georgia legislature had loosened the requirements for graduation. He was being awarded a college degree. "I thought, 'Of all the dumb luck.'"
A few friends at the Observer threw a party for him at a bar, The Graduate. "Everybody's wearing those hats and they've got the scroll. So it was a big joke and I honestly didn't think about the implications of that being on my resume."
Kays Gary occupied the left-hand column of the Observer's local front—a part of the page known as "the rail"—for much of nearly forty years. Gary, who started his column in 1956, became the state's most celebrated newspaper writer. No one since Gary has had a full-time tenure on the local front rail for as long as Tomlinson.
Finding the right person to be a columnist is hard for newspapers, Senior Editor Jim Walser explains. "You have to be someone people tend to want to trust. You need to have the reporting experience. You have to pay your dues."
When the Observer started looking for a new columnist in 1995, it held tryouts among the reporters. "There were at least a dozen of us who wrote sample columns," Tomlinson remembers. "Then nothing happened. It got to be a year, year and a half. And those of us who were still around would talk about it: 'Must be none of us are good enough.'" They heard the position was being left vacant to save money. Tomlinson's colleague from his bureau days, Joe Posnanski, had become a sports columnist at the Kansas City Star. He told Tomlinson about an opening there. Tomlinson flew out for an interview. Not long after he returned, the Observer offered him the columnist's job.
He had his dream. A few weeks into the job he wrote a column scolding Bill Simms, the head of Transamerica Corporation, whose invented past had been discovered. Tomlinson confessed to his own resume lie, but suggested Simms' inventions were much more serious.
The column didn't run. The next day, Tomlinson was in an office with his bosses. Frank Barrows, then managing editor, handed Tomlinson the job application he'd submitted to the Observer. "He said, 'Look at this and tell us if there's anything else on here that's not right.' " There wasn't, he told them.
The newspaper suspended him without pay for four weeks, and Tomlinson wrote a column explaining why.
"It was hard," he says. "Not only did I betray the people I worked with who trusted me with the job, but I'd tried to build a connection with readers. What I wondered, was I ever going to have a chance to make that connection again? I still get, about five or six times a year, when I'll write something taking somebody to task for something ethical, somebody'll call me and say, 'You faked your resume.'"That's part of the deal. Your history follows you."
Tomlinson is a different kind of columnist from Kays Gary, who in the fifties and sixties wrote often about the wife he called "Miss Boo" and, much later, about his third wife, "Miss Betty." Gary never revised his work, preferring the first rush of words and emotion. Tomlinson is meticulous, revising as he writes.
He also chooses carefully when to write about himself. He believes family life is usually an unsuitable subject. "It's a big city and there's all this good stuff going on," he says. "It seems wasteful or insulting somehow to think that I'm a big deal. The story's the big deal."
Says his friend Posnanski, "You can't read his column without knowing him, but he's a very private person. There's a public Tommy, the parts of him that he lets out. You can see what a funny guy he is and what a good person he is. But I think there are parts of Tommy that he protects."
Tomlinson says he could easily read a book for two hours while waiting in line at the DMV—and not talk to a soul. Good reporters are good minglers, however, so he's learned to like that, too.
His submission to the Pulitzer committee included a column he wrote last summer in support of gay marriage. In it, he said a wedding ring symbolizes "three of the world's most miraculous words: I found love."
"He's a hopeless romantic," says Virgil Ryals, the boyhood friend who was best man at Tomlinson's 1998 wedding to Alix Felsing, now the editor in charge of national news at the Observer.
Tomlinson marked his wedding day with an acutely personal message to the lonely-hearted—an unflinching account of how a man who'd lost hope had found love with a woman he thought out of his league. "I came to believe I was just a fat guy with bad teeth," he wrote, "and I pretty much quit trying."
The column brought the largest response he's ever received. His voice mail at the Observer holds a couple hundred messages. While he was on his honeymoon it had to be expanded twice. A thousand e-mails piled up.
Newsroom colleagues had been intrigued by his courtship with Felsing, whom they describe as outdoor-loving, shy, and determined. When Felsing talks about what attracted her to Tomlinson, she cites honesty and insightfulness. And she adds this: "Tommy makes you feel like he sees who you really are, and it's okay to be who you are."
Though Felsing read the column before it appeared, she says it was an odd feeling to start her wedding day by seeing herself in the paper. What prompted Tomlinson to write such a personal account? "I hadn't seen too many people write a column saying, 'I'm getting married today, here's what this is like,'" he says. But there is more to the answer, and Tomlinson pauses before going on.
He is collecting his thoughts, and his voice will nearly break when he puts them into words. Here is the kind of moment Tommy Tomlinson, the reporter, might write about. A local columnist is struggling to explain what cuts close to the bone. It's the same when he faces the blank computer screen. His obsession with precise language must give shape to emotion.
"I want to get this right," Tomlinson says slowly. "I was in that group of people who didn't know if, for them, it was ever going to happen. And so I wanted to write it just to say to those other people, it can happen.
"Everybody in their thirties and forties who'd like to get married and hasn't, has wondered, 'What the hell's wrong with me?' They look in the mirror pretty hard and they see some things that are wrong with them. And so to tell that story honestly, those things had to be in there."
The Tomlinson-Felsing household has a dog named Fred, a mixed yellow Lab who showed up on the doorstep when he was a puppy. If Fred finds a visitor in the living room, he will fidget at the edge of the room, wagging his tail, but unwilling to come in.
"He's like a guy who wants to get out on the dance floor and just can't bring himself to do it," Tomlinson says. The comparison is typical of Tomlinson—succinct and astute.
Frank Barrows, who was managing editor of the Observer from 1992 until this May, says fresh insight is what distinguishes Tomlinson's work. "I think he just sees things differently. He's extraordinarily gifted with the language. There are some—few—other people who are equally gifted with the language, but they don't bring the depth or different way of looking at things."
Tomlinson's column down the rail holds about 550 words. "It's like a haiku in some ways," he says. He'll tell you he would rather take a writing risk and fail miserably, than fill his cherished space with a stream of well-crafted but predictable work. When no one calls, or e-mails, he wonders if he wrote a "clunker."
On a day the writing's going badly, Tomlinson says his colleagues will see him slump to the side of his chair. To relax, he likes a good card game. Poker fascinates him. He finds the TV versions nearly addictive, and once a month he plays for small change with a group that includes lawyer Anthony Fox and City Attorney Mac McCarley. "On a really good night you might take home eight bucks."
Earlier this year, Tomlinson spent a day in Atlantic City, entering his first casino tournament at the Trump Taj Mahal. "Out of 145 players, I finished in the forties," he notes, with some pride. It was one more triumph in this lucky season.
After Tomlinson was singled out by This Week magazine as the country's best local columnist, he and Felsing attended an awards ceremony at the Manhattan home of Tina Brown, former editor of The New Yorker. Wearing his one suit, Tomlinson was seated next to retired New York Times Editor Abe Rosenthal.
He almost couldn't believe it. What a year. "It may never get this good again."