Tosco Music Party Rings in 2011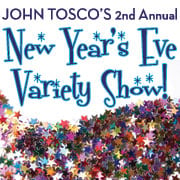 John Tosco has been inviting people into his living room — first, his literal one and later a figurative one — to hear live music for more than twenty years. Many local and regional singer-songwriters have gotten their start with and because of Tosco. His music parties are always all about the music. This New Year's Eve variety show is a little different. (A clairvoyant will be there, for one thing.) Tosco stopped in for a chat about his upcoming party. All are invited. Learn more.
Revue: Your Tosco Music Party is legendary for featuring well-known and new talent. How is your New Year's Eve party similar and/or different to the regular party?
John Tosco: The Tosco Music Party has only music acts. The New Year's Eve Variety Show features a magician, a mime, a clairvoyant, a Chinese folk dance group, a hoop dancer, jugglers, swing dancers, aerial dancers, and a couple of music acts.
Revue: Where is the show? How many artists are playing?
JT: McGlohon Theatre at Spirit Square. There are ten acts.
Revue: Who will be playing when the clock strikes midnight?
JT: The show runs from 8 p.m. to 10 p.m. with a 15-minute intermission.
Revue: What advice do you have for Tosco novices?
JT: Expect the unexpected!
Revue: Who's the biggest act who's ever gotten his/her/their start on your stage?
JT: The Avett Brothers are the biggest act to play on the TMP stage.
Revue: You originally started this gig in your living room more than twenty years ago. How do you keep the vibe the same now that's grown well beyond that intimate size?
JT: We tell performers to check their egos at the door. We still do singalongs with the audience, and tickets are always general admission which helps keep the "living room" feeling.
Revue: When are your next Tosco Music Parties? Who should we be excited about hearing? (As for me, I'm excited to hear Mandolin Orange, the duo that opened for Rosanne Cash. And, I'm hoping Ellis Paul will return soon.)
The next TMP is January 28 at CPCC's Halton Theatre. It will feature twenty acts. There are too many to list, but there are links to all of the performer's websites at our site. We present many different styles of music so there is always something for everyone.
Revue: Does the audience get the chance to meet the singers at a Tosco Music Party? How much interaction is there between the singers and the audience — both during and after the show?
JT: The performers are in the lobby during intermission and after the show. It's all part of keeping the feeling of community.
Revue: How many years have you done the Tosco New Year's Eve Party? What inspired it?
JT: The first Tosco Variety Show was last year. I grew up watching the Ed Sullivan show with my family on Sunday nights. I remember seeing the Beatles on that show. I thought it would be fun to have something like that for families on New Year's Eve. This is a show I would go see!
Revue: Anything else our readers might like to know about this or future shows?
JT: We always warn people that these shows sell out – so get tickets early.