Tour Homes in Plaza Midwood + Gardens in Fourth Ward
Two weekend events offer insider access to some of the most intriguing homes and gardens in town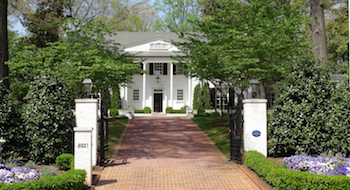 Midwood Maynia Home and Garden Tour
The Plaza Midwood neighborhood celebrates the arrival of warmer weather every year with its Midwood Maynia event. Put on by the Plaza Midwood Neighborhood Association, the weekend includes a 5K race, pet parade, and live music. But one of the most popular attractions is the Home and Garden Tour, which begins Friday evening and continues on Saturday.
The tour includes eight properties. Most of the homes were built in the 1940s and '50s. For a list of properties and detailed information about each one, click here. Now in its 23rd year, the tour introduces something new this spring. Local businesses will sponsor each property.
For example, Slate Interiors will decorate an outdoor gazebo at one home, and local restaurants, such as Midwood Smokehouse and Fern, will offer food samples outside other houses. Charlotte B-cycle will also have bikes available for use on the tour route.
Last year's tour drew between 300 and 400 people. But Tour Director Renee Bradley expects about 500 this year. And she's worked hard to make sure each attendee has something to see.
"I knocked on doors in the neighborhood personally," she says. One participating homeowner is a friend of Bradley's, and another contacted her to inquire about participating after completing a renovation. But she came up with the rest by getting out in the neighborhood and talking to people. This weekend, she invites visitors to do the same.
Home and Garden Tour tickets cost $15 in advance and $20 the day of. Click here to purchase advance tickets, or stop by Kilgo Methodist Church on the day of the tour. The Candlelight Tour is Friday, 6 p.m.-8 p.m., and the Saturday tour is 10 a.m.-4 p.m.
Secret Gardens of Fourth Ward Tour
Designed for the curious, the Secret Gardens of Fourth Ward Tour opens gates and peels back courtyard walls around homes in Uptown's northwest quadrant known as Fourth Ward. The Friends of Fourth Ward Neighborhood Association organized the second-annual event.
The self-guided, walking tour includes public art and historic homes along the route. Docents will guide guests on tours of Fourth Ward Park. Craft beer, cocktails, and Champagne tastings will be available at various gardens. Creative transportation options include Charlotte B-cycle and horse-drawn carriages. Fourth Ward Bread Co. will provide food samples. Other area restaurants, such as 3 Trade Food & Wine, The Asbury, The Wooden Vine, and Rock Bottom Brewery, will offer special appetizers to tour participants.
Proceeds from the tour will benefit neighborhood projects and Fourth Ward Park. The neighborhood association is also partnering with the Regional AIDS Interfaith Network to donate $5 of each ticket purchased in the organization's name.
Tickets cost $20 and are good for both Saturday and Sunday. Click here to purchase tickets. The tour runs from noon to 4 p.m. each day.