Trading Spaces: Miro Spanish Grille
After 15 years in its original location, a Charlotte restaurant finds a new home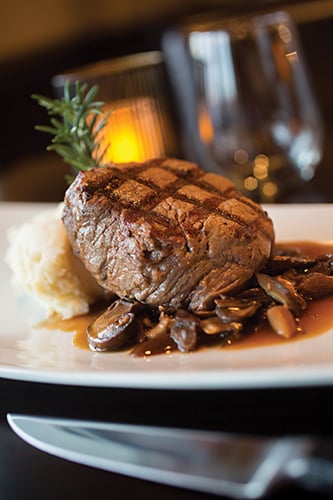 CUSTOMERS SPEAK A BLEND of Spanish and English at nearby tables, and sketches of matadors and bulls line the walls. Guests fill the bar area and two large dining rooms, while others crowd the hostess table, awaiting their turn to eat. If there was a doubt the patrons of Miro Spanish Grille wouldn't follow the restaurant from StoneCrest at Piper Glen to Toringdon Market Shopping Center, it seems to have been unwarranted.
With a focus on Spanish cuisine—especially that of the Basque Country, Andalusia, and Galicia regions of Spain—Miro lived for 15 years in that StoneCrest location. But after the lease expired, operating partner Phong Luong says the restaurant was not offered an opportunity to extend it, making the move necessary. The new eatery in Ballantyne feels more modern, and it's also larger—the StoneCrest location was 3,100 square feet, and the new place is about 4,000. There is also much more space for parking.
The warmth of Spain still translates into all of the food and drinks. The house sangria ($6.50) is sweet and punchy, staying true to the famous brandy, rum, and red wine combo. A large selection of wines from Spain and South America, and the occasional choice from California, allows diners to easily pair meal and drink. Tapas are plentiful; the gambas al ajillo ($9) offer a dainty portion of tender, juicy shrimp in a sizzling garlic and olive oil broth. And the patatas bravas ($8) have a salty, potato chip-like bite complemented by a spicy aioli for dipping.
The menu has stayed true to the old formula. The zarzuela de mariscos ($22) is "the best dish in the restaurant," an enthusiastic bartender exclaimed on a November night. Given the dish's combination of mussels, calamari, scallops, shrimp, fish, and half a lobster tail flanked by saffron rice, he may be right. Dessert choices are brought on a tray, and the tres leches remains the creamy, moist, sweet milk cake it's always been.
Miro may have moved two miles, but it's still warm and fun, and it still tastes like Spain.
---