TRAVEL: An Asheville Beer Crawl
This western North Carolina city has too many breweries to try 'em all. Pick a day and start here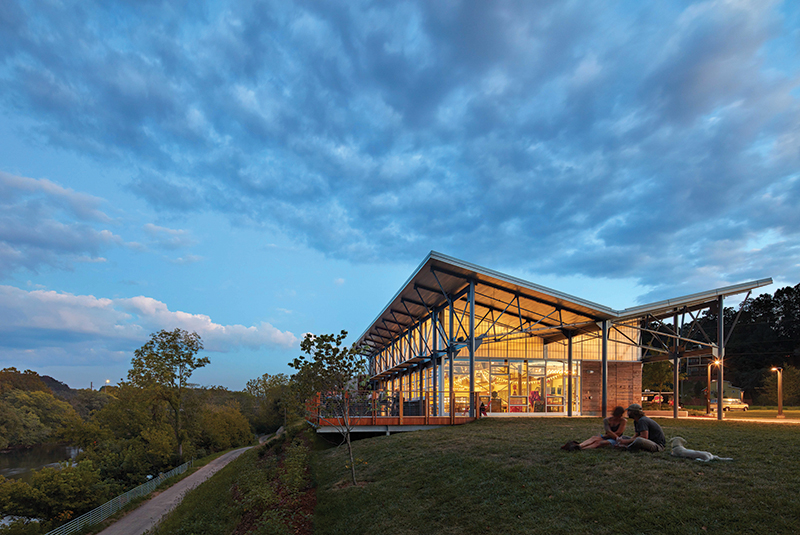 STOP 1: New Belgium
Brew to try: Citradelic Tangerine IPA
Probably the most obvious stop for beer lovers visiting Asheville, New Belgium Brewing is massive, crowded, and worth every line. Outside on the lawn, admire the surrounding tree line or listen to live music and the ripples of the French Broad River. Reserve a free tour online up to two months in advance. 21 Craven St., 828-333-6900.
---
STOP 2: Wedge
Brew to try: Community Porter
Head to the eastern side of the river for Wedge Brewing Company, a walk-in closet-sized taproom in a 19th-century warehouse. Seating is limited inside, but there's plenty of room on the covered patio outside. Wedge doesn't distribute, so the only place you can try its drafts is here (and at their other location one mile down the river). 37 Paynes Way, Ste. 001; 828-505-2792.
---
STOP 3: Funkatorium​
Brew to try: Black Angel Barrel Aged Sour
Next, drive a mile east into the city's South Slope neighborhood, appropriately called the "Brewery District." Walk a block in any direction, and you'll bump into a brewery. The Funkatorium is a part of Wicked Weed Brewing, and it's the East Coast's first taproom dedicated solely to sour and "funky" beer. Book the "Sour Sunday" tour for a two-and-a-half-hour exploration of sours. 147 Coxe Ave., 828-552-3203.
---
STOP 4: Burial
Brew to try: One For You Helles-Style Lager
Don't let the haunted farmhouse vibe of Burial Beer Co. spook you. After you take in the doomsday-style of can artwork by David Paul Seymour, sip on unusual European-style lagers and super strong IPAs, and enjoy the full menu by James Beard Award nominee Brian Canipelli. 40 Collier Ave., 828-475-2739.
---
STOP 5: Ben's Tune Up
Brew to try: Ben's American Sake
This sake brewery is an anomaly in South Slope—Ben's Tune Up has an expansive beer list and a beer garden with live music every night, but the star is its American sake, made with rice, koji, yeast, and mountain water from Asheville's Watershed. (Bonus: Sake will give you less of a hangover than its alcoholic cousins, beer and wine.) 195 Hilliard Ave., 828-424-7580.
---
STOP 6: Sleep
Downtown Asheville is full of hotels for all budgets, but venture a couple of miles south for a quiet night's sleep. Wake up well-rested and go sightseeing at the Biltmore. Biltmore Farms Hotels offers four options, all in the general vicinity or stay on the Biltmore property at one of three luxury hotels. —E.W.