TRAVEL: Black Mountain
A mountain town bursting with hikes, art, food, and beer—without city crowds or prices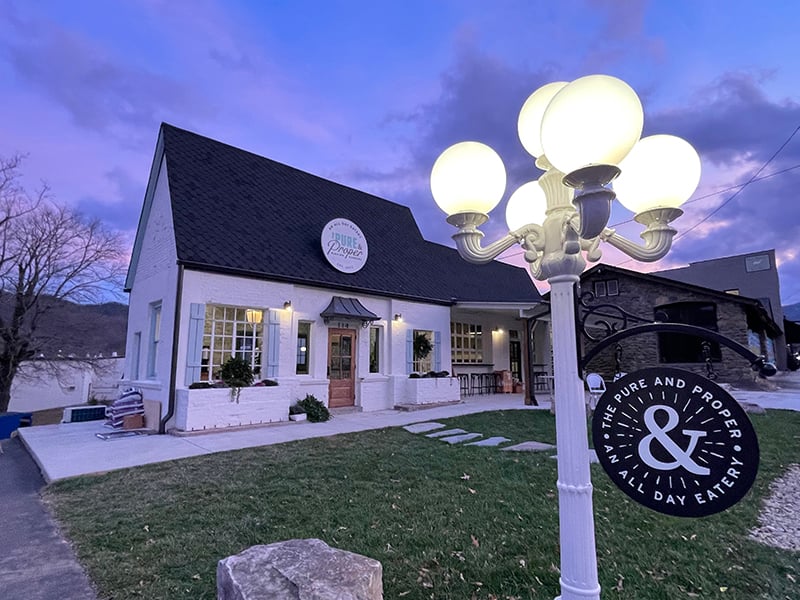 As Asheville's population and tourism industry continue to rise, so do its costs, for residents and visitors. You can access many of the same things you visit Asheville for—the Blue Ridge Mountains, outdoor activities, good food and drink, art—without the Asheville prices just 15 miles east in Black Mountain. (Or, heck, stay the night in Black Mountain even if you want to explore Asheville by day so you don't spend your entire budget on an overpriced hotel or Airbnb.)
Originally called Grey Eagle by the Cherokee and Catawba people who first lived there, Black Mountain was incorporated (and renamed, for a mountain range to the north) in the 19th century after rail travel popularized the North Carolina mountains. Today, Black Mountain has just 8,452 residents, but its location continues to draw tourists—about 2 million per year, according to the town's Chamber of Commerce. Even if you don't venture outside the town's 7 square miles, you can take in plenty of scenic views, restaurants, bars and breweries, shops, and art galleries, many in a compact and picturesque downtown.
STAY
The Monte Vista Hotel, which opened in 1919 and is on the National Register of Historic Places, has both historic mountain charm and the modern luxuries of a boutique hotel. The 1937 Wing has 33 rooms with king or queen beds (some also have daybeds with trundles for families) and classic touches like original hardwood floors, floor-to-ceiling bookshelves, and wrought-iron bedframes. The Lodge, added in the 1950s, has 14 queen rooms with rustic natural-wood headboards and built-in side tables. For those looking for more space or different amenities, Airbnb and Vrbo each have around 300 homes and rooms available for rent in Black Mountain proper.
EAT
Black Mountain is small, but it's packed with restaurants, coffee shops, bars, and breweries. Inconspicuously situated in a strip mall, BLUE RIDGE BISCUIT COMPANY serves biscuit and fried grit cake sandwiches that are almost too big to hold. Try The Grey Beard, with fried chicken, fried green tomatoes, homemade honey mustard, and arugula on a biscuit, or the Mountain Mama, a fried grit cake topped with homemade pimento cheese, spiced honey, heirloom tomatoes, and blackberry balsamic reduction. For a different kind of sandwich, order a toasty Cubano from nearby Cousins Cuban Cafe. Plan brunch, lunch, or dinner at Bush Farmhouse, where owner and chef Mark Henegan serves up dishes from his native South Africa, like sausage rolls and curried meatloaf. (If you miss the restaurant's hobby farm outside, don't fret; Junior the rooster will likely make an appearance on the heated covered patio while you dine.) If you're looking for something a little fancier, make a reservation at Milton's Cuisine & Cocktails, inside The Monte Vista Hotel, or The Pure & Proper for chef Jake Whitman's Steak Tartare, Roasted Swordfish, or Cabbage Pancake with pork belly, served inside a renovated 1940s service station.
After dinner, stop by Oak and Grist Distilling Company for craft cocktails made with small-batch whiskey and gin distilled on-site from North Carolina grains. For craft beer, hit up Black Mountain Brewing or Lookout Brewing Company, or visit Trailhead Restaurant & Bar for a full bar and upscale pub grub. When the weather's nice, find a table outside at Foothills Grange, which serves up beer and classic American eats, plus slushies for kids and adults.
If you need to cure that hangover, head to The Dripolator, Dynamite Roasting Company, or Cup of Jomo.
PLAY
It's a major offense to visit the Blue Ridge Mountains and not spend time outside. Lookout Trail is a moderate, 1.4-mile hike with views of the nearby Seven Sisters mountain range. For more experienced hikers, Graybeard Trail offers a 9.5-mile round-trip hike with small waterfalls along the way to a scenic summit. (If you forgot any gear, Take A Hike Outfitters and WNC Outdoor Collective downtown have you covered.) Have young kids in tow? Lake Tomahawk Park has trails, a playground, a fishing pier, tennis courts, horseshoe pits, and restrooms.
If you're more of an inside cat, Black Mountain has plenty of shops and art galleries to keep you sheltered and entertained. Black Mountain Center for the Arts, beside The Dripolator downtown, hosts exhibitions, arts classes, and theatre. In May, catch Let Me Down Easy, a solo show by actress Anna Deavere Smith (known for her roles in The West Wing, Nurse Jackie, and For the People). For more visual art, check out Red House Studios and Gallery, The Painted Porch Gallery, or Seven Sisters Gallery. Take home a piece of local art or a build-your-own-four-pack of beer from BAD Craft. Need a gift? Sassafras on Sutton has kids toys and books upstairs and home goods, gifts, and adult reads downstairs.
---
Calling All Dog Lovers
Black Mountain is a great place to bring your goodest puppers and doggos, especially during the milder months. Most hiking trails allow leashed dogs, and you won't find many breweries, bars, or shops without a jar of dog treats on the counter. There are also plenty of dog-friendly vacation rentals, and most restaurants welcome dogs in their outdoor dining spaces. If Fido isn't spoiled enough by the end of your trip, take him to Bone-A-Fide Pet Boutique for toys and more treats.
TESS ALLEN is the associate editor.