TRAVEL GUIDE: A Christmas-Themed Itinerary for Disney World
If you're making the trip to Orlando to celebrate the holidays, here's what you have to know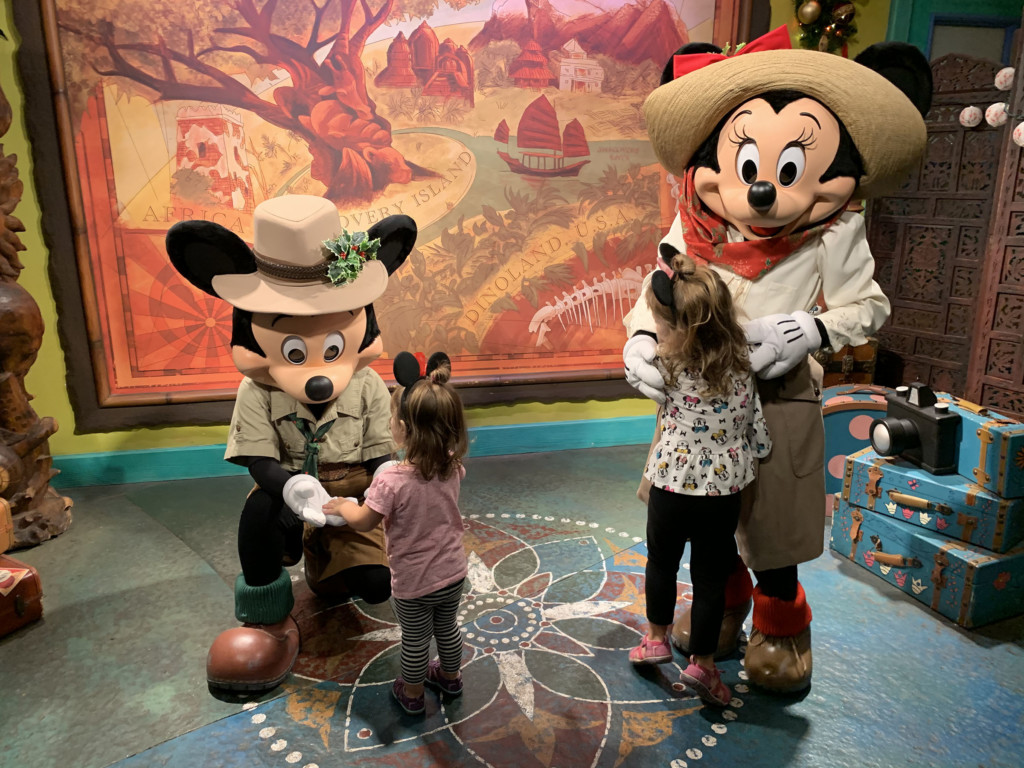 SURE, ORLANDO'S DISNEY PARKS are always magical. But for Charlotte families who love Christmas, Mickey and friends beckon us with their seasonal fare. We recently visited three Disney sites—Animal Kingdom, Magic Kingdom, and the free-to-visit Disney Springs—and have formulated a guide to the must-see (and must-eat) holiday-themed offerings for those making the trip this winter:
---

DISNEY SPRINGS
* Christmas Tree Trail
Running through January 5, this free pathway offers more than 20 trees themed after Disney films, characters, and parks. The path's tree motifs include Snow White, Frozen, The Little Mermaid, Star Wars, Disney Villains, and Haunted Mansion.
* Holiday Treats
You'll find Christmas-specific treats on the trail and throughout the Springs. Some of the restaurants and quick-service spots have their own goodies, too. Among the offerings: Holiday Turkey Poutine, Peppermint Margaritas, Holiday Chicken Wings, and Caramel Gingered Apple Crisp.
* Stitch's Holiday Gift Hunt
This scavenger hunt will take you and your kids across Disney Springs. Get your location map and gift stickers at one of the following spots: Amorette's Patisserie, Basin, Christmas Tree Trail's Mickey and Minnie Tree, Disney Chase Visa Kiosk, Disney's Wonderful World of Memories, MAC Cosmetics, Marketplace Co-Op, Once Upon a Toy, Rainforest Cafe, Sperry Super Hero Headquarters, or Wolfgang Puck Express. Bring your completed map to one of these spots for a reward: Amorette's Patisserie, Christmas Tree Trail's Mickey and Minnie Tree, Disney's Wonderful World of Memories, Marketplace Co-Op, Once Upon a Toy, or Super Hero Headquarters.

> READ MORE IN ORLANDO MAGAZINE'S DISNEY SPRINGS CHRISTMAS GUIDE
---

MAGIC KINGDOM
* Decorations Across the Park
From Main Street, U.S.A, to Tomorrowland, you'll see flourishes and decorations that point to the holiday season. (And don't forget the enormous Christmas tree at the entrance, which every park currently has.) At night, the entire park becomes a luminous display, with Cinderella's Castle itself carrying its own elegant adornments.

* Mickey's Very Merry Christmas Party
Running $99-$139, this special ticketed event arrives on certain nights in November and December. There are special dining and dessert options, appearances from characters wearing Christmas-themed attire, and entertainment that includes these shows: "Mickey's Most Merriest Celebration," "A Frozen Holiday Wish," "Once Upon a Christmastime Parade, A Totally Tomorrowland Christmas, and Club Tinsel." Dates left include Nov. 17, Nov. 19, Nov. 21, Nov. 22 and Nov. 24, and Dec. 1, Dec. 3, Dec. 5, Dec. 6, Dec. 8, Dec. 10, Dec. 12, Dec. 13, Dec.15, Dec. 17, Dec. 19, Dec. 20 and Dec. 22.
* The Holiday Merch
Even if you're not a fanatical collector of Disney merchandise, there are plenty of new treats and products across the park that are worthy of consideration. We're particularly fond of the pragmatic new "Mickey Light-Up Tree Popcorn Bucket" ($25), because you need something to hold that popcorn. (And it lights up!)

> READ MORE IN ORLANDO MAGAZINE'S DISNEY SPRINGS CHRISTMAS GUIDE
---
ANIMAL KINGDOM

* Lights (and Santa Hats) Across All Sections
The entire park comes alive at night, with gorgeous lights and decor throughout Africa, Asia, and DinoLand U.S.A. (Look for the Santa Claus hat and beard on the massive sauropod at that last area.) Even the alien world of Pandora has hyper-curated flourishes that are worth close inspection.
* New Animal Friends on Discovery Island
With their white and blue hues, new life-sized puppets add some wintry intrigue around Discovery Island. It's not only fun to see clever movements, as operated by their "handlers," but it adds yet another photo opportunity for kids entering the park. Find these reindeer, foxes, and polar bears throughout the day here.
* Mickey and Minnie Mouse at Adventurers Outpost (top of page)
Mickey and Minnie are also getting into the Christmas spirit inside their meet-and-greet section. Some holiday greenery adorns his hat, while she sports a holiday scarf and bow. Some families may miss these touches, but for the detail-oriented Disney fanatic, it'll make the line to get those photos even more worth it.
* The (Christmas) Tree of Life
A holiday score adds to the magic of the Tree of Life's new projection shows. The program is still nature-oriented, but a wintry theme to the narratives brings something special to the affair.
> READ MORE IN ORLANDO MAGAZINE'S ANIMAL KINGDOM CHRISTMAS GUIDE