TRAVEL: Traversing North Carolina Via Train
A long, pricey, stinky trip schooled me on why 'NC By Train' is more aspirational than actual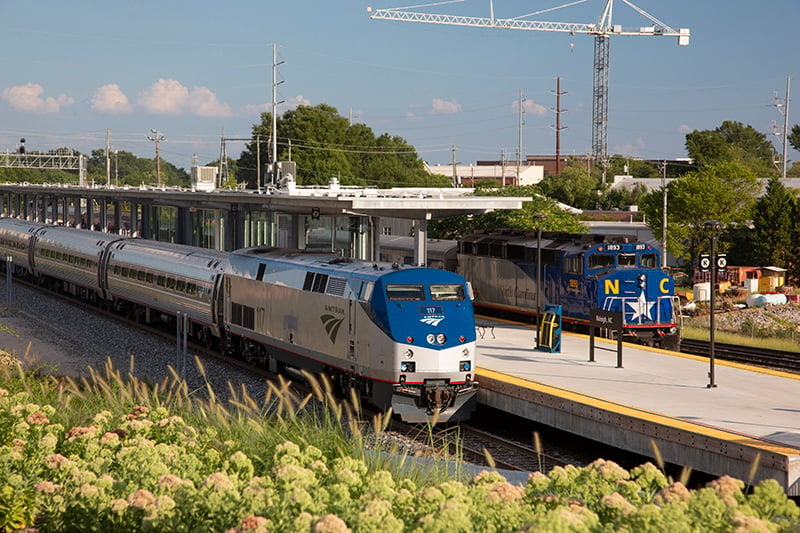 I'd been on the train for about eight hours when the Larry David lookalike next to me pulled a chicken-salad sandwich from his overstuffed black backpack. Within a few minutes, I added "chicken salad" to my list of foods people should never, ever consume on shared transportation. The smell of cold chicken and raw onions in an enclosed space was bad enough, but he proceeded to smear mayo everywhere: the seat, his pants, his cheeks. He tore a sheet of paper from his notebook and wiped his face and hands. It didn't help.
This was in July during my first-ever Amtrak trip, on the Carolinian from Charlotte to New York City—although I was traveling only to Washington, D.C. The chicken salad incident was not Amtrak's fault or exclusive to train travel, but it was almost enough to make me never want to take a train again. Something else compounded my annoyance: The train was as expensive as a flight but took nearly 11 (ELEVEN!) hours—three more than scheduled—to chug its way up to D.C. The combination had me over everything.
I'd taken trains many times in Europe. But I didn't think about taking Amtrak to another city in the U.S. until I moved to Charlotte in January and began to drive past the depot on North Tryon Street nearly every day. The North Carolina Department of Transportation maintains a website, ncbytrain.org, that makes Amtrak seem like a more comfortable and economical way to travel in North Carolina and beyond. "Learn about the many amenities and services that NC By Train offers," it boasts. I wondered if I was missing out.
I planned to take the train from Charlotte to another city in each cardinal direction but discovered that no routes head west out of Charlotte. Only one train a day runs south—and it departs at 2:55 a.m. Hard pass. Some destinations, like Charleston, South Carolina, require a train from Charlotte to execute a railway version of a U-turn. The route to Charleston starts northbound—the wrong way—jogs east, then heads south, forcing riders to transfer at least once during a roughly 13-hour journey.
I began to understand why I had never taken Amtrak before and only rarely heard of anyone else around here doing it. So why is American passenger rail so limited and inefficient? It's mainly the product of timing and geography, says Jean-Claude Thill, a UNC Charlotte public policy professor who researches transportation systems. In the early 20th century, aircraft technology developed rapidly, Thill says, and "the Feds had the foresight to see air travel for its unique competitive advantage: speed." The federal government paid billions in subsidies to shift mail service from rail to air.
After World War II, airlines began to move people more efficiently than trains, and the government encouraged air travel even to small cities by subsidizing airlines that served smaller airports. It made sense in a country as big as the U.S. for air travel to overtake trains—except in the urban Northeast, where commuter rail remains a common travel option and where Amtrak, unlike in other parts of the country, owns the rails.
By 1971, airlines were dominant, and the government created the National Railroad Passenger Corporation—doing business as Amtrak—to take over what was left of the country's long-distance passenger rail service. Railroads shifted to moving freight. "Today, you'll often see where a passenger train is basically parked on the side to give priority to a bunch of rail cars loaded with freight," Thill says. "Freight now takes priority over people on the railways in this country."
I'd already figured that out somewhere in Virginia during my trip to D.C. A few days later, after a nearly-as-aggravating return trip, I tested positive for COVID, which forced me to ditch my planned train trip to Durham the next week. But I didn't need it to conclude that NC By Train is affordable and convenient—as long as your destination is the Triangle.
The Carolinian makes five stops—Kannapolis, Salisbury, High Point, Greensboro, and Burlington—before it reaches Durham. If all goes well, the trip takes two hours, 31 minutes. Its next stop is Cary, then Raleigh. That leg alone, without the endless clacking through Virginia, gave me enough time to enjoy a train's luxuries—pretty landscapes, free WiFi, and a café car—without sitting there long enough for Larry David to bust out a fragrant chicken-salad sandwich. And even if someone had, the shorter the trip, the easier to endure.
A Charlotte-to-Durham ticket costs $25. If I had to make regular trips to the Triangle, I'd be all over it. You'd spend close to the same amount in gas to drive there anyway, and WiFi lets you work as you travel. (Billable hours, baby!) I frequently drive to Chapel Hill to visit my 1-year-old nephew. I'm considering taking the train next time.
As for longer trips, I'm sticking with air travel. When the Carolinian pulled into Union Station in D.C., a bedraggled and sparse collection of passengers joined in a pitiful round of applause. "Finally," a woman shouted, "it has happened!" I would've saved that caliber of dramatics for the Second Coming, but I felt her pain. Down the line, I'll keep my Amtrak adventures closer to the depot on North Tryon.
TESS ALLEN is the associate editor.