Traveling the World Through Charlotte Restaurants
A simple meal can take you back home, or away again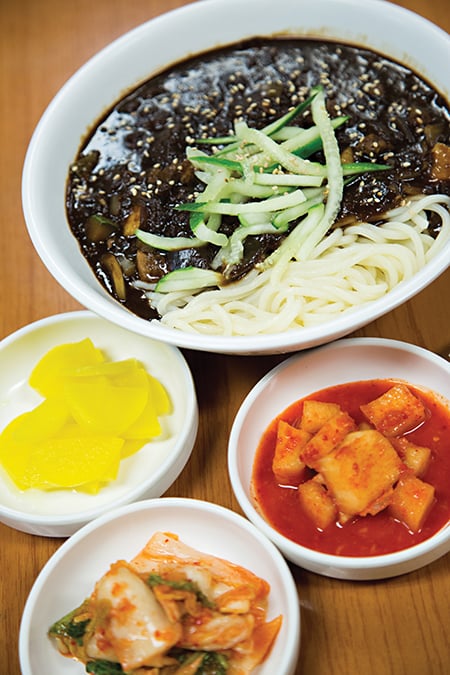 A COLORFUL SIGN directs you to the otherwise hidden PePeRo, a Korean grocery store in Matthews with a small restaurant attached to its side. The restaurant's décor consists largely of orange and green paint and printed signs with blunt instructions for guests: "No more than three checks per table." Korean folk scenes, partially covered by a child's scribbles, run the length of one wall. A large image of a wooded creek fills the opposite.
When I can't go home, I come here.
I've lived in Charlotte for 12 years, but for the past two years, I've threatened to leave Charlotte every few months or so. Sometimes to go to a new place, such as San Francisco or France. Most times, though, I think about moving back home.
It's taken me awhile even to know where home was. Like many military brats, I moved around a lot: 15 times by age 11. I had to call my dad to help me count. I'm half Korean, was born in Japan, and lived in Italy, Germany, and all over the United States. We landed in Maryland for my dad's last military assignment while I was in the sixth grade. I lived in northern Virginia after college but worked and played in D.C.
So I sometimes say home is "Maryland," sometimes, "D.C.-Maryland-Virginia," sometimes a shorthanded "D.C.," even though I never actually lived in the District. Geographic precision doesn't really matter.
Well-meaning people have attempted to persuade me of Charlotte's many charms: Affordability. Good weather. The ease of getting around. The possibilities of a small big city. A long list of good friends. A wise and judicious mayor-turned-governor. (Just kidding on that last one.)
I get all of these things. They keep me here—for now, anyway. There are still times, however, when none of these great aspects of Charlotte can compete with that one hour I can sit across from my mom at Han Joong Kwan, a Korean restaurant in Ellicott City, Maryland. The plates and tables will be mismatched. We'll start with the chicken tangsuyuk, a crispy, sweet-and-sour chicken dish served on a plate with a Chinese red border. The dumplings may come out a little late. My mom will order the jam pong and I will order the ja jang myun. And for that moment, everything is OK.
Ellicott City is just one of several towns outside of the D.C. beltway that could aptly be referred to as Koreatown—each of them with a sizeable selection of restaurants, the largest with more than a hundred. I've never even set foot in most of them.
Charlotte has only a handful of options for Korean food. PePeRo and the cafe in Super G, an international supermarket on Independence, are a 20- to 30-minute drive from my house, depending on the time of day. China Wing is closer, but doesn't let me pick up groceries like the other two. Hiya is a food truck I have to keep tabs on. Seoul Food Meat Company, while a fun fusion take on Korean barbecue, can't satisfy my cravings for the dishes I grew up eating. The total number of Korean restaurants increases only a little when you take into account the entire state.
People are understandably confused when I cite the lack of Korean food as a reason to leave. It seems trivial to them, yet significant to me—though I have struggled to explain why. As with many things in life, I should have called my dad. "Keep in mind," he told me, "with all that moving around and everything, one of the only constants in your life was Korean food."
I slumped in my chair under the weight of his insight, a deeply personal one with a universal truth at its core: Every day, millions of homesick people are trying to go home—through food.
And for every person who is trying to return to a place or time by sitting down at the dinner table, there is another trying to explore the world in the exact same way.
Authentic restaurants such as PePeRo—whose addresses put them at the corner of aging strip malls, whose service might be a little uneven, whose décor is confusing or altogether absent—have allure for both the homesick and the adventurous.
Many of us are both, depending on the moment. When we aren't at one of our regular spots, we might go to a place such as Thai House in Pineville to eat green curry and pretend that the ornate woodwork surrounding us is actually the inside of a temple or grand house in Thailand.
We do not eat at such places merely because they are cheap; we eat at these places because they transport us—to somewhere we're comfortable, or somewhere we've never been.
***
KATHLEEN CAP and her partner, Walter Brzozowicz, find comfort every time they visit Taste of Europe, a cheerfully decorated Polish café near where they live in Matthews.
They are both Polish, and grew up in North American cities with large Polish populations. Kathleen lived in a south side neighborhood of Chicago, near a town in Indiana called Whiting where there's an annual pierogi festival. (Pierogi, if you haven't had the pleasure, are dumplings stuffed with all kinds of goodness, most commonly mashed potatoes and cheese.) Her sister and cousin have sold pierogi-themed paraphernalia—think earrings, necklaces, magnets—at the festival under the business name Pierogi Princesses. They also make hundreds of real pierogi with Kathleen's sister-in-law for the family on Christmas Eve every year.
Walter grew up in Toronto, a first-generation Canadian whose mom survived the Nazi occupation of Poland and whose dad was a Polish POW during World War II. His mom cooked traditional Polish dishes from scratch while he was growing up, including his favorites: crispy roasted chicken and a barley soup made with vegetables, mushrooms, and, as he puts it, "whatever meat happened to be handy."
Kathleen and Walter were delighted to discover Taste of Europe nearby. "Who would ever think that we would find a Polish restaurant in Matthews, right?" Kathleen asks.
The couple who owns the place, Agata and Michal Przyk, opened the restaurant to share the flavors of their Polish upbringing. The restaurant business is a tough one, yet people will enter it just to fill this void for themselves and their community.
"For us, this is home cooking," Kathleen says. "And we usually take friends, so they can try something different." An added bonus for Walter, who is bilingual: the chance to converse with others in Polish.
Walter likes the borscht and they both enjoy the golabki, stuffed cabbage rolls covered in tomato sauce. But the pierogi are the ultimate comfort food for the pair, a $10-and-change ticket to their hometowns and their childhoods. Taste of Europe offers six kinds, and they order them all. When I ask Walter to name his favorite, he says, "It doesn't matter."
He's right. It doesn't.
***
THERE ARE SEVERAL locations of Morazán restaurant in Charlotte, all serving a mix of Salvadoran, Mexican, Honduran, and other Latin American fare. Unlike the limited options for Polish or Korean dining, Charlotte has a large number of Latin American restaurants. (This is probably due in part to the sizeable Latino population here, which makes up roughly 13 percent of the county's population, according to 2014 census figures.)
The first time I went to Morazán, I sat at the bar and watched an uncertain waitress exchange glances with her manager about whether I needed to be carded for the Negra Modelo I ordered. It didn't help that I was indecisive about my choice, I suppose, but in this place, I already stood out. I was the only woman at the bar, sitting beside groups of men who were eating, drinking, and catching up with their sports teams after a day at work. Behind me in the dining room sat families of Latinos. I'm fairly certain I was the only non-Latino there.
I plan to return, because I want to know what Salvadoran steak tastes like, and how it's different from steak in Colombia. I'll go back because I have discovered the tortilla con quesillo, a gooey, cheesy Honduran dish smothered in tomato sauce that I will choose over a quesadilla from this day forward. I'll go back because I can't afford to travel to all these countries, but I can afford the $13.95 Traditional Lempira Dish.
Next time though, I'll bring some friends, because it's more fun than traveling alone.
***
BACK IN MATTHEWS at PePeRo, two tall giraffe lamps stand watch over guests in the dining room. There are no giraffes in Korea. (Except maybe in zoos.)
Sometimes, I come here with friends. Sometimes, like tonight, I come by myself and quietly steep in my own memories over some kimchi and rice.
A funny waitress energetically rolls her service cart back and forth. She playfully chides two guests behind me who she thinks are ordering too much food. I survey the laminated menu, which has pictures to help those who are unfamiliar with Korean cuisine. A buzzer on top of the table lets me alert staff members when I'm in need of something.
Tonight, I am in need of that ja jang myun that I enjoy with my mom. It's been a long, frustrating Monday, punctuated by the fact that I'm just getting around to dinner at 9:30 at night.
The only visually appealing aspect of this noodle dish is the cucumber slices that come on top of the thick, black bean sauce, which has a tendency to get all over your face and clothes and is salty enough to act as a human dehydrator.
It doesn't matter.
A mere $8.99 buys me a seat at the kids' table on the floor of my old living room in Germany, happily consumed with the task of winding all these fat noodles around my little chopsticks. That memory will take me back to a dusty street in Texas, where I first learned to use chopsticks by tackling a bowl of ramen.
The nearby chatter and laughter of women maneuvering a somewhat cluttered kitchen—one less about appearance and more about feeding people—sounds and looks like the one from our old townhouse in Maryland, where my mom cooked with her friends, sometimes making hundreds of egg rolls at a time. She'd always wrap the first couple of egg rolls that came out of the fryer in paper towels and hand them to my brother and me. I'd burn my mouth out of impatience.
The waitress rolls her service cart up and interrupts my daydream. "Everything OK?" she asks.
Yes, indeed—everything is OK.
Cat Carter is a freelance writer in Charlotte who believes in the power of good storytelling. She founded Edible Charlotte magazine, a publication that discussed the region's local and sustainable food culture. Reach her by email at catyicarter@gmail.com.
---
This article appears in the June 2016 issue of Charlotte Magazine
Did you like what you read here? Subscribe to Charlotte Magazine »
---