TreeDay at Garinger High School
Volunteers planted more than 370 trees on Saturday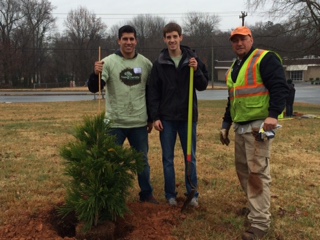 A light drizzle on Saturday morning didn't stop more than 200 volunteers from showing up at Garinger High School at 9 o'clock. They joined the TreesCharlotte team to plant 372 trees on the school campus. An additional 100 trees were available for community members to take home and plant in their yards.
The TreeDay event was a TreesCharlotte project. The public/private organization is a collaborative effort devoted to educating people about the benefits of trees and engaging community members to plant trees in order to strengthen and increase Charlotte's tree canopy. Community tree planting events, such as the one at Garinger, work toward reaching the tree canopy coverage goal of 50 percent by 2050.
Charlotte-Mecklenburg Schools is a TreesCharlotte partner. When someone approached Michael Drye, Garinger High School principal, about holding a planting event on his campus, he went to work. He consulted multiple groups about land-use practices on campus and the best places for the trees. Then he worked with TreesCharlotte to develop a landscape plan.
"Two versions later, we were ready to go," Drye said. "It's good to get the community involved in something that's not purely instructional."
At least 35 Garinger staff members volunteered on Saturday, as well as Garinger students and students from other high schools. Other volunteers were independent community members who learned about the event and decided it was a good way to spend their time.
Eric Elizondo learned about TreesCharlotte through Rotary Club. He volunteered at another planting with a group of Rotary members, and he enjoyed it so much, he signed up for the Garinger event and brought another friend.
"It's good to see a whole community support something," Elizondo said. "And it's easy to support trees."
Below are some scenes from the day:
Amedee McGee and Eric Elizondo put mulch around a newly planted tree.
Garinger High School Principal Michael Drye plants a tree with a volunteer student from Olympic high school.
Members of Myers Park High School's Environmental Club worked on tree banding.
Left to right: Volunteers Mike Zonel and Andrew Yavorski work with Robert Jones from the City of Charlotte to plant Japanese cedars.