Tremont Music Hall: The Last Dirty Rock Club
What happens when development strips away our grimy, grungy music venues?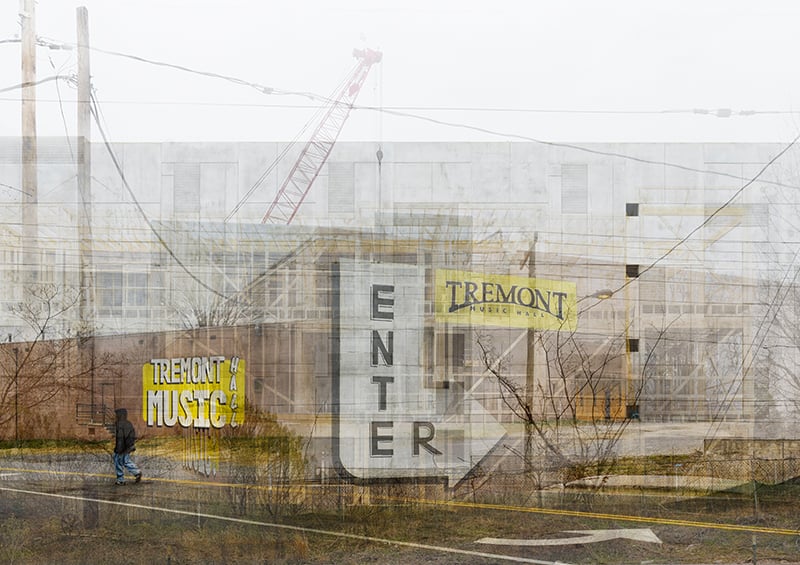 AFTER HE STRIKES his guest vocalist with a chair, after he sets his washboard on fire and smashes it to pieces, and after he slams an axe into the stage floor, Jeff Clayton stands with his back to the audience. His outstretched, fully tattooed arms are visible through a haze of thick smoke that envelops the stage. He pauses. He gazes at the backdrop behind the drums, where his band's name, Antiseen, hangs for the last time.
Antiseen has played many memorable shows at Tremont Music Hall, including the band's 20th, 25th, and 30th anniversary concerts. So when Clayton learned the old venue would be closing, he asked owner John Hayes if his band could be the last to play.
Hayes is on the stage, too, and he delivers the last blow. He swings his electric guitar to the floor like Pete Townshend. It splinters and snaps. Strings still bind the neck and the body. Meanwhile, a former band member climbs onstage and, in pure, nonsensical punk rock fashion, gives the audience the middle finger. But it's all show.
Under the chaos, they're thinking quietly to themselves, This is it. There won't be an encore.
Even after a 12-hour show and 17 bands on this December day, Antiseen's set still seems brief. An unspoken sentiment sweeps across everybody in the room: If they just keep playing, it won't have to end.
But Hayes has no thoughts of hanging on as he rips through the last chords of Antiseen's blatantly Southern anthem, "F*** All Y'all," with the band. He's accepted that the venue's 20-year run is over.
Soon, the lights go up and the main concert hall is laid bare, with layers of dust on surfaces, stains and cracks in the floor. The mystique of "dirty rock club" disappears, and as a bouncer pushes broken glass, dirt, and the occasional lost shoe or baseball hat with a wide, tattered broom into a heap at the center of the room, the bones of an old, dirty warehouse are exposed.
***
IN LATE SEPTEMBER 2015—less than three months before that final show—Hayes got a call from the man who owns the property at the corner of Tremont Avenue and Tryon Street where Tremont stands. Just about every year, Larry Hicks, now 75, would call Hayes to tell him someone was interested in the property. Hayes, who owned the business for five years, figured this time was no different.
"This would've been the fourth time he told me the building was sold," says Hayes, a 46-year-old former United States Marine from Middlesex County, Virginia, who loves metal but does not look like a typical metalhead. He keeps his hair short and mustache groomed. "I wasn't really that concerned. [But then] he gave me 90 days to get out."
The threat of development loomed for years. When Penny Craver (who co-owns the restaurant Dish in Plaza Midwood) opened Tremont in 1995, there were no light rail stops near Tremont, no high-rise condominiums. The music hall was just an old, cinder block building a few blocks from a now-closed Spaghetti Warehouse and around the corner from a store that sold rims. Eventually, a metal fabrication shop that sat between the venue and South Tryon Street was bulldozed. An office building went up in its place, right along the sidewalk where prostitutes once stood each Saturday night. The office complex had a security gate and intimidating fence posts.
It's a common occurrence in Char­lotte to see local spots with colorful histories replaced by new things with less heart. Along South Boulevard, amid the dust of recently demolished strip malls, newness and impending newness stretch for miles.
Tryon Street is following the same path. I once managed a coffee shop and gallery in a 100-year-old building in the 1500 block of Camden Road, near where the Common Market is spending its last few months now. When The Queen's Beans opened in 2002, we neighbored Dale's, an old garage, on one side, and an architectural model builder on the other. Phat Burrito, The Charlotte Post, and the Charlotte Art League were across the street, but it took years for new businesses to turn that block into what it is today. Soon, the businesses in that V-shaped block, including the Common Market, will move, and the buildings will come down and give way to new office and retail space.
The development encroaching on music venues isn't unique to South End. The Chop Shop, another mid-sized venue in NoDa, closed in November.
By February, the building was rubble. Condos will take its place.
After Antiseen's set on that final night, there's talk around Tremont's cigarette smoke-wrapped office that the Visulite Theatre in Elizabeth is next to go. People believe that neighboring Presbyterian Medical Center, owned by Novant Health, will take over the entire block. The Visulite's owner denies the rumors. But after what's happened to Tremont, it's hard not to wonder what will happen to the old haunts in redeveloped neighborhoods. Consider the Neighborhood Theatre in NoDa, where a new apartment complex not only has overtaken the venue's parking lot, but also wraps around the building. Now, people taking pictures of the marquee have a hard time not capturing the apartments, too.
New development makes it hard for old businesses to hang on, but it can also make it hard for those businesses to start up again somewhere else.
"Getting dug in again, only to lose all of your hard work or [be] crushed by big corporates, is a big concern," says Jay Tilyard, who opened the Chop Shop behind Cabo Fish Taco in May 2011. "We're not rich, and the risk is getting higher. Trying to duke it out with [promotion giant] Live Nation is pretty futile. Trying to scratch by on local acts and hit or miss tours is pretty tough, too."
For his part, Hayes did make a counter offer on the Tremont building, but he was promptly outbid. A search for another location didn't pan out.
"Every place we went that looked suitable, we couldn't go because of zoning," says Hayes, who wanted to downsize because of the overhead and the scarcity of affordable main-room shows. With a hole in the roof causing visible mold and deterioration and cracks that climb the façade, he acknowledges that in time the building will probably fall in. Yet he still tried to keep it.
"It was risky, to say the least, to invest that much money in that building," he says.
***
THE CHANGE that Tremont's closing signals has long been in the works, and not just because of rising property values and opportunistic apartment developers. The music industry has also contributed to the shift. When the Fillmore opened at the Music Factory in 2009, Tremont and Amos' Southend immediately took a hit. Because it's owned by Live Nation, the Fillmore can book acts that have long bypassed Charlotte for Raleigh, Asheville, Washington, D.C., and Atlanta. That reach and the company's deep pockets made it hard for smaller, local venues to compete.
"I got to watch Charlotte's market change," says former Tremont general manager and talent buyer Lisa Barr, who worked under Hayes and the club's previous owner, Dave Ogden. "[The Fillmore] did open the market up to bring more bands to Charlotte, because they could pay them to be here."
Barr was 22 and managing a record store on Park Road when a friend asked her to work the door at Tremont, checking IDs and taking admission, on Halloween 2004. "It immediately became my favorite job. I just wanted to live there," says Barr, now 34. Like most of the Tremont staff, Barr is a music fanatic. Her crystal-blue eyes dance as she gushes about her favorite bands. When she was promoted to assistant manager, she practically moved into Tremont's office. Some days, she left at 3 a.m. and returned at 9 the next morning. When the calendar began to look bare after Ogden's booker quit, she took it upon herself to connect with booking agencies.
"The first offer I ever sent was for the English Beat and Fishbone," she says through an embarrassed smile. "I think I offered them $600." Her eyes roll. The agent declined, but gave her another shot. "I think we agreed on $3,000, and the show went well. It wasn't huge, but I don't think we lost money."
Hayes, who sells robots to factories as his day job, calls booking the hardest job there is. The wins keep the business afloat, but the losses can be devastating.
"You have to make decisions for what's going to be in that venue months from now," Hayes says. "How many people will it pull? How much [do] you need to bid? And if you fail, you probably can't pay the people that are working for you that night."
Twenty years ago, when Craver opened the club using mostly small loans from friends and investors, the music industry was different, and as a 1,000-capacity venue, Tremont was practically the only game in town. The Double Door Inn in Elizabeth catered to an older audience. Amos', which was then at a smaller location at the intersection of Park and Woodlawn roads, was geared toward the fraternity crowd and served food. The Milestone off Tuckaseegee Road in west Charlotte was much smaller and often dormant. With alternative music going mainstream, and with the new radio station WEND 106.5 The End, Craver was able to book rising bands and of-the-moment hitmakers, as well as veteran acts.
A band with a big hit headlining a package tour might make $5,000 per concert in 1996, with a few hundred of that set aside for the opening acts. A ticket might cost $10 or $15. Today, negotiations for a similar act at a large club can reach well into the tens of thousands, and ticket prices usually exceed $25 or $30. The trend isn't unique to Charlotte. The legendary CBGB in New York's Bowery neighborhood closed in 2006 after disputes over rent increases. Clubs in Pittsburgh, Hoboken, New Jersey, and San Francisco have also succumbed to gentrification and corporate development.
Before his Charlotte show at the Visulite in November, Shannon Koehler of the San Francisco band the Stone Foxes marveled at all the venues across the country that have closed since his band released its first album in 2008. "All the venues we grew up playing, almost all of them are gone," the artist in his mid-20s told me. "You can see that in other cities across the country."
Losing another venue would certainly alter Charlotte's arts and nightlife. For all of the Broadway tours and arena concerts that play uptown, there have always been edgy, subversive acts and homegrown talent playing clubs. There are few spots that fall between an intimate, 200-capacity bar and a cavernous, 1,200-plus room. The Neighborhood Theatre, which can fit 956, is now one of the larger places in town. Although the Neighborhood has branched out from its folk roots, it's hard to imagine Gwar spraying fake blood across the venue's ceiling, or the giant, whirring ceiling fan scattering a mist of sticky, red goo over the crowd.
The Chop Shop put on some of the city's most unusual events during its four-year run, with aerial artists and acrobats, arts festivals, DJs, and costumed theme nights. It had the charm of an old garage with a fresh coat of paint. With his clean-shaven head and a thick, red beard, owner Jay Tilyard looks like what's becoming "old NoDa"—an arts district where tattoos, beards, and PBR flowed freely. He believes the city's preference for shiny and new is a reflection of its expanding population.
"The Charlotte majority is getting less and less interested in crusty, old, rock venues," Tilyard says. "The new generations and bank-town implants want clean, neat, and precise. The soul of the city will reflect and change based on what the people want. If they want corporate, corporate will win. If folks flock to cool, underground places and enjoy places with character and heart, that's what will survive."
***
TREMONT WAS anything but posh.
There were no chandeliers. They tried black lights. There were no $11 beers. Liquor wasn't introduced until its second decade.
There were also no showers, private restrooms, or many amenities touring bands requested.
There wasn't even air-conditioning.
The night before the final show in December, Terrence Richard, singer for Charlotte's Junior Astronomers, was onstage between songs. The mood was nostalgic and emotional. Fans who hadn't been here in years, and others who trucked in from Raleigh, pumped fists and swayed and danced with force to Junior Astronomers' jumpy rhythms.
Richard still remembers being 14 and seeing Junior Astronomers guitarist Philip Wheeler play a battle of the bands.
"I was like, man, I really dig that. I really want to do that," Richard says. "I played here when I was 19, and it meant so much. It's really one of the only all-ages spots in Charlotte, and it matters for people to be here that are all ages. I remember being a kid and being like, 'This is it. This is everything.' "
On stage that second-to-last night, his voice got louder and his words sped up as he turned and rallied the crowd: "We're going to find a way to have house shows. We're going to find a place for all you people to come to. We're going to find a way for everybody to come. It doesn't matter what we get paid for it. It matters about having everybody there. We all need to be together having this time. That's not just the whiskey talking."
Other than Tosco Music Party and the School of Rock, music school-related shows in which kids play a showcase on a stage at a real venue, many children in Charlotte won't have a chance to start as early as Richard did. Not only that, but without all-ages, mid-sized to large club venues in the city, younger teens won't be able to see live bands touring at the club level. Ask the Avett Brothers or Taking Back Sunday about the important shows of their youth, and you'll find Scott Avett and Taking Back Sunday's Adam Lazzara waxing nostalgic about the shows they saw at Tremont.
There are churches and house shows, and the possibility of scenes in places such as Belmont, Mooresville, and Matthews, but in what other city do teenagers commute to the suburbs for live music?
Photographer and graphic designer Justin Driscoll was 13 the first time he was on Tremont's stage with his former band, Scapegoat. It was December 1999. He and his bandmates, like many Charlotte musicians of his generation, grew up at Tremont. The band stayed together for more than a decade, drew about 900 or more fans to its main-room shows at its peak, and toured as far away as Japan.
"Watching these places disappear, one by one," Driscoll says, "is like watching part of my childhood go with it."
***
THE FIRST year he owned Tremont, John Hayes found Barr, the former manager, crying at her desk. The club always needed money. Things were never easy.
"I just knew Tremont couldn't last forever," says Barr, who now works as a general manager at the Comedy Zone. "I didn't see anything I'd done really making Tremont last longer. I'd tried everything I could think of. I knew it was out of a lot of our hands.
"I never have to worry about if we're going to keep the doors open at [the] Comedy Zone. At times, I miss the challenges. Looking back, it was hard. I never miss crying in that office because we lost thousands of dollars."
A few weeks after Tremont closed, Hayes rented a space off South Boulevard inside a smaller building that belongs to a defunct auction house. He built a stage and set up Tremont's best equipment. He has no plans to start another business, but he'll use this as a practice space, just as he did Tremont.
"The last thing in the world I'm going to do is get a business license and run this like a business, because I just don't want to," Hayes says. "I'm going to get bands and split the rent and have a place to play."
After showing his new place to me, Hayes drives his red pickup over to Tremont. It's been two days since he auctioned off most of the equipment. The place looks like it's been ransacked, but in an organized fashion. Power cables are rolled up on desks that sit where customers once shot pool. There are holes in the floor of the bar where the beer coolers sat. Part of the bar has been haphazardly cut out from top to bottom in order to move an oversized cooler. Hayes can't figure out how it ever got behind the bar in the first place. Both the Casbah and main-room stages are gone. The 56-channel, analog soundboard still sits covered under plastic in Tremont's main room, where the roof leaks.
Above the bar is a five-foot-long, rectangular hole where the word "Tremont" used to be painted in white. A member of a local band wanted it, and Hayes helped him cut it out. Hayes doesn't even remember who the guy was. For himself, Hayes kept the soundboard and the yellow trash can that sat between the door and the bar for 20 years. The trash can became a symbol of the place. Several former employees now have tattoos of the bright yellow, waist-high bin, always stained with scuzz and sticky with beer. Just about everything else has been auctioned. The place is gutted.
Toward the end of Tremont's life, tension over when and if to close created a rift between Hayes and some of the staff. Some believe he should've kept the place open longer, but with most bands booking at least several months out, he couldn't see doing that.
When it came time to pack up the place a few days after that last night, none of his employees returned to help. Members of hip-hop group 403 M.O.B. and Barry Hannibal, Antiseen's bassist, helped tear down the stage. "There were so many emotions the last night. There was a bit of a blowup and there were some hard feelings, but it was all coming, not because anybody hated each other—I don't think we knew how to deal with the situation," Hayes says. "Like someone dying, almost. The end of an era."
A month and a half later, Hayes gets another call from Larry Hicks, the property owner. It looks as though the sale of the property might fall through, Hicks tells him. Hayes thinks of all he and his staff went through, the emotions and sweat, the lost jobs and tears. That same week, Hayes goes to see Hicks again. The sale didn't work out, after all. Another potential buyer has emerged, but Hicks is talking about leasing it again. There's a moment when Hayes wonders …
Maybe he'll fix the roof.
Then he decides …
No, it doesn't matter.
Hayes turns over his key. The old club stays empty. Tremont is no more.
Courtney Devores has covered music in Charlotte for 20 years. Reach her at cdevo@hotmail.com.
---
WHAT'S LEFT?
Here are some of the current venues that can accommodate between 400 to 2,000 patrons. (Truly intimate spaces like the Milestone, Snug Harbor, and Evening Muse cap out below 200.)
Amos' Southend
Capacity: 1,350
Hosts a variety of rock, pop, and hip-hop, but built its brand as the house of tribute bands. AEG—Live Nation's biggest competitor—regularly books shows here, so expect recent Grammy nominees Kacey Musgraves and Elle King (both in April) on the calendar, alongside tributes, classic hair metal, and local acts. 1423 S. Tryon St., 704-377-6874
Belk Theater
Capacity: 2,097
With four levels and semi-private boxes, Charlotte's most posh theater seems larger than its actual capacity. The venue hosts the biggest Broadway tours, but A-list veterans such as Elvis Costello and Diana Ross play here, too. 130 N. Tryon St., 704-372-1000
Booth Playhouse
Capacity: 436
Just a short walk and escalator ride from Belk is this comfy theater with surprising character. In addition to smaller productions and slam poetry, alt-folk vet Suzanne Vega and rising alt-rock band Atlas Genius have played here. 130 N. Tryon St.
Fillmore
Capacity: 2,000
Live Nation's flagship Charlotte venue does it all. It's helped put Charlotte land tours that once would bypass the city. 1000 Music Factory Blvd., 704-916-8970
Knight Theater
Capacity: 1,192
Belk's smaller cousin was built with acoustics in mind and features slightly more intimate Americana and jazz shows from artists who may not be household names—think, Stanley Clarke and Josh Ritter—as well as well-known vets like Chris Isaak and Steve Martin. 430 S. Tryon St., 704-372-1000
McGlohon Theater
Capacity: 730
A former church with stained-glass windows and some of the best acoustics in town, this is one of the most interesting places to watch a show in the city. 345 N. College St.
Neighborhood Theatre
Capacity: 956
Re-established as NoDa's home of Americana in the late 1990s, the recently revamped club has stretched its calendar to include hip-hop and metal, as well as larger local acts. 511 E. 36th St., 704-942-7997
Visulite Theatre
Capacity: 540
Built in 1938, Visulite retains its classic mystique with a marquee out front, an ornately decorated stage, and warm, red curtains wrapping the walls. There's a standing-room-only pit in front of the stage and pub tables in the back. 1615 Elizabeth Ave., 704-358-9200