Trends: Summer Invitations
See what's hot for summer stationery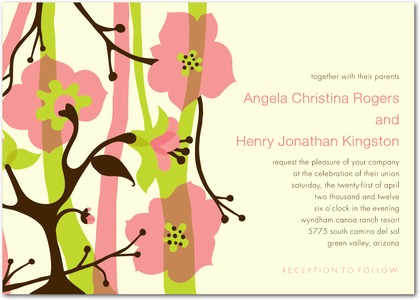 Summer is officially here and like the warm weather, it's time to shake things up and that includes our stationery. For the warm summer months, we want our invitations, thank you cards and save the dates to feel the way we do, and for the hottest trends this summer, Wedding Paper Diva's has you covered. With exclusive designs, WPD fills the stationery void by providing you with today's trends and inspirations for every occasion. Here are the top four trends of the summer:
Artistic Watercolor and Painterly Styles
Feeling whimsical? This hand-painted, watercolor style is prancing its way into the 2011 wedding season. Artistically inclined couples love the dreamy feel and airy brushstrokes to give their wedding invitations that enchanted feel.

Photo Invitations
Couples are taking a more personable route with wedding invitations and save the date cards: they're including snapshots. Make use of those engagement photos by including them into your invitation with modern designs and trendy symbols. There really isn't a better way to make an invitation or thank you note more personable then by including your pretty mug.

Rustic, Backyard Style Weddings
Want that backyard-style wedding feel but with an elevated charm? These simple yet rustic designs are perfect for intimate occasions. With wood detailing and hand-written fonts, add sophistication to your backyard-event with these home-felt themes.

Hot Color Trends
Just like the summer months, it's all about color. Instead of adding that pop of color for personality, stationery themes are now exploding with fun hues. For a tinge of subtle femininity, try honeysuckle pink for a soft, subtle touch. Couples looking for a modern yet chic theme, grey and yellow color combinations have become the new trend but add an elegant twist to the traditional with clean designs. If you're personality is fun and bold, why not let your invitations reflect that? Funky designs and bold patterns are the new it factors in stationery, and with these trendy themes, your personality is bound to shine through.