Triple C Barrel Room offers up new brewspace, along with impressive setting to hold events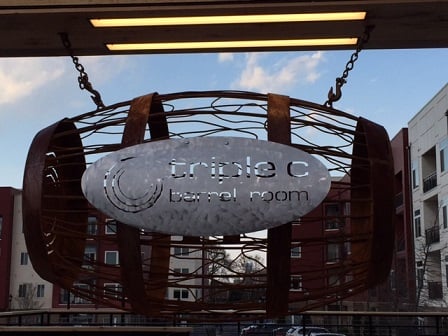 For the last several years, numerous requests came in to Triple C to hold celebratory occasions at the brewery, from weddings to birthday parties. That speaks to what's now become the norm in Charlotte – having events at breweries rather than the traditional festival halls or places.
However, the South End brewery had to turn down many of these due to a lack of available space, as well as the inability to break up a private party from the public taproom.
The answer to this problem was found close by, and may even make Triple C's regular taproom patrons jealous – that's how nice the location is across the street, which is being dubbed The Barrel Room.
The name is descriptive of the overall space, which will hold events as well as a seven-barrel brewing system that will be part of Triple C's barrel-aging program, along with the brewery's initial exploration into a full slate of sour and wild ales.
"People had been asking us about having events here for some time," Triple C owner Chris Harker says. "We used our warehouse space intermittently for private events, but it wasn't ideal. There aren't enough bathrooms and it's not heated or air conditioned. So when this opportunity came about, it solved a lot of our problems – plus it was right across the street."
Formerly a janitorial storage building, Harker began the proceedings of leasing the new space in October 2015. The transformation has been nothing short of spectacular, beginning with the unique hanging iron barrel that greets you shortly before you walk into the doors.
The building itself is 10,000 square feet, with an event space of roughly 4,400 square feet that includes a climate-controlled brewhouse (viewed by ceiling-to-floor glass inside), a bar that features 20 taps (including two for wine and two nitro), a full-size kitchen for caterers and numerous barrel heads that align the walls. There's also an outdoor patio that should be popular during warm-weather events.
"All in all, it's outdone my expectations for sure," Harker says. "You walk in and it feels very unique and special."
Inside the Triple C Barrel Room, which features a 20-tap bar among the event space.
On the beer side, you can hear the excitement in head brewer Scott Kimball's voice as he stands in the space, as he and Triple C's other brewers already have some big plans for this year and beyond.
"Having this smaller system gives you so much more flexibility," he says. "When it comes to our pilot batches, for me personally to come over here once or twice a week and brew something unique from the ground up is really great."
Triple C's barrel program is arguably the best in Charlotte (Kimball estimated he's filled more than 230 barrels with beer, which works out to roughly 12,000 gallons), including such standouts as Chocolate Covered Pretzel Stout, Kind of a Big Deal, The Force and Up All Night. All of these have their own distinct characteristics, and The Barrel Room will allow for more possibilities – including the hope to experiment with apple brandy barrels and wine barrels.
"I'm really excited to challenge myself to try something new," Kimball says.
Kimball has long wanted to establish a larger sour program at Triple C, and the new space gives them that ability. He'll no longer have to worry about any cross-contamination, and will be able to isolate his sour beers for proper fermentation. Starting out, look for possible new variants of Kind of a Big Deal as well as experimenting with current barrel-aged beers (Kimball mentioned possibly taking Eyes of the World and creating a dark/strong sour).
"This really allows us to make some crazier beers in a controlled environment," says Kimball, adding that there will also be a foeder coming into the new space soon.
Triple C's bottling line is moving across the street to The Barrel Room, while the canning line is staying put for now. Having more room will also allow the option for smaller canning runs and additional bottles.
One other addition to The Barrel Room is Triple C's weekly yoga events, which occur each Thursday. And Harker didn't rule out the possibilities of having brewery special events in the new space, such as The Dude Imbibes release next month.
For inquiries on how to reserve The Barrel Room as well as pricing, call (704) 372-3212 or email events@triplecbrewing.com.