Triple C releasing first beer from sour program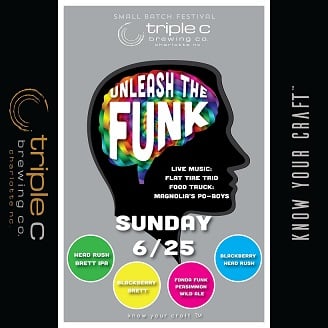 Since opening the new Barrel Room facility across from the main brewery a few months ago, there's been high anticipation of Triple C's first beer to come out via its sour program. That wait ends Sunday, as Head Rush Brett IPA is set to be released, along with a few other limited releases as well.
Triple C head brewer Scott Kimball has been hard at work on this inaugural beer, and it sounds quite tasty. Head Rush was fermented in oak barrels over at the Barrel Room and contains "a unique Brettanomyces yeast strain that gives off intense tropical fruit and pineapple aromas which are only doubled by the triple dry hop with Mosiac," according to the brewery.
That description in itself is mouthwatering, but Triple C isn't done with just that beer for Sunday's release.
There will be a blackberry variant of Head Rush, along with a blackberry Brett ale. Finally, Triple C will have Fonda's Funk Persimmon Wild Ale on tap. This comes from former assistant brewer Sam Fonda, now the head brewer and owner at Weathered Ground Brewery in Cool Ridge, W. Va. This hoppy ale was brewed with grapefruit juice and then aged on local persimmons and Brettanomyces before being keg conditioned for several months.
Triple C's taproom opens Sunday at noon for the release, and there will also be live music from Flat Tire Trio beginning at 3 p.m. and Magnolia's Poboys food truck is onsite at the brewery that day as well.