Triple C releasing White Blaze this weekend, with cans to follow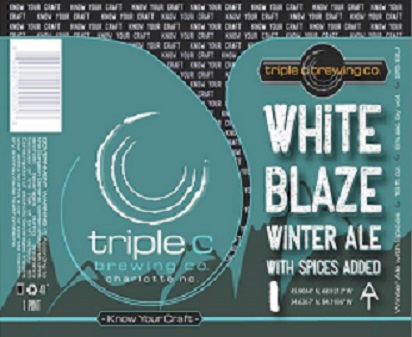 Earlier this year, Triple C introduced a new canning line as part of the brewery's expansion, selecting 3C IPA and Golden Boy Blonde Ale as its first two cans to be distributed. Both were a hit, and it certainly helped when 3C IPA won a bronze medal at this year's Great American Beer Festival in Denver.
Fresh off that success, Triple C is set to roll out its first seasonal can, and the brewery has chosen its trademark winter ale, White Blaze, as the debut beer. White Blaze has been in the seasonal rotation for a few years now, and it was first bottled in 22-ounce bombers for the first time last year.
White Blaze's winter style lends to hints of cinnamon, vanilla, clove and coconut, all while providing a solid warmth on the way down. It's a perfect drinking beer – coming in at around 6 percent ABV – for the chilly nights that await Charlotte in the coming months.
Triple C will first be releasing White Blaze in the taproom this Saturday when the brewery opens at noon. There, it will be available on tap and you can also get growlers to go. The brewery is hosting a party in conjunction with the release, with live music from Wicked Powers from 4 p.m. to 7 p.m., while OooWee BBQ will be on site all day as well. Beginning this Monday, look for kegs of White Blaze to begin making their way to local craft beer bars and bottle shops.
The next Saturday, November 14, is when Triple C will be releasing the cans of White Blaze. Just like 3C IPA and Golden Boy, White Blaze will be available in 16-ounce 4-packs. The White Blaze cans will first be available to purchase at Triple C's taproom, and then hit local bottle shops and stores beginning Monday, November 16.