Triple C revamps Smoked Amber to "Grill Friend"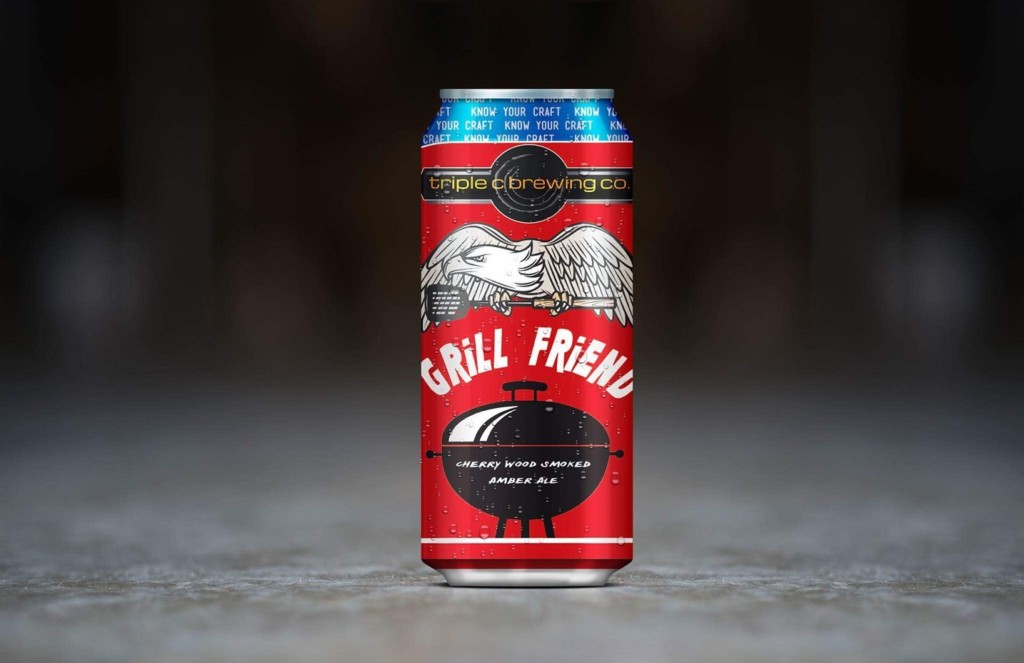 Triple C's newest beer is actually one of its oldest ones.
The SouthEnd brewery is revamping its Smoked Amber ale to a new name and packaging. It will now be called "Grill Friend," and Triple C will can it for the first time, doing away with the former 22-ounce bottles.
One thing that won't change is the beer itself. You'll still relish in the unique and balanced flavor of a slight chocolate and caramel sweetness from the malts with a tinge of smoke on your palate. But Triple C owner Chris Harker wanted this year-round beer to be able to appeal to a wider group.
"Having 'smoked' in the title we found would scare the population off a little bit," he says. "And if you don't try it, you'll never know if you like it or not. We've seen people who wouldn't have likely ordered this beer do so after we gave them a small sample in the taproom. Then they realize, 'Oh, it's really not that smoky; it's pretty good.' So we thought having it obvious in the description of the product that it's a smoked beer but not the name anymore might open it up to a broader audience."
Putting this beer in cans also was done with the consumer in mind, as there's a widespread trend of going away from bottles in the craft beer industry for a number of reasons, including convenience and accessibility.
"Really, the bottle format that it was in was never ideal for the beer that it is," Harker says. "It was a great package to start a small brewery with but we've seen bottles are becoming a harder sell to the consumer than it used to be. So it was always an idea to move to cans."
Head brewer Scott Kimball came up with the name (Harker says most of Triple C's beers are named by Kimball), and the play on words speaks to what many have said about this beer since it first came out.
"It pairs so well with food that it was just natural to think 'grill' for the name," Harker says. "And it's a happy coincidence with the timing that this beer is coming out right at peak grilling season."
Cans have already been ordered, and Harker adds that the brewery is looking at the first week of September for the official release date. While not set in stone, 4-packs of Grill Friend will stay around the $10 mark, similar to other Triple C cans. The brewery also plans to send these cans out into distribution to local bottle shops and bars.