Triple C set to release Golden Girl in cans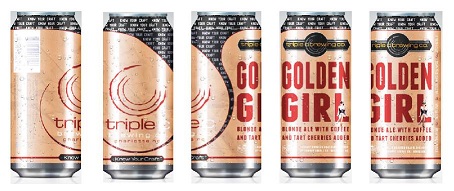 Triple C is thanking everyone for being a friend to the brewery this Saturday with the release of Golden Girl cans for the first time.
This beer is a spinoff of Triple C's staple Golden Boy blonde ale. For Golden Girl, head brewer Scott Kimball added coffee – local of course, as Triple C used roasted beans from Summit Coffee's Guji blend – and tart cherries to the blonde ale base.
Golden Girl has seen its way to Triple C's draft lines a couple times over the last year, and the response was positive enough that the brewery decided to can the 4.5 percent ABV beer. Four-packs of 16-ounce cans will be available at the taproom beginning Saturday at noon for $10 each (Golden Girl will be on draft as well). Look for cans to hit distribution at local bottle shops and stores the following week.
Following Golden Girl, Triple C's next release will be its Kind of a Big Deal imperial honey wheat ale. Look for more information on those variants, plus the brewery's first-ever wild ale, in the coming weeks.