Triple C's Up All Night release to feature special variant this year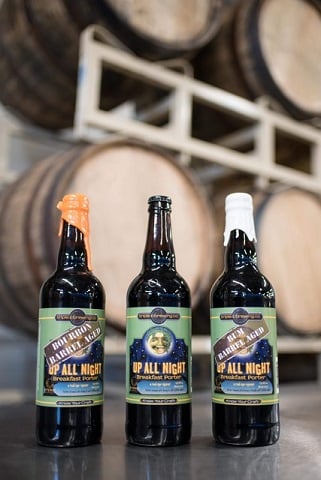 Triple C's winter seasonal, Up All Night, has grown in popularity throughout the years since it was first introduced. The breakfast porter brewed with local coffee and honey has long been a fan favorite, and was the brewery's first bottle release five years ago.
A bourbon barrel-aged version soon followed, and for this year's release, Triple C is expanding to include a rum barrel-aged variant of Up All Night brewed with vanilla beans. You can try all three versions this Sunday at noon at Triple C's Barrel Room (across the street from the brewery).
"Up All Night is one of our favorite beers to make and drink, so we were excited to try something different this year," Triple C head brewer Scott Kimball says. "We were already planning on purchasing some Jamaican rum barrels for The Force, our Belgian tripel, and so we fill two with Up All Night.
"Those barrels provide an oaky, vanilla and light coconut characteristics, so enhancing that with a huge amount of hand-sliced vanilla beans seemed like a great way to complement the barrel flavors. The rum barrels also tend to bring a lot of booziness, which the vanilla beans really help mellow out."
There are a very limited amount of rum barrel-aged Up All Night bottles, and the only way to get a bottle is to purchase an Up All Night 3-pack. This includes a regular Up All Night bottle, a bourbon barrel-aged Up All Night bottle and a rum barrel-aged Up All Night bottle. The 3-packs will be $40 each, with a limit of one per customer.
Bourbon barrel-aged Up All Night bottles ($14) and regular Up All Night bottles ($9) will be sold individually, with a case limit on the BBA Up All Night bottles. Both will also see some distribution to local accounts beginning next week.
Prior to the release, Triple C will also play host to a bottle share at 11 a.m. inside the brewery. Bring a bottle or two of a favorite or rare beer to share with friends.
As part of the release, the brewery has curated a special taplist for the event, including all variants and prior year versions of Up All Night (you will be able to get Up All Night flights as well). Finally, the Barrel Room will be showing the Packers-Panthers game on two 120-foot screens during the release.