Try Something New This Weekend
New spots open in Uptown, Dilworth, and Montford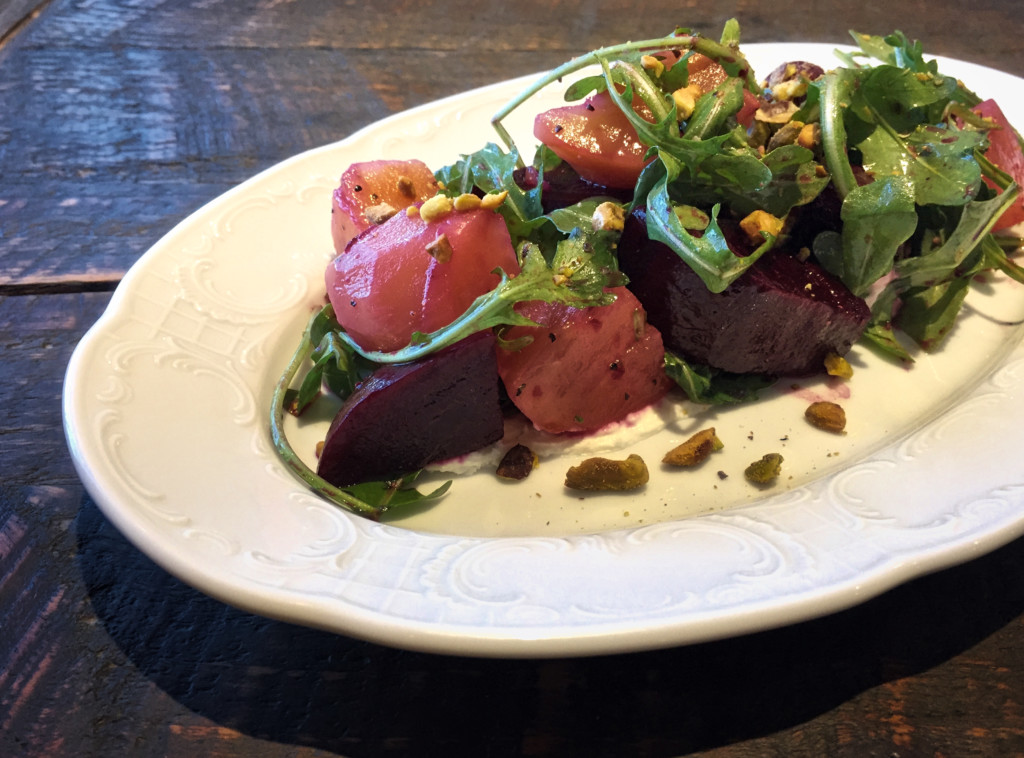 Perhaps you're not a fan of the heart-shaped holiday, but you still want to get out and enjoy the weekend. Whether you're still spending time with someone special or just hanging with family or friends, here are three new places that you can try.
Get a hungry group together for a laid-back dinner at Kid Cashew on East Boulevard in Dilworth. The open dining area, with its mismatched stools and rough-hewn tables, feels comfortable, and right for its neighborhood location. It also feels communal and familiar; this is the kind of restaurant where you expect to run into someone that you know.
Many of the selections from the restaurant's Mediterranean-inspired menu are enhanced by their wood-fired grill, including meats and fish that diners can order by the half-pound. The bright red grill feeds off hickory logs that impart a smoky flavor to dishes like the octopus, which comes surrounded by blistered gigante beans and topped with aged vinegar and olive oil. Toward the bottom of the menu and therefore possibly overlooked are three sauces that add intrigue: a zippy cilantro yogurt, a creamy tzatziki, and a harissa that gives some heat and a little sweet.
If you go, start with herb-scented cocktails and some small plates, be sure to try the passionate beet and arugula salad (not just because it's Valentine's Day), and save room for baklava or semolina cake at the finish.
The second location for this Charlotte institution is now open, a sunny yellow building adjacent to Brawley's Beverage on Park Road. Perfectly situated alongside a main artery, it promises to be a great place for grab-and-go Italian fare.
Unlike its sister location, this one has a few indoor spots for seating and side patio that is sure to help folks pass the time when warmer days arrive. A small grill behind the counter also allows them to offer sandwiches, pastas made to order, and fresh salads.
Manager and chef Sam Whipple says patrons can expect the offerings to grow over time, with soups and personal-sized pizzas joining the menu soon. He also plans to add more sandwiches like the "PLT," an Italian riff on the classic BLT made with pancetta.
Like the Myers Park location, the store is stocked with Italian wines, salumi, oils, vinegars, and other specialty products. It also boasts an extensive selection of prepared foods—things like chicken piccata, chicken marsala, lasagna, and baked ziti—that make for easy but delicious meals.
A good choice for busy families: pick up a ball or two of fresh pizza dough, a container of sauce, and some cheese to make your own pizzas at home. (If it were me, I'd shell out the extra dollars to top my pie with fresh mozzarella or ricotta from Uno Alla Volta, one of many local artisans featured in the store.)
Lovers of raw oysters can venture to a new spot inside the Hearst Tower in Uptown. Created by the same team that brought Crepe Cellar and Growler's to the NoDa neighborhood, the restaurant shares its name with a Carolina coastal town and the oysters that are raised there.
These oysters—a product of proprietor Paul Manley's efforts over the last couple years—appear on the menu with other half-shell selections that change daily. On the day we visited, we enjoyed the hard-to-find Kusshi oysters from British Columbia and Hollywoods from Maryland.
If raw oysters aren't your thing, the restaurant also offers a variety of hot dishes, maintaining a primary focus on seafood caught or raised sustainably along the NC coast. Keep an eye out for the lionfish taco, an exotic choice marked "coming soon" on the menu.
Since the first thing you are sure to notice is the handsome bar, be sure to take a peek at the cocktail menu as you get started. Specialty bitters, high-end spirits, small-batch liqueurs, and a minor obsession with ice all demonstrate that Sea Level is looking to be known for both its food and drink.